Itinerant North Texas trumpeter Karl Poetschke has finally settled down, in Flagstaff, Ariz., but he'll be back in town over the next few weeks and has organized reunion shows with his two main former North Texas jazz bands: the groovy/spacey/free Sivad and the heavily experimental Ghostcar.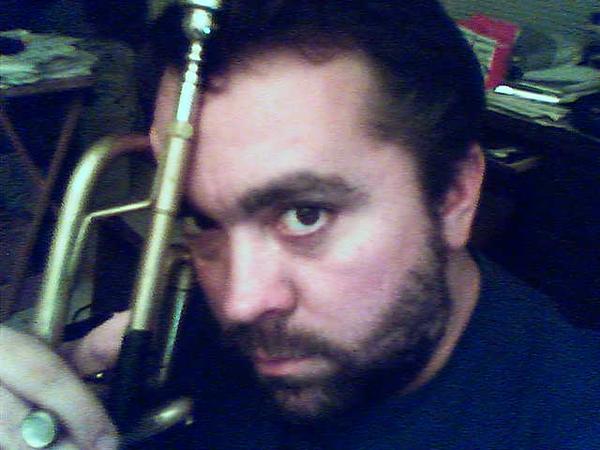 Sivad, also featuring Fort Worth drummer Quincy Holloway (Dove Hunter, Run That!, Sub Oslo, Gospel Swingers), bassist/guitarist Tony Chapman, guitarist Daniel Huffman, bassist Chris Perdue, Dana Sudborough, and Dave Monsch, will play on Thu., Apr. 21, at Scat Jazz Lounge (111 W. 4th St., downtown, 817-870-9100). Ghostcar, also featuring Perdue, Huffman, and Dallasite-via-Fort Worth drummer Clay Stinnett (PFFFFT!, Boom Boom Box, Black Dots), will play on Sat., Apr. 23, at Kessler Theater (1230 W. Davis St., Dallas, 214-272-8346), sharing a bill with Dallas' Yells at Eels and Regina Chellew. "Everyone from Sivad has been busy playing for the last decade, and we have all talked about getting together again," Poetschke said. "The 21st is my birthday, Scat Lounge has been asking me to do a show, and everyone was available, so we thought it would a fun night." The music will be totally improv. "It will be interesting to see how it all comes together," Poetschke said. Sivad broke up in 1999 but not without releasing a CD, Solar Verbs. Ghostcar produced several CDs, including Too Strong/The Art of Transition ("Listen Up," May 2, 2007).
If you follow my alter-ego on Twitter (@Anthony_Mariani), you would have learned a week or two ago that The Theater Fire, the only bona fide Fort Worth band to be acknowledged (and semi-lovingly) by the mighty Pitchfork, is working on a new album and is planning a summer release. "We're still plucking and singing and working on a new record that's about half done," said TTF frontman Don Feagin. "We stopped playing shows for a while to focus on recording, but the last six months haven't been very productive. Too much life going on. We're all squared away now and looking to get the next release finished." Feagin and company are producing the record themselves, partly at Feagin's house and partly at the homes of multi-instrumentalists Curtis Heath and James Talambas. "We'll take it to a studio to mix and possibly re-record a few tracks," Feagin said. "But we're not sure which studio yet." … Another killer Fort Worth band will be recording soon, namely power-pop rockers Goodwin, and is eyeing a fall release. (You first learned that @Anthony_Mariani too.)
Everyone in the West 7th Street corridor if not the entire town is rallying behind Laura Ciardetti, a Pour House employee who's now in intensive care after suffering a devastating fall at home. To help raise money for her mounting hospital bills, two benefit concerts are happening this week. The first is tonight (Wednesday) at Woody's Tavern (4744 Bryant Irvin Rd., 817-732-4936) with Poo Live Crew, Joey Green Band, and DJ D-Roz. The other is Sunday at The Pour House (2725 W. 7th St., 817-335-2575) with Luke Wade, The Mullet Boyz, Rabbit's Got the Gun, D Snacks & The After-School Special, and Messer.
Contact Hearsay at hearsay@fwweekly.com