OPENING:
Miral (PG-13) Julian Schnabel's adaptation of Rula Jebreal's novel stars Freida Pinto as a Palestinian girl who must choose between violent jihad and non-violent activism while growing up in Israel in the 1960s. Also with Hiam Abbass, Alexander Siddig, Omar Metwally, Makram Khoury, Stella Schnabel, Willem Dafoe, and Vanessa Redgrave. (Opens Friday in Dallas)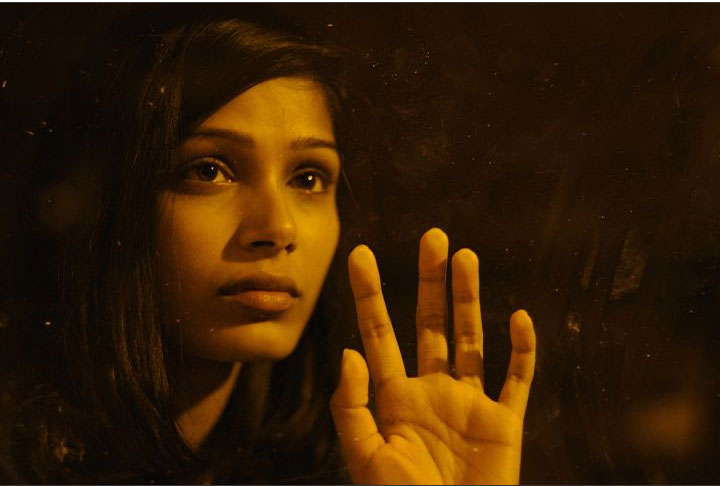 Atlas Shrugged: Part I (PG-13) Paul Johansson directs and co-stars in this adaptation of Ayn Rand's novel about a railroad executive (Taylor Schilling) trying to keep her business afloat in a rapidly decaying world. Also with Michael O'Keefe, Edi Gathegi, Graham Beckel, Patrick Fischler, Michael Lerner, Jon Polito, and Annabelle Gurwitch. (Opens Friday)
In a Better World (R) The winner of 2010's Oscar for Best Foreign Language Film, Susanne Bier's drama is about a Danish doctor (Mikael Persbrandt) doing humanitarian work in Africa and his 10-year-old son (Markus Rygaard) who's being bullied at school back in Denmark. Also with Ulrich Thomsen, William Jøhnk Nielsen, Wil Johnson, Annette Støvelbæk, and Camilla Gottlieb. (Opens Friday in Dallas)
Peep World (NR) Barry W. Blaustein (The Ringer) directs this comedy about a tense L.A. family reunion after the youngest child (Ben Schwartz) writes a best-selling novel containing unflattering portrayals of his older siblings. Also with Sarah Silverman, Rainn Wilson, Michael C. Hall, Ron Rifkin, Kate Mara, Judy Greer, Alicia Witt, Stephen Tobolowsky, Lesley Ann Warren, and Taraji P. Henson. (Opens Friday in Dallas)
Rubber (R) I am not making this up: Quentin Dupieux's horror film is about a spare auto tire that goes on a killing spree after discovering that it can blow things up with its mind. Starring Stephen Spinella, Roxane Mesquida, Wings Hauser, and Remy Thorne. (Opens Friday in Dallas)
Scream 4 (R) The series' first new installment in 11 years stars Neve Campbell as a self-help author whose return to her hometown sparks yet another string of murders. Also with Courteney Cox, David Arquette, Emma Roberts, Hayden Panettiere, Rory Culkin, Erik Knudsen, Nico Tortorella, Aimee Teagarden, Brittany Robertson, Alison Brie, Marley Shelton, Shenae Grimes, Lucy Hale, Mary McDonnell, Anthony Anderson, Adam Brody, Kristen Bell, Anna Paquin, and Heather Graham. (Opens Friday)
Win Win (R) The latest film by Tom McCarthy (The Visitor, The Station Agent) shows off his delightfully low-key sense of humor, ability to handle actors, shallow characterizations, and overly tidy resolutions. Paul Giamatti plays a small-town New Jersey lawyer and high-school wrestling coach who finds himself coaching a troubled phenom (Alex Shaffer, whose experiences as a real-life high-school wrestling champion give weight to the wrestling scenes). The cast is sharp, especially Bobby Cannavale as an overly enthusiastic assistant coach. Yet the movie consistently trades in broad comedy for catharsis and emotional complexity, and even the complicating touches in the characters feel dictated by convention instead of natural. This slice-of-life comedy is pleasant but unsurprising and too smooth. Also with Amy Ryan, Jeffrey Tambor, Melanie Lynskey, Margo Martindale, and Burt Young. (Opens Friday)
The Adjustment Bureau (PG-13) George Nolfi's misbegotten adaptation of Philip K. Dick's story "Adjustment Team" stars Matt Damon as a rising politician whose love affair with a ballerina (a fiercely funny Emily Blunt) is impeded by a mysterious group of mysterious men who take extraordinary measures to make sure everyone's lives stay on their predestined path. The men are supposed to be angels, but the first-time director is so bad at presenting the supernatural that they just come off as a bunch of bumbling guys wearing fedoras that would be inconspicuous in 1947 but stick out in the present day. The film aims for operatic romance as well. That doesn't work either. The whole thing just sort of lies there inertly on the screen. Also with Anthony Mackie, John Slattery, Michael Kelly, and Terence Stamp.
Arthur (PG-13) As much fun as flat champagne, this remake of the 1981 comedy stars Russell Brand as a spoiled drunken British playboy in New York who must either stay wealthy by marrying a socialite he hates (Jennifer Garner) or give up his fortune for a tour guide he truly loves (Greta Gerwig). Brand's ad-libbing yields a few funny lines, but he doesn't have the charming guilelessness that Dudley Moore brought to the original. The lack of charisma makes a fatal hole in the center of this comedy. Just as the tour guide can do better than Arthur, the female talent here can do better than Arthur. Also with Helen Mirren, Luis Guzmán, Geraldine James, John Hodgman, and Nick Nolte.
Battle: Los Angeles (PG-13) A marine platoon led by Staff Sgt. Michael Nantz (Aaron Eckhart) gets stuck in an infested Los Angeles during an alien invasion. Although filled with clumsy dialogue and clichés (untested lieutenants come unglued on cue), this is an exciting movie giving a street-level view of what an alien invasion might look like. The film moves fast, the action scenes are tense and energetic, and the cast is likable even if the characters aren't exactly deep. Eckhart especially deserves praise for carrying the movie and saving more than a few melodramatic moments. Even though it runs a little long, this is still a gritty, nerve-wracking, and fun sci-fi action movie. Also with Michelle Rodriguez, Michael Peña, Lucas Till, James Hiroyuki Liao, and Ne-Yo. — Cole Williams
Beastly (PG-13) This oh-so-tragically-hip modern-day reworking of the Beauty and the Beast fable (based on Alex Flinn's novel) stars Alex Pettyfer as a rich, handsome, popular high-school jerk who ridicules a Goth girl (Mary-Kate Olsen) about her looks and is promptly cursed with disfiguring scars until he can find true love. Pettyfer is better here than he is in I Am Number Four, but he doesn't have much chemistry with Vanessa Hudgens as the girl who breaks the curse. Director Daniel Barnz (Phoebe in Wonderland) fails to generate the fairy-tale atmosphere that he's going for here, and after a caffeinated start the movie subsides into Twilight-style romantic cliches. As a blind tutor who serves as the story's Lumiere equivalent, Neil Patrick Harris injects a massive dose of badly needed snark. Also with Lisa Gay Hamilton, Erik Knudsen, Dakota Johnson, and Peter Krause.
Diary of a Wimpy Kid: Rodrick Rules (PG) The hastily made sequel to last year's original has Zachary Gordon reprising his role as the now-seventh-grader whose parents force him and his annoying rock musician older brother (Devon Bostick) to spend more time together. This second installment is marginally less irritating than the first, but it has even less juice, resorting to the same tired gags we've seen in millions of family movies. The plethora of fantasy sequences and extraneous material (like a parody of a 1970s horror film) makes it seem as if the filmmakers were eager to make some other movie entirely. You'll feel eager to watch some other movie entirely. Also with Robert Capron, Peyton List, Grayson Russell, Karan Brar, Fran Kranz, Rachael Harris, and Steve Zahn.
---
Hall Pass (R) Really sad for all the wrong reasons. The Farrelly Brothers' latest comedy stars Owen Wilson and Jason Sudeikis as two sexually frustrated married guys whose annoying, put-upon wives (Jenna Fischer and Christina Applegate) release them from their marriage vows for one week as a form of couples' therapy. The joke is that the guys are so uncool and immature that they can't live out their horndog fantasies because they make women flee in terror. That joke grows awfully thin when repeated over 105 minutes, and the movie's ultimate affirmation of conventional morality is soggy in the extreme. The bitterness here makes the filmmakers come off like their heroes, middle-aged guys who once had game but now find themselves way behind the curve. Also with Nicky Whelan, Stephen Merchant, Tyler Hoechlin, Alexandra Daddario, Andrew Wilson, Joy Behar, J.B. Smoove, Vanessa Angel, Alyssa Milano, and Richard Jenkins.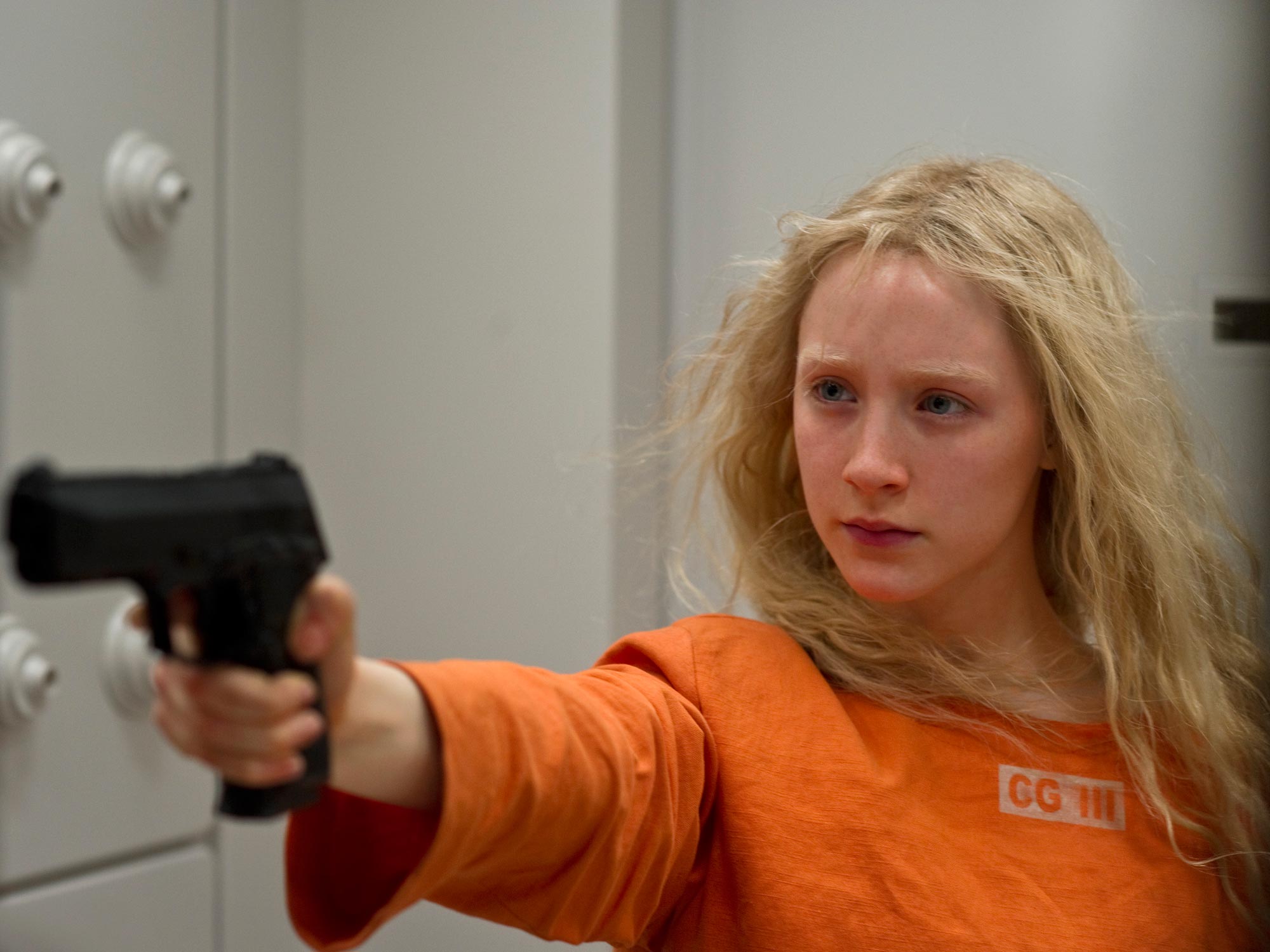 Hanna (PG-13) What's this movie trying to say? Saoirse Ronan portrays a 16-year-old girl raised in seclusion by her dad (Eric Bana) to assassinate a sinister CIA section chief (Cate Blanchett with a Kentucky bourbon accent). The backstory emerges in dribs and drabs but never coalesces into a cracked fable about kids growing up. Director Joe Wright films this action thriller like one of the Bourne films, a distinctive approach that fails to evoke the fairy-tale atmosphere that he's going for. The onscreen talent is personable — Ronan and Jessica Barden make a nifty comedy team in the frankly hilarious middle section, when Hanna hitches a ride with a bohemian British family and becomes best friends with their pop culture-obsessed daughter. It's a delightful piece of randomness in a scattered story. Also with Tom Hollander, Sebastian Hülk, Mohamed Majd, Martin Wuttke, Olivia Williams, and Jason Flemyng.
Hop (PG) This stinks like a garden full of Easter eggs left out for a month. This film that mixes CGI animation with live action starts with a nice premise: A rabbit (voiced by Russell Brand) who's about to be crowned as Easter Bunny decides he doesn't want the job and runs off to Hollywood to become a rock drummer. Yet the creative team behind the Alvin and the Chipmunks movies — that should tell you all you need to know right there — treats this with a bunch of lame punchlines and pop culture references. The human performances (especially James Marsden as a slacker guy who freaks out when a bunny talks to him) don't help, and a promising subplot about an uprising of Easter chicks goes to waste. Hop ain't hip. Additional voices by Hugh Laurie and Hank Azaria. Also with Kaley Cuoco, Elizabeth Perkins, Gary Cole, Chelsea Handler, and David Hasselhoff.
Insidious (PG-13) The director and screenwriter of the original Saw try to take on the limitations of a PG-13-rated horror flick and come up with a few good scares. Patrick Wilson and Rose Byrne play the parents of a boy (Ty Simpkins) who falls into a coma after a household accident. The couple finds strange things happening around their home even after they do the smart thing and move into a different house. The movie does great in the first half, when the sinister stuff is only suggested, but loses steam in the second half, when the horrors become more explicit. Still, the good points outweigh the bad, and if this is short of a classic haunted-house flick, it's still a worthy addition to the genre. Also with Andrew Astor, Lin Shaye, Leigh Whannell, Angus Sampson, and Barbara Hershey. — Cole Williams
The King's Speech (PG-13) This is so stupid. It's the same as the R-rated version, only with the word "fuck" removed.
Limitless (PG-13) Bradley Cooper stars in this clever sci-fi thriller about a struggling writer who finds a magic pill that boosts his brainpower to genius levels but has nasty side effects. Screenwriter Leslie Dixon and director Neil Burger adapt this from Alan Glynn's The Dark Fields, pulling surprises and coming up with a better ending. The movie works best as a dark comedy, with a slapsticky shootout at the end and the hero taking extreme measures to ingest the last of his pills. It's also a great showcase for the star, who gets to be both a confident charmer and an arrogant douchebag. The premise would collapse if not for the intelligence glinting in Cooper's icy blue eyes. Also with Robert De Niro, Abbie Cornish, Andrew Howard, Johnny Whitworth, Tomas Arana, Robert John Burke, Ned Eisenberg, and Patricia Kalember.
The Lincoln Lawyer (R) Matthew McConaughey is back in his sweet spot as a smooth-talking, morally shifty L.A. attorney who works out of his chauffeured luxury car in this throwback legal thriller based on Michael Connelly's novel. The story revolves around the lawyer defending a wealthy client accused of sexual assault (Ryan Philippe), only to discover that the guy is guilty of far worse. The dense, knotty plot takes in a huge array of characters played by actors who relish their material. McConaughey comfortably holds the center, and first-time writer-director Brad Furman does a superb job laying out all the plot twists. Also with Marisa Tomei, William H. Macy, Josh Lucas, John Leguizamo, Laurence Mason, Michael Peña, Bob Gunton, Frances Fisher, Margarita Levieva, Pell James, Shea Whigham, Katherine Moennig, Michael Paré, Trace Adkins, and Bryan Cranston.
No eres tú, soy yo (PG-13) Alejandro Springall's Mexican remake of an Argentinian comedy stars Eugeno Derbez, Martina García, Alejandra Barros, Juan Ríos, Mónica Dionne, and Alberto Estrella.
Paul (R) Simon Pegg and Nick Frost (Hot Fuzz, Shaun of the Dead) headline this enormously charming comedy as two British sci-fi geeks who meet an actual space alien (voiced by Seth Rogen) while on a road trip through the American desert. Some of the American stereotypes land on the unfortunate side, and the romance between Pegg and a trailer park owner (Kristen Wiig) doesn't add much. Yet the chemistry among the three main characters is peerless, and the sci-fi culture references fly almost as fast as the funny lines. ("Are you gonna probe us?" "Why does everyone always assume that? How much can I learn from an ass?") It's a good time for geeks and non-geeks. Also with Jason Bateman, Bill Hader, Joe Lo Truglio, John Carroll Lynch, Jeffrey Tambor, David Koechner, Blythe Danner, Jane Lynch, and Sigourney Weaver. Additional voice by Steven Spielberg. — Cole Williams
Rango (PG) Gloriously strange animated Western is about a diffident but highly imaginative chameleon (voiced by Johnny Depp) who becomes sheriff of a town filled with desert creatures. The resulting plot, unusually complicated for a kids' movie, is gleefully ripped off from Chinatown, but the main glory of this film is its extravagant weirdness, including a reference to Fear and Loathing in Las Vegas, a mariachi band made up of gloomy-looking owls, and an army of redneck moles and gophers flying on the backs of bats and firing Gatlings at a javelina-pulled carriage driven by lizards. Asian filmmakers have done some odd things with Westerns lately, but this experimental movie is every bit as delirious. Additional voices by Isla Fisher, Ned Beatty, Abigail Breslin, Alfred Molina, Bill Nighy, Stephen Root, Harry Dean Stanton, Ray Winstone, Vincent Kartheiser, and Timothy Olyphant.
Red Riding Hood (PG-13) Catherine Hardwicke's visually lush but dramatically inert reworking of the fairy tale stars Amanda Seyfried as a girl in a medieval village who investigates after her sister is killed by a werewolf. She's also caught up in a romantic triangle that features some terrible acting by the two male interests (Shiloh Fernandez and Max Irons). Also, the supposed heroine doesn't do much at all. Still, the film features some gorgeous photography and costumes, gives the heroine an unusually complicated family life, and plays with some interesting ideas about torture and the war on terror. This is probably better fodder for a women's studies class than it is as entertainment. Also with Gary Oldman, Billy Burke, Lukas Haas, Virginia Madsen, Shauna Kain, Adrian Holmes, and Julie Christie.
Soul Surfer (PG) You wouldn't think the story of a girl surfer who had a shark bite her arm off would make for a dull movie, yet here it is. AnnaSophia Robb stars in this biography of Bethany Hamilton, the 13-year-old Hawaii native who lost her left arm in 2003 and overcame her misfortune to become a professional surfer. Director/co-writer Sean McNamara wraps the story in cozy platitudes and tries to immerse us in the world of surfing but only succeeds in confusing movie fans who don't know the jargon. The special effects are low-grade, the inconvenient emotions in the story are all dealt with too neatly, and the actors are muffled, even the ones who really should be better. (Not among the latter: Carrie Underwood in a regrettable turn as a youth minister.) Even the surfing sequences don't provide any spark. Also with Dennis Quaid, Helen Hunt, Ross Thomas, Jeremy Sumpter, Lorraine Nicholson, Sonya Balmores, Kevin Sorbo, and Craig T. Nelson.
Source Code (PG-13) An ordinary-looking Hollywood sci-fi thriller that gives way to some spectacular vistas. Jake Gyllenhaal portrays a soldier who takes part in a military science experiment, trying to find the perpetrator of a recent terrorist bombing by repeatedly reliving the last eight minutes in one of the victims' lives. Like a video game hero, every time he dies, he goes back to the last save point and pursues a different course of action to try to alter the outcome. Director Duncan Jones (Moon) takes full advantage of his first big-budget outing with bigger stars and glossy visuals, yet the movie retains an intimate feel with its small cast of characters. Even after the terror plot is resolved, the script still saves up its biggest emotional punch and the most mind-blowing implications of its plot for the very end. This is what great science fiction is supposed to do. Also with Michelle Monaghan, Vera Farmiga, Jeffrey Wright, Michael Arden, Cas Anvar, and Russell Peters.
Sucker Punch (PG-13) Zack Snyder's crazed, Moulin Rouge!-inspired fantasia stars Emily Browning as an orphaned girl committed to a mental institution by her abusive, murderous stepfather. She imagines herself and four other inmates (Abbie Cornish, Jena Malone, Vanessa Hudgens, and Jamie Chung) as dancers in a sleazy nightclub, then as soldiers carrying out missions in a fantasy world. This trashy, incoherent exploitation flick pays lip service to feminism (cartoonish male villains) while pandering to male fantasy (little schoolgirl outfits). Yet the visuals and the soundtrack are awesome, and it's fun watching some of Hollywood's least badass actresses look credible as they slice and shoot their way through medieval orcs, giant samurai, killer robots, World War I zombies, and a fire-breathing dragon. There's also a musical number over the end credits. As an empowerment fable, this is a fraud. As a stylishly surreal action thriller, it's pretty hypnotic. Also with Carla Gugino, Oscar Isaac, Scott Glenn, and Jon Hamm.
Your Highness (R) Mildly diverting in itself, massively disappointing in light of the talent that went into it. David Gordon Green follows up Pineapple Express with this comedy starring Danny McBride as a stoner medieval prince who must accompany his older brother (James Franco) on a quest to save his kidnapped princess bride (Zooey Deschanel). The cast is up for this, including Natalie Portman as an archer who's tougher than either of the princes. Yet the script by McBride and Brent Best hangs too loose with too many tired jokes about weed, gayness, and penises, even if the joke about the minotaur's penis is very funny indeed. There's brilliantly juvenile, and then there's just juvenile. This movie is the latter. Also with Rasmus Hardiker, Toby Jones, Charles Dance, Damian Lewis, John Fricker, and Justin Theroux.
DALLAS EXCLUSIVES:
Bill Cunningham New York (NR) Richard Press' documentary profile of the New York Times fashion photographer who specializes in taking pictures of people on the street and how they dress.
Certified Copy (NR) The first non-Iranian film by Abbas Kiarostami (A Taste of Cherry) is about an English art writer (William Shimell) and a French gallery owner (Juliette Binoche) who have a strange romantic encounter in Italy. Also with Jean-Claude Carrière.
Jane Eyre (PG) Mia Wasikowska (Alice in Wonderland) stars in this latest cinematic adaptation of Charlotte Brontë's novel about a 19th-century English governess who becomes entangled with her mysterious employer (Michael Fassbender). Also with Judi Dench, Jamie Bell, Holliday Grainger, Tamzin Merchant, Imogen Poots, Jayne Wisener, Valentina Cervi, Sally Hawkins, and Simon McBurney.
Kill the Irishman (R) The directing debut of screenwriter Jonathan Hensleigh (Armageddon, The Punisher) stars Ray Stevenson as a real-life Irish thug who resisted all attempts by the mob on his life. Also with Vincent D'Onofrio, Christopher Walken, Linda Cardellini, Tony Darrow, Robert Davi, Bob Gunton, Vinnie Jones, Bob Gunton, Tony Lo Bianco, Laura Ramsey, Jason Butler Harner, Fionnula Flanagan, Steve Schirripa, and Paul Sorvino.
Of Gods and Men (PG-13) Xavier Beauvois' drama stars Lambert Wilson as the leader of a group of French Trappist monks debating whether to stay in an Algerian village in 1995 when Muslim extremists threaten to take over the country. Also with Michael Lonsdale, Olivier Rabourdin, Philippe Laudenbach, Jacques Herlin, Loïc Pichon, and Olivier Perrier.
Potiche (R) François Ozon's farce stars Catherine Deneuve as a French housewife in 1977 who proves to be an unexpectedly forward-thinking leader when she takes over her cheating husband's business. Also with Fabrice Luchini, Jérémie Renier, Judith Godrèche, Karin Viard, Sergi López, and Gérard Depardieu.