There's no shortage of recent comedy films that revolve around male friendship, so where are the equivalent movies about women? When it comes to comedies about adult female characters that don't primarily focus on romance, what are our choices? The House Bunny? Baby Mama? The Sex and the City movies? Not exactly God's plenty, and I liked The House Bunny. I ask because I'm trying to figure out whether Bridesmaids looks better simply because there are, criminally, so few films like it. Probably not. I think this explosively funny comedy would stand out even if there were a zillion other movies like it. Still, the scarcity does help you appreciate it all the more.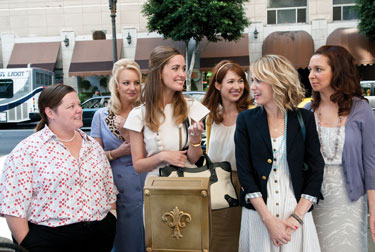 Saturday Night Live's Kristen Wiig doubles as co-writer and star. She plays Annie, a Milwaukeean who's been financially and emotionally gutted by the failure of her bakery business and now earns $175 a week clerking at a jewelry store. Further upheaval greets her when her lifelong best friend Lillian (Maya Rudolph) announces her engagement. In the midst of offering her sincerest congratulations, Annie lets out an anguished cry of "What is happening?" As Lillian's wedding date draws nearer, Annie — whose perpetually unkempt hair mirrors her chaotic life — does her best to screw up both her role as maid of honor and her budding romance with an adorable Irish state trooper (Chris O'Dowd).
Beautiful in a delicate, fawnlike sort of way, the 37-year-old Wiig is known for playing ferociously mannered, eccentric characters on SNL and in other movies. You can see flashes of that here in stuff like her bug-eyed impression of a penis. Overall, though, she dials herself down into a life-sized performance that captures Annie's ambivalence — her genuine happiness for her friend mixed with self-pity, jealousy, and fear of losing Lillian. That explains the death grip she keeps on her champagne glass during the engagement party. A great early sequence shows Annie baking herself an incredibly elaborate single cupcake topped with a giant marzipan orchid and then eating it, her face a study in frustration. More demonstratively, there's a magnificent bit later on when Annie's latest misfortune (a minor car accident) sends her into a paroxysm of impotent rage and despair. Wiig's portrait of edginess and discontent is vivid and haunting. If all the jokes were removed from the script, we'd easily see this as the excellent dramatic performance that it is.
But why would you want to take the jokes out? The set pieces (orchestrated by director Paul Feig) are uproarious, most notably an airplane ride when Annie's fear of flying drives her to get royally smashed and a fitting at a bridal shop where an outbreak of food poisoning consigns some pretty dresses to a wholly undeserved end. Even the tiniest supporting roles contribute laughs: an uncredited Jon Hamm as Annie's awful sometime sex partner, Matt Lucas and Rebel Wilson as her bizarre British roommates, and co-writer Annie Mumolo as a terrified airline passenger. A fine crew of TV actresses portrays the other bridesmaids, including The Office's Ellie Kemper as a bushy-tailed newlywed and Reno 911!'s Wendi McLendon-Covey as a jaded mom. (The latter on her sons: "When they reach that age, they are disgusting. They're sticky, they smell bad. … There is semen everywhere. Last week I cracked a blanket in half.") Best of all is Mike & Molly's Melissa McCarthy, who steals scenes left and right as the groom's deadly serious, foul-mouthed, straight-shooting sister. After solemnly relating a ridiculous anecdote about conversing with a dolphin during a near-death experience, she spots a tall bachelor passing by and vows in the same tone of voice, "I'm gonna climb that like a tree."
Intensifying Annie's sense of inadequacy is bridesmaid Helen (Rose Byrne), the groom's boss' wife who has only known Lillian for a short time yet declares Lillian to be her best friend and showers her with expensive gifts. Gratifyingly, Helen later turns out to be more complex than she seems, but Annie's instant dislike for her leads to all sorts of comic business like an excruciating exchange at the engagement party when Annie and Helen try to one-up each other with their toasts. Later on, Helen's largesse brings on a total meltdown by Annie at the bridal shower, which is followed by a furious row between Annie and Lillian, and even though their dialogue is funny, you can hear how it hurts these BFFs to be screaming at each other. Despite its wedding backdrop, Bridesmaids is not a romantic comedy but rather a movie about a friendship that's severely tested by change. It's sealed by an authentically moving reconciliation scene in which Annie owns up to what a mess she's made of her life.
That degree of self-awareness is just one of many things in this movie that's sorely missing from all the Kate Hudson and Jennifer Aniston and Katherine Heigl vehicles we've been subjected to. We wouldn't have such a dysfunctional relationship to our female-centric comedies if more of them were made with the same intelligence and depth of feeling as this one. The sweet, blissful buzz that accompanies the end of this comedy masterpiece will make you feel like you've just watched your own best friend get happily married.
Bridesmaids
Starring Kristen Wiig, Maya Rudolph, and Rose Byrne. Directed by Paul Feig. Written by Annie Mumolo and Kristen Wiig. Rated R.