Few people are able to parlay their passion for movies into a career, and even fewer can pull off a combination of filmmaking and criticism. But local filmmaker Nathan Ligon has managed not only to do both but also to start a web site that allows film buffs and casual viewers alike to share their love of film.

Thank You for Watching is Ligon's web site and online show in which he reviews current releases, discusses upcoming films, and details the latest releases on DVD and Blu-Ray. His on-camera style is relaxed, mixing analysis with jokes, giving the show a professional yet personal feel.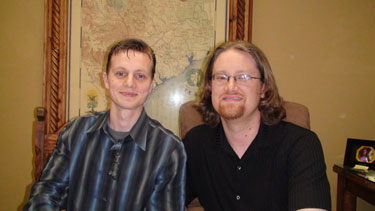 Film is not just a pastime for Ligon; it's his life. His father is an executive producer, and his uncle is an actor. Ligon began making movies at age seven, and lifelong friend Raymond Foster soon found himself along for the ride. "[Ligon] woke my ass up at 3:30 one morning and bribed me with ice cream to watch Rambo," said Foster, who now is financial manager of Thank You for Watching's production company, Shot and Cut Films, which also produces commercials for local businesses.
Beginning as just another kid with a VHS recorder, Ligon finished his first film, Hidden Agenda, in 2008 on a budget of $10,000, financed by maxing out his credit cards. However, filmmaking went on the back burner when his wife Shay came down with renal cell carcinoma, a type of kidney cancer, and financial difficulties led him to start Federal Title, a title company. Now that his wife's cancer is in remission and life has finally stabilized, Ligon is pursuing his passion for film via Thank You for Watching.
The show is only the first part of his plan for the site. "We want to bridge the critic and casual filmgoer disparity," Ligon said. "I want to have an interactive show where a seasoned film critic and an everyday but passionate filmgoer can express their different opinions on a movie along with a ton of social interaction, not just the expert's opinions like on Rotten Tomatoes."
Once the interactive aspect of the site goes live, Ligon would keep his position as the resident critic in the discourse. He will be joined by volunteer co-anchors –– Foster will be the first.
And the debate between the two sides of the audience is one that Ligon feels is important. "For example, I saw this movie Soul Surfer a while ago and hated it," Ligon said, criticizing it as technically sloppy. "But other people loved it. They weren't bothered by the technical stuff and just loved the message, and they got pissed that I hated it. That's one of the things I want to address with the site: to allow people to discuss film and educate themselves."
Ligon said he'd been wanting to get the site started for years, but he held off until now because he didn't want to "half-ass it."
"Half-ass" doesn't seem like a word that would ever apply to Ligon. Aside from working full time at his title company, Ligon puts 25 hours of work into each episode of Thank You for Watching, not counting time spent at screenings. He's also a full-time father of three, leaving him with not much free time –– which is just how he likes it. "I don't allow myself to have time when I'm not doing anything," he said.
Each Thank You episode is typically filmed and edited on Thursday, a process that typically stretches until the wee hours of the morning.
Foster handles the business aspects of the site and keeps it on course. "Right now, though," he said, "it's running on passion."
He and Ligon plan to install a feature soon that will allow viewers to donate money. The duo also wants to start redirecting profits from advertisements by Shot and Cut Films into Thank You. The goal is for the site to become profitable enough for Ligon to work on it full time and leave Federal Title.
His passion is already spreading to others. His children have all begun to show their creativity in various ways. Twin 8-year-old daughters Nastassia and Jolie love to write and act, and 6-year-old son Hayden drags his favorite DVDs around like teddy bears. "A few nights ago, he went to bed with Tron tucked under his arm," Ligon said with a proud smile.
Visit www.thankyoufw.com.