I have nothing against right-wing wackos. In fact, some of my favorite relatives are insane. And by "nothing," I mean "well, yeah, a few things." For starters, I don't believe a worldview of hate, distrust, and otherness is good for anyone. For another, I don't believe using God as a political crowbar is good for anyone, especially Christians. For another, I don't think tax breaks for the richest few Americans are beneficial. (Reaganomics didn't work then and won't work now, especially in a global economy.) Lastly, any political party even remotely associated with that racist, xenophobic air-head from Alaska whose name shall go unmentioned here is asking –– just begging –– to not be taken seriously.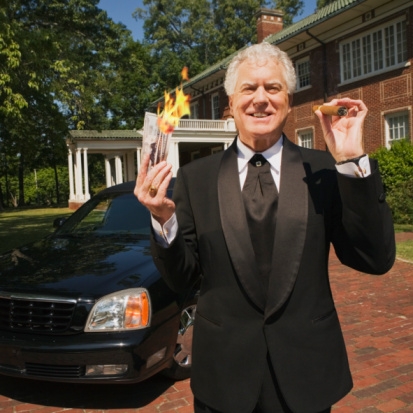 Anyway, when I think of Republicans and their super-reactionary brethren and sistren, I think of old, rich, flabby white guys in ill-fitting suits driving Lexuses and listening to Kenny G and also of young, blond-haired, blue-eyed wannabe Tommy Hilfiger models waving their Georgetown U. diplomas around instead of hymnals at church on Sundays. (Which, of course, reveals my own prejudices.) Who knew that at least some folks in the young Christian right had taste –– let alone good taste? A certain popular, awesome local band whose name shall go unmentioned here for fear of, well, for fear of embarrassing the band members, I guess, recently received high praise from an online publication whose mission, according to the "About Us" section, is to defend –– that's right: "defend" –– "1.) the sanctity of human life" (except, we should presume, as it relates to prisoners on Death Row), "2.) the dignity of marriage as the conjugal union of husband and wife" (read: "man and woman"), and "3.) the rights of conscience and religious liberty" (unless you're Jewish, Islamic, or in any other way non-Christian). Here's the odd part. While the review isn't long, it's actually … not too poorly written. Regardless, I doubt the band will extract any of the verbiage for publicity purposes, which is understandable. Most –– most –– of the band's songs are pretty apolitical. (The ones that aren't are pretty politically nihilistic.) However, none of us fans should go as far as lobbying the band to have its write-up removed from the magazine –– all right-wing Christians not named Michelle Malkin are as entitled to free speech as you and me, and, based on a cursory glance, the magazine isn't exactly Der Stürmer. For the record: The review was written by no one I know.
Hardcore fans, this weekend's for you. Some of best purveyors of the style, local and national, will be gracing North Texas stages. On Saturday at Trees (2709 Elm St, Dallas, 214-741-1122), Hed(pe) and Mushroomhead headline a bill that also includes Arlington's Sweetooth. Fort Worth's Turbid North is part of a Friday bill headlined by legendary goth-rockers Fear Factory at The Rail (3101 Joyce Dr, 817-560-RAIL) on the West Side. And on Monday at 1919 Hemphill (817-920-9665) on the Near South Side, Innards headline.
Cancel your plans for Friday unless they include hanging out at Magnolia Green Park on the Near South Side for First Friday on the Green. Slated to play the June installment of the free monthly outdoor concert series are Calhoun, The Cush, and Sean Russell. Bring the lawn chairs and/or blankets, but leave the coolers at home –– food and cold, frosty beverages will be available for sale.