I did something pretty ridiculous at the Music Awards ceremony after-party. OK, a couple of things. OK, several. One, I started drinking waaay too early. Y'know how before a celebration, a wedding or house party or whatever, you get all nervous and stuff? And ya need a drink or two to calm you down a little? Well, instead of a drink, I power-drank from about 4 p.m. 'til 10. That's six hours of non-stop beer. Just stupid. Two, at one point, I actually got up onstage and played the bongos during a jam by The Villain Vanguard.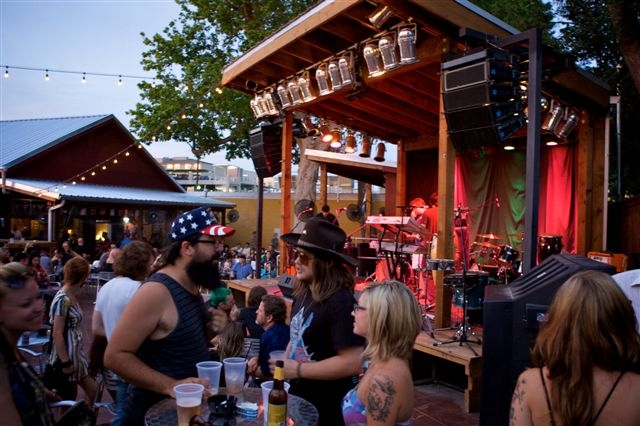 My playing wasn't necessarily the problem. I was probably the only person who could hear me –– the frenetic racket was pretty loud, and I don't think I was miked. No, I had let Lola's Saloon owner Brian Forella and The Moon's Chris Maunder talk me into going up there. Apparently, a little earlier in the evening, while I was at the bar undoubtedly expounding upon astrophysics –– because that's what I do when I drink; expound on smart stuff; I just don't talk shit, no way! –– Forella and Maunder had gotten up with the first of the several bands that played the after-party, Gunga Galunga, and "performed." Afterward, Forella reported that he did several things onstage, including scratch. (Gunga Galunga has a DJ.) Brian made it sound like so much fun that I just had to get up there too. I don't know what I was thinking (other than about the space-time continuum, of course). I mean, is there any quicker way for a critic to lose all credibility than by practicing what he or she spends a living critiquing? People were probably wondering, Who's the Guido? Guys from VV, please accept my apologies. And Forella and Maunder, you both owe me a beer. The last dumb thing I did was forget to tell people what the hell was actually going on. Yes, I'm pretty sure the Capital Bar isn't super-packed every Sunday night, meaning that I'm pretty sure the masses were there because of the after-party. But I felt like everyone should have been informed that we here at the Weekly do the Music Awards every year for no other reason than to foster a sense of community among local musicians. And if a few new readers start picking us up on Wednesdays or checking us out online, then that's just fine and dandy too.
I totally disagree with this week's cover story. The writing is great, naturally, but with all due respect to author Jeff Prince, the subject –– some dude not even from Fort Worth –– is the antithesis of the local pride that I've been preaching and practicing every day for the past decade. Just know that the decision to run the story was not made by me or my alter-ego, Anthony Mariani. (But, yeah, I could also pitch a few more music-related cover stories, which is my bad.)
Contact HearSay at hearsay@fwweekly.com.