On the plus side, no one got hurt, there weren't any fights, and only a couple of people fell down. On the bad side, we floated three kegs in a little over two hours.


But maybe we should expect no less from the annual Fort Worth Weekly Music Awards Ceremony. The 2011 iteration took place this past Sunday at Piper Hall in the West 7th Street corridor and was followed by an all-star jam at the adjacent Capital Bar –– at one point, the stage was weighed down with about a dozen people, including two drummers playing simultaneously and, um, two club owners (Lola's Brian Forella and The Moon's Chris Maunder, both doing … something). If you were one of the hundreds of people there, first of all, thank you for being so intelligent –– not every day do you get to see top-tier locals such as The Hanna Barbarians, Quaker City Night Hawks, The Villain Vanguard, and Gunga Galunga for free. Secondly, if you were there, you probably didn't have nearly as much fun as I did, for which I'm truly sorry.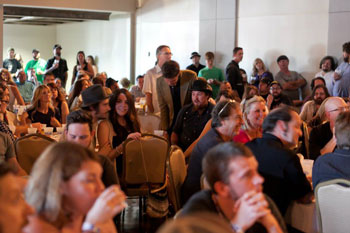 I wasn't wasted, though I admit that if I wasn't polishing off a beer, I was probably waiting in line for another. I was just, well … "relieved" might be the wrong word. If I could do the Music Awards, both the festival and the ceremony, every month, I would. But since we here at the Weekly effectively lose money on the endeavors, I don't think our publisher would be too happy. So no, not necessarily "relieved," just, well, "super-relieved." The Music Awards Festival and Ceremony don't just magically occur.
We start out a few months before the events, when I send my blank ballot to our nominating committee. We Weekleteers then compile the ballot; develop the art; produce the compilation CD; book the festival; book and put on the CD release party; write, photograph, and publish the cover story and pocket guide; produce the festival; break down the festival; count the votes; and have the Panthies made, all before we even get to the ceremony and after-party.
After turning away people who began showing up at around 5 p.m. –– the event wasn't scheduled to start until 6 –– we opened the doors at 5:50, and there was a line stretching into Piper Hall's huge parking lot. By a little after 6, Piper Hall was at capacity.
The big winners of the evening were the Whiskey Folk Ramblers, who won all three categories in which they were nominated: Artist of the Year, Americana/Roots Rock, and for … And There are Devils, Album of the Year. And while EPIC RUINS lost to the Ramblers for Artist of the Year, the Southern-prog/space-rock collective won two of the other three categories in which it was nominated: Hard Rock and for "Child and Cobra," Rock Song of the Year.
Rock Album of the Year went to Calhoun for Heavy Sugar, beating out stiff competition from EPIC RUINS' masterful long-player Void Mariner and the Mystic Boogie of the Sacred Line and The Hanna Barbarian's Syzygy. Calhoun's Tim Locke and Jordan Roberts also took home Songwriter(s) of the Year honors.
Rock went to The Orbans, and even though there are five guys in the band, only one of them showed up. Feh.
As usual, a few categories weren't even close (and I know; I'm married to the person who tallied the votes). Josh Weathers dominated his two categories, Blues/Soul and Male Vocalist, and 21-year-old siren Maren Morris won the Female Vocalist category for, like, the 20th year in a row. Rivercrest Yacht Club won R&B/Rap for the fourth year in a row, and Tatiana Mayfield took home top honors in jazz once again. Holy Moly ran away with the Live Band award again, and no matter what category you put him in, Scott Copeland is always a favorite –– he easily won C&W. In Pop, Casey James reigned supreme, and your favorite ax-man is once again James Hinkle. Poo Live Crew once again handily won its category, Cover/Tribute Band, and Lola's Saloon was once again our voters' favorite venue.
There were a few surprises from a standpoint of popularity, not necessarily quality. Though Skeleton Coast plays out a lot –– and puts on a great show –– I didn't expect the band to take home New Artist honors. I would have guessed Apache 5, a super-group of sorts that put out a solid debut EP a couple of months ago. Raging Boner's victory in Hardcore was also semi-unexpected –– the band was up against well-respected veterans Magnus, Tolar, and Unit 21, among others.
Some other surprises: Jeremy Hull (Holy Moly, Taylor Craig Mills, Johnny Reno & The Bitchin' Camaros) won Bassist, nu-disco purveyors Shuttle won Electronic/DJ/Dance, Smith Music Group won Record Label, beating out the upstart St. Marie Records and big indie-daddy Spune Productions, among others, and –– finally, after all these years –– Bart Rose (Fort Worth Sound) was voted best producer. And Luke Wade & No Civilians' "Strangest Angels" was voted Song of the Year, even though the song came out almost a year ago. Maybe the tune's got staying power. (Uh, yeah!)
A few other surprises inspired me personally. I was glad to see Avant-Garde/Experimental winners Pinkish Black rewarded not only for their unique brand of operatic goth-prog but also their overall supportiveness of the scene. I was also heartened that Joey Green Band won Texas Music –– that guy and his band have been plying their nontraditional style of Texas Music for years and had to best some pretty stiff competition. Alan won Comeback of the Year, which was really heartwarming for me as a longtime fan. Frontman Chris Hardee and company have spent the past five years not asleep at the wheel but fine-tuning an album that just came out a couple of months ago, Alan, The Universal Answer is Both, a nominee for Rock Album of the Year. Good job also to you readers/voters for warming up to The Hendersons, whom you probably never heard of until you read about 'em in our paper and who won the Acoustic/Folk/Psychedelic category.
Another surprise was Matt Mabe's domination in Drummer, not because there's anything wrong with him –– he's awesome –– but because A.) we've never had the category before and didn't know what to expect and B.) all of his fellow nominees are exceptional players and super-cool guys. Alas, Mabe blew everyone else out of the water.
Mabe also gets props for delivering the best speech of the night. He said that while he's played all over creation, including in New York City, he's never seen as many musical badasses as he's seen in Fort Worth. Our city, he said, "is the shit."
And Heavy Metal winners Warbeast helped break another stereotype: that our winners are just pretty faces. In fact, the guys in Warbeast are downright scary looking.
I'm also pleased that most of the nominees and their plus ones who packed into Piper Hall hung around for the all-star jam at Capital Bar. I hope everyone was feeling the same kind of love of community that I was feeling.