Stage West's current production of David Mamet's acidic political comedy November is the fourth show directed by Dana Schultes, who serves as the company's director of development. She is, of course, well known to Fort Worth audiences for her performances in many Stage West productions over the years, most recently the critical and commercial hit Talking Pictures back in the spring. Schultes said her forays into directing have made her much easier to work with as an actor: She now has sympathy for choices made by directors that once seemed contradictory or impulsive.


"A lot of times actors will get frustrated in rehearsals because a director tells them something the first week and then completely contradicts that during week two," she said. "Now I realize it's because something isn't working and has to be fixed. The director is the one sitting there seeing the whole picture. That's where trust between the actor and director comes in."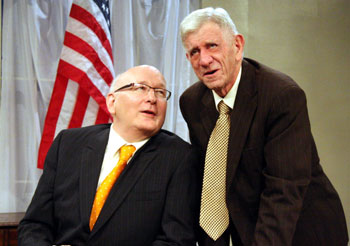 With November, Schultes finds herself not just directing Stage West founder Jerry Russell and artistic director Jim Covault in the lead roles but also interpreting the dialogue of an American playwright notorious for the tricky rhythms of his language. The play concerns a corrupt U.S. president (Russell) trying to hang onto power as his re-election campaign sputters. Both his acerbic chief of staff (Covault) and his idealistic speech writer (Sherry Jo Ward) are more or less resigned to the man's defeat, but he refuses to surrender without attempting a desperate publicity stunt to improve his plummeting poll numbers.