On the 447th anniversary of Shakespeare's birth in April, an arts blogger for a West Virginia newspaper wrote that the Elizabethan playwright had aimed his work at the masses, not the elite: "If he were alive today, he'd probably be a television writer."


Such sentiments might outrage some bardolators — George Bernard Shaw's word for worshippers of Shakespeare — but not Jason and Lauren Morgan, even though the husband and wife team spend much of their lives putting on the Bard's plays.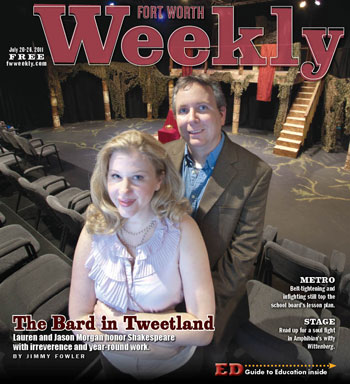 The Morgans, along with a core band of volunteers and artists, operate Stolen Shakespeare Guild, North Texas' only year-round company dedicated to producing the works of the 16th-century playwright, as well as those of classical and modern authors. It's been a prolific five years for a troupe originally conceived as part of Jason's master's thesis.
Few things are sacred in the Morgans' approach to Shakespeare. In their staged versions of his work, great swaths of immortal verbiage are sacrificed to make the story more appealing and understandable to contemporary, not to say attention-impaired, audiences. A festival a few years ago of Shakespeare's and other playwrights' works on Greek and Roman history was called "Toga Party," and the Morgans' troupe is as likely to put on Cole Porter's Kiss Me Kate as The Taming of the Shrew, the Shakespearean comedy on which Kate is based.
Jason, the company's artistic director and a theater and film instructor at Tarrant County College, developed an early version of the troupe seven years ago while a graduate student at Texas Woman's University. Lauren, who teaches voice at Southlake Music Academy, came aboard soon after that as executive director. By their own admission, they produce Shakespeare on a shoestring, relying on enthusiastic artists and designers who, like the Morgans, donate their time and talents.
They're not yet a professional company — Jason refers to Stolen Shakespeare as a stepping-stone for many young performers who want to get experience — but they've earned a loyal audience as well as solid, sometimes stellar reviews from local critics. And the company's artistic aspirations are growing: At last month's Stolen Shakespeare Festival, the troupe's annual summer event, they staged two ambitious productions, the complicated history play Henry V and the controversial Double Falsehood. The latter, a work that some scholars insist was not written by Shakespeare, received only its second U.S. staging here in Fort Worth.
The Morgans' passion is making Shakespeare accessible to contemporary audiences by editing, condensing, and simplifying his densely layered and often difficult works. The couple hopes to demystify the Elizabethan playwright for those who might otherwise be intimidated by his lofty reputation and sometimes arcane language.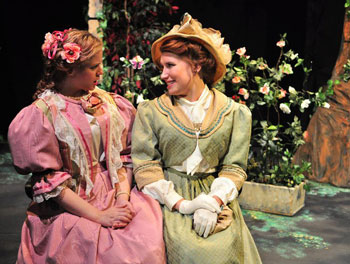 "Shakespeare wrote plays for the general public of his time, not necessarily the most educated," Lauren said. "He wrote about romance and epic battles and family struggles. That's what makes everything from The Real Housewives to Mavericks games so entertaining. His work is universal."
Adam Adolfo is executive director of Artes de la Rosa, the resident theatrical organization at the Rose Marine Theatre. After seeing several Stolen Shakespeare shows, he agreed to serve as guest director for last month's Henry V.
"Audiences get lost in Shakespeare not because of the intellectual aspect, but because they don't know what's going on emotionally," he said. "What Jason and Lauren do so brilliantly is provide the human connection."
Both Jason and Lauren studied theater in high school and college, but neither ever thought they'd be running a bare-bones Shakespeare company in Fort Worth. Jason wasn't especially enamored of Shakespeare, he said, until grad-school professors helped him understand the Bard's timeless appeal.
Jason got his bachelor's degree in theater from Stephen F. Austin University and his master's from TWU. Lauren, a California native, studied at San Francisco State University and earned a music degree from Texas Christian University. They met in 2000 while performing in a local community theater production of You Can't Take It With You. They soon married — and for the record, they didn't spend their courtship reading Shakespearean sonnets to each other.
It was at TWU that Jason developed an intense interest in the Bard, after professors opened his eyes to the universality and accessibility of the Elizabethan playwright. Many of his fellow actors were intimidated by the sometimes obscure language, but the more he studied Shakespeare, the more he saw the very human motivations in the characters.
Finally, while performing in a TWU production of As You Like It, he had an epiphany: "I thought, 'Shakespeare isn't so scary after all.' He's easier to perform than some contemporary plays as long as you do the research and know what you're saying."
For his master's thesis, Jason decided to form a nonprofit theater company. It would be modeled loosely on London's Royal National Theatre, which provides year-round productions of Shakespeare and other seminal playwrights of world theater.
The first productions by an early incarnation of Stolen Shakespeare Guild were staged in 2005 at Artisan Center Theatre in North Richland Hills. They included a shortened version of As You Like It and two Bard-related plays, Shaw's Dark Lady of the Sonnets and Tom Stoppard's comic The Fifteen Minute Hamlet. After that, many of Jason's graduate school buddies who'd helped stage the shows went their own way.
---
When Lauren officially signed on as executive director, Jason refashioned Stolen Shakespeare Guild as a gypsy company, traveling to perform at whatever North Texas community theaters were interested in staging Elizabethan and classical work. Their first production after that was 2006's
Much Ado About Nothing
at Lewisville Community Theatre.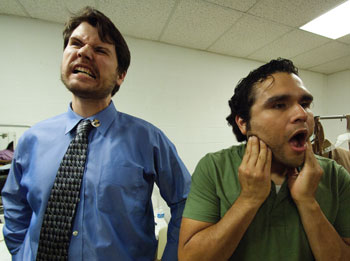 Steve Lindsay, a Dallas-based actor and director, has been involved with Stolen Shakespeare since its earliest days. He earned a theater degree from Bob Jones University in South Carolina and has studied Shakespearean acting in North Texas workshops with the English actor and performer Chris Pickles of the Royal National Theatre. He's performed in A Midsummer Night's Dream, The Merry Wives of Windsor, As You Like It, and many other Stolen Shakespeare shows. He directed the troupe's version of Noel Coward's Hay Fever.
He loves working with the Morgans because their artistic strengths are so different. "Lauren is a very talented actress, and she tends to look at things from a character-driven angle," he said. "Jason has a great eye for stage movement and other technical aspects of the work. Both of them understand the text and help the actors make it accessible to the audience.
"They know who's in love with whom and which characters hate each other and what everyone's agenda is. Their goal is to communicate that clearly, which doesn't always happen in even the most pristine Shakespeare productions," Lindsay said.
When Stage West vacated the Fort Worth Community Arts Center in 2006 for a permanent home on West Vickery Boulevard, Stolen Shakespeare moved in. They continue to perform in the Center's Sanders Theatre, along with other troupes. Finding a stable home was a stroke of luck, but there was new pressure on the Morgans and their merry band: The Guild now had to prove it could develop and sustain a year-round local audience.
The Morgans quickly discovered that one of the most difficult aspects of running a theater had nothing to do with getting the performances right. The administrative demands have been daunting: After all, they studied the art of the stage, not the business side. They've had to train themselves to do everything from setting up the web site to running the box office to filling out grant applications and designing programs for the shows. They do it all.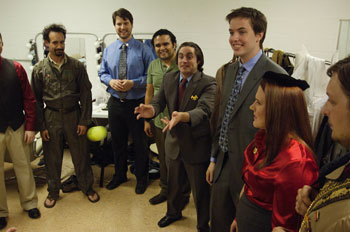 "If you'd told me in college that I'd be teaching myself how to write grants to fund a Shakespearean company, I wouldn't have believed you," Lauren said.
Another important task was creating a decent look for the productions on a very low budget. It has always been a part of their business model to build from scratch as many sets, props, and costumes as possible, since renting the stuff is so expensive. For the shows they've staged so far, the Morgans have amassed an impressive collection of costumes, costume pieces, and props that can be reconfigured for different plays. Everything you see onstage has been created or donated by the Morgans, their friends, and volunteers. Stolen Shakespeare's only major expenses are renting the Sanders Theatre and paying for the materials to create those costume and props. Ticket proceeds cover some of the costs; the rest comes from grants, private donations, and lots of volunteer time.
In addition to being a regular actor and occasional director with the troupe, Lindsay also helps out in the costume shop, moves sets, and generally contributes in any way that's needed.
"It's obvious to everyone that Lauren and Jason eat, drink, and sleep this theater," he said. "There's something about the process that they love, and that causes other people to become intimately involved as well. It's never a drudge to work with them, which is why people stick around and do what needs to be done."
The Morgans live in Irving, and Stolen Shakespeare shows are auditioned and rehearsed in space provided without charge by First Christian Church of Irving. The Morgans themselves sometimes take major roles. Since all roles in a show are unpaid, you might wonder what kind of performers seek parts in their productions. Jason said they get a good turnout for auditions, including actors from Fort Worth, Dallas, and Plano.
"We usually get the cream of the crop of the community theater scene," he said. "If actors don't have a certain level of proficiency, they usually don't gravitate toward something like Shakespeare. We get a lot of [college-trained] actors just starting out and trying to break in, and then we get older actors who love Shakespeare but have never bothered to get their Equity cards."
Adolfo, who helmed Henry V for the company in June, has directed both Equity and non-Equity actors. The Morgans "work with talent, not resumés," he said. "The young actor who played Henry V had never done a dramatic lead in Shakespeare before, and he excelled at it. Jason and Lauren get personally involved in their productions and support the artists the whole way."
Stolen Shakespeare Guild has distinguished itself on the North Texas theater scene in two ways — by performing shortened versions of the Bard's scripts and by doing classical theater as well as musicals and comedies that Lauren says are "classics in their genre." So far they've staged two Condensed Shakespeare Festivals with special themes. Last year, "Toga Party" was the theme for versions of Comedy of Errors, Sophocles' Antigone, and Euripedes' Medea that were abbreviated to fit into a two-hour evening. In 2009, they did a two-hour "Battle of the Sexes" that condensed Taming of the Shrew, Goldoni's 18th-century Mistress of the Inn, and Macbeth.
---
The Morgans aren't squeamish about cutting huge portions of the Bard's plays for their productions. Making him relevant to contemporary audiences means acknowledging the reality of tiny attention spans in the 21st century. The most commonly asked question about a Stolen Shakespeare production is: How long will it be?
"I try to cut anything that people won't understand," Jason said. "I keep in the major plot points and the exciting parts of the play. As I told someone, I cut everything but the fighting, the sex, and the villains. That's an exaggeration and a humorous way of saying we've got to recognize the age we live in.
"You could stage the world's greatest production of Hamlet," he said, "but most people aren't going to sit there for five hours and watch it."
In addition to stripped-down versions of the Bard and the ancient tragedies like Medea, Stolen Shakespeare has produced comedies like Noel Coward's Hay Fever, musicals like A Funny Thing Happened on the Way to the Forum, and stage adaptations of Jane Austen's novels. The Austen shows have been among their most popular, so Stolen Shakespeare now plans to produce one per season.
Such excursions away from the Elizabethan era are one of the ways that Stolen Shakespeare distinguishes itself from TCU's Trinity Shakespeare Festival, which last month performed its third summer season. Stolen Shakespeare produces shows throughout the year instead of just one month during the summer. Lauren said that the TCU productions don't directly compete with Stolen Shakespeare because the two companies work on such different scales in terms of budgets, season schedules, and choice of plays. Stolen Shakespeare has managed to cultivate an audience with a taste for what she calls "alternative" or "fringe Shakespeare" as well as more varied, non-Bard fare.
"Obviously, we don't have a budget of $100,000 to do a show like Trinity," she said. "We're so much smaller that we don't have to sell as many tickets to have a sold-out show. That means we can take a chance with titles [like Love's Labour's Lost or Double Falsehood] that aren't produced as often."
T.J. Walsh, artistic director of Trinity Shakespeare at TCU, has seen Stolen Shakespeare's work at the Fort Worth Community Arts Center. He approves. What strikes him most about the troupe, he said, is "their obvious love for Shakespeare's storytelling and the joy they have in producing it. They add a great deal to the North Texas Shakespeare community."
The Morgans say the Guild really hit its commercial and artistic stride with a sold-out 2009 run of Cole Porter's musical Kiss Me Kate. These days, even when a show doesn't sell out, the Sanders Theatre is rarely less than half full.
"The national average for a theater company's lifespan is five years," said Adolfo. "That's where Stolen Shakespeare is right now. Once companies hit that mark, they have a chance to go forward and define their future."
The Morgans have some modest goals for Stolen Shakespeare's future and some grand ones. They want to start paying stipends to actors and perhaps full Equity contracts. They'd like to find a performance space that could serve as a hub for the company, where auditions, rehearsals, costume-making, and set-building could happen all in one place. Paying for that would necessitate more tickets sold, more grants won, and more donations from public and private sources. Right now the economy isn't working in their favor, but the Morgans insist they're in it for the long haul.
They'd also like to spotlight more obscure authors from the Elizabethan era, like the playwright Ben Jonson, stretching into rarefied areas that most theater companies can't risk because of the narrow box office appeal. For the Morgans, it's not just about making Shakespeare accessible but also nudging audiences to take chances on lesser known material.
"If you put on a Ben Jonson play by itself, nobody would come and see it," said Jason. "But if you do a condensed version and present it [on a double bill] with a more famous title and market it right, people would give it a try, I think."
In his mind, building an audience for year-round Elizabethan, classical, and modern fare is the key challenge. "Back when I started this company as a graduate student, I wanted to explore it as far as it would go," he said. "We'll see what the marketplace will allow."