In Japanese, "temaki" means the kind of sushi roll that looks like a horn of plenty. In Fort Worth, Temaki means an interesting new concept in sushi dining.


Temaki Sushi, on West Magnolia Avenue on the Near South Side, even looks appetizing, decorated in chocolate brown, strawberry pink, and pistachio green. Order at the counter and fill your soft drink cups –– the place doesn't have a liquor license. When your food's ready, the cashier will run it out to you.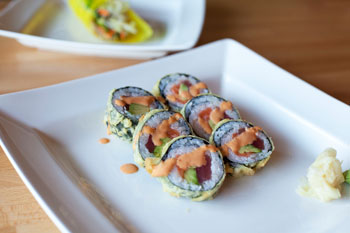 Centered on shrimp, salmon, tuna, and veggies, Temaki's menu is simple. And very easy on the wallet. Sushi, temaki, and nigiri (protein draped delicately over mounded rice) are $5 per order. Signature rolls, at $9 each, are priced well below Fort Worth market average. Temaki also does bento boxes: your choice of a sushi roll, temaki, or the chef's choice of nigiri, plus three sides.
At only $3 per plate, the appetizers (or "sides"), including a generous portion of salty edamame and four potstickers, each about the size of ping-pong ball, are steals. Neither dish was particularly inventive nor spectacular, but both tasted fine.
My bento box came with salmon, tuna, and white tuna nigiri, all of which were impeccably fresh. My three sides were seaweed salad, spicy tuna endive, and the salmon spring roll. The salad was lovely, if a tad reminiscent of something out of Central Market's seafood case. The spring roll was a bit of a disappointment –– the salmon and the veggies were fresh, but the rice wrapper was soggy and fell apart. The most unusual and tasty of the sides was the tuna endive. A single endive lettuce leaf had been piled high with deliciously fresh and spicy tuna, garnished with a little flying-fish roe. The bite of the endive and the kick of the tuna made for a beguilingly delicious combination. Be aware that the side portions in the bento boxes are smaller than the full sides from the menu.
My table of three was less impressed with Temaki's signature rolls. The White Dragon featured crunchy shrimp tempura, asparagus, and creamy avocado, topped with white tuna. The plate came devoid of sauce: just dollops of wasabi and white pickled ginger on the side –– sushi connoisseurs won't be able to criticize Temaki for going overboard with the wasabi mayos or chili cream sauces. The white tuna, though, was so absolutely fresh and yummy it was worth seconds –– my guests and I ordered a trifecta of white tuna nigiri.
The Hubba Hubba roll, ordered by a diner who doesn't like raw fish, is a fully cooked roll stuffed with shrimp tempura and cucumber, with a little half-shrimp atop each slice. The roll was good, if a little bland. It wasn't nearly as delicious as the Philly: just your standard cream cheese, smoked salmon, and avocado roll but executed flawlessly, a perfect combination of velvety avocado and cheese, salty salmon, and slightly sticky rice.
Though not listed on the menu, dessert at Temaki is mochi ice cream — your choice of green tea, chocolate, or mango flavors — covered in a soft, dough-like rice shell that's almost gooey. For the full effect, make sure each bite contains a little ice cream and a little mochi. If you have a problem with gooey consistencies, this is not the dessert for you. But it is a pleasant experiment in texture, and the mango ice cream was amazingly flavorful. The mango and chocolate together made an interesting ending to an interesting meal.
Temaki Sushi
1504 W Magnolia Av, FW. 817-810-0438.
Closed Sun. 11am-2:30pm Mon-Fri, 12pm-2:30pm Sat, 5:30-9pm Mon-Sat.
All major credit cards accepted.
Edamame ……………………… $3
Potstickers ……………………. $4
White tuna nigiri……………… $5
White Dragon roll …………… $9
Hubba Hubba roll …………… $9
Philly roll ……………………….. $5
Bento box …………………….. $9
Mochi (two per serving) …. $4