One of my challenges as Chow, Baby is trying to protect my identity as a food writer — note-taking during a meal feels so conspicuous. Maybe the servers think it's part of a business meeting or that I'm writing poetry as I chew, but thankfully few of them seem to notice. However, as I learned recently, traveling incognito is really tough if you take along the human equivalent of a bullhorn and a neon sign.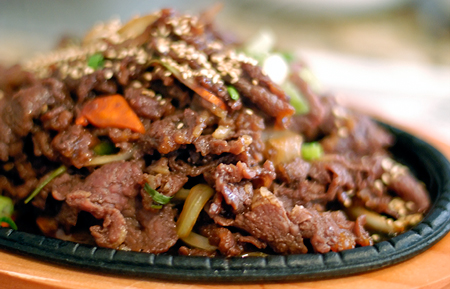 Or maybe the problem was just the margaritas. When I took a couple of girlfriends to Korea House BBQ (4750 Bryant Irvin Rd.), it was after a little session with the tequila drinks. Both of my guests were very into the idea of dining with a food columnist, but they didn't really get the whole "anonymity" concept. Throughout dinner, they both loudly (their volume no doubt influenced by the 'ritas) announced their feelings about everything and made equally loud suggestions as to what I should write.
"Make sure you write that our waitress is cute," one of them said, while our adorably sheepish server stood at the table.
Their lack of subtlety was compounded by the fact that we were the only diners in the place. On weekends, Korea House closes at 9:30 p.m. Yes, we were that party — the folks who walk into an empty restaurant half an hour before close and keep everyone there. To the staff's credit, if they felt any animosity, they hid it well. The owner waved us in, and the waitstaff treated us with courtesy and deference.
It was clear that the owners had gone to great lengths to create a soothing environment, with flowers in vases and Asian bric-a-brac on little shelves. But the soundtrack to our dinner was Korean television. I'm not sure what the soap opera was about, but the music made it all seem awfully dramatic — and authentic.
We started with a round of Hite beer, a delicious Korean pilsner. To get the food ball rolling, we ordered goon man doo ($6.99) — an appetizer of fried dumplings — but it never came. What did come was a complimentary order of lukewarm miso soup. I understand that it was nearly closing time, but we were not off to a good start.
Luckily, the entrées were way more successful. The main course was served with traditional pan chan sides, 10 in all. The highlights were the kim chi (cabbage leaves and bits of cucumber in red pepper paste), seaweed salad, and cucumber salad with apples in a cream sauce.
Korea House BBQ is not for the faint of heart. Everything we put into our mouths set them on fire. The flavorful bi bim bap ($9.99), a mixture of sliced cucumbers, mushrooms, carrots, cabbage, lettuce, bean spouts, and a fried egg with rice, was earthy and tangy. Perhaps influenced by the 'ritas and beer, we dumped the accompanying Korean sauce on the dish without sampling it first. It's a testament to how good the dish was that we suffered through our spice-induced tears to finish it.
The dol sot gal bi jjim ($11.99), marinated Korean beef barbecue served on a hot stone plate, was tender and moist and just as stove-hot as it was spice-hot. On the other hand, the meat in the bool nak jun goi ($11.99), Korean-style beef and octopus stew, seemed a little overdone and gamey. The marinade was too vinegary, and the dish wasn't worth the spice pain.
But for the points it lost on execution, Korea House would have provided us with a great dining experience. The menu is fantastic, surroundings were classy, the concept is alluring and authentic. And the food, unlike my dinner guests, possesses a refined subtlety beneath all of that volcanic spice.
Contact Chow, Baby at chowbaby@fwweekly.com.