Listen, I get why people like The Pour House. If you're looking to get a really noisy, flashy drunk on, the PH is pretty much the place to be. If pressed to describe the West 7th bar/restaurant in one word, I'd use "volume," in part because the place's regular cover bands are as loud as they are tight and also because the joint is usually wall to wall with elbows and shaking asses. The last time I went there, I couldn't tell if "My Sharona" was coming from the band onstage or satellite radio, because the cover was that spot-on.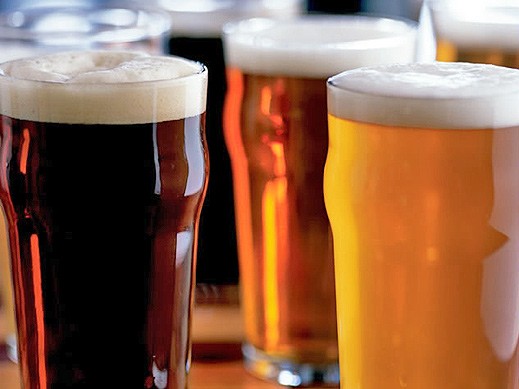 Say what you want about cover bands. The Pour House seems to get the best. When the band took a break, the sonic overflow from PH's adjacent hip-hop club, The Garage, immediately filled the musical void. I didn't even bother going over there, because it was so packed you could probably call it a scrum, though instead of scrapping over a rugby ball, the mass of humanity was just digging Wiz Khalifa.
The Pour House also has a velvet rope, so you know, there's that appeal.
But across the street, facing Carroll Street, near the alley running next to 7th Haven's back patio, is a quiet, stylish lounge whose quiet class is pretty much the antithesis of The Pour House's bump and grind. Wired Willy's, so named because of its free internet, is setting the standard for what I think a 21st-century lounge should be.
Here's what I mean. If you follow this column, you probably know that my favorite bars are dimly lit enclaves furnished in dark wood and yellow light fixtures, oftentimes floored with indoor/outdoor carpet and run by bartenders who have been there since the doors opened in the '70s. Admittedly, a lot of these places are dumps, but others have maintained a sort of elegant classicism, like when you see a woman in her 60s and think, "Man, she must have been crazy hot back in the day." Bars like A Great Notion and the Oui Lounge fall into this category. Though it's not even a month old, Wired Willy's carries that vibe: If it sticks around long enough, it will age gracefully.
I wrote about Wired Willy's back in June, when I ran into owner Randal Wilcox having a drink at the nearby Shamrock Tavern. We talked beer, the neighborhood, and what kind of bar he was starting. Now that the doors are finally open, I'd say it's kind of like an upscale, rustic wine bar. The room is dim without being dank — the predominant color is gray in varying shades, with walls accented by dovetailed old boards purchased from a supplier in Waco that specializes in wood reclaimed from demolished buildings. While Wired Willy's has a wine menu (composed exclusively of Texas blends like Llano and Messina Hof), beer is the main focus. Better still, of the 20 brews on tap, half are from Texas.
Over a couple hours of shooting the shit with Bo, the happy hour bartender, I sampled Franconia's Dunkel and Rahr Summertime Wheat, and I mellowed under the weight of two Southern Star Bury the Hatchet Stouts. Bo told me that Jester King, the heavy metal-loving craft brewers from Austin, will soon be represented — whether the bar will get Wytchmaker or Black Metal Imperial Stout, he couldn't say, but Willy's will be one of only three bars in the area lucky enough to sell these heavy, flavorful beers. If you love beer but tire of the Flying Saucer's throngs, Wired Willy's is where you want to go. And the most expensive draft is Rogue Dead Guy: only $4.50 a pint. This information floored me. Randal said, "Well, I want people to have good beer, but I don't want to break anyone's bank."
In addition to the Texas beers and wines, the liquor selection assembled by the bartenders is getting heavy on Lone Star-centric booze. Right now, that means Tito's and Dripping Springs vodka; Jeremiah Weed sweet tea vodka will likely be removed to make room for Deep Eddy. Wired Willy's also has two dartboards, wisely hung from a wall entirely made of cork, in case you're seeing double and/or feeling dangerous.
I hope Wired Willy's catches on. It's a great addition to the 'hood and a welcome respite from the clamor across the street. I'm all for partying, but sometimes I need my drinks with more class than flash. — Steve Steward
Contact Last Call at lastcall@fwweekly.com.