Forty days of 100-degree weather without rain can do a number on newly planted trees, particularly when their water source gets cut off.


"What was this, a red oak?" John Etzel asked.
"Yeah, it looks like it," Ross Hatchett said.
It's hard to tell exactly. The leaves are missing. The tree is just a bunch of sticks.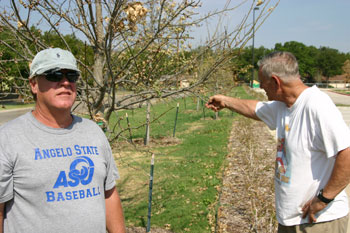 Etzel and Hatchett are neighbors who live near Wedgwood Middle School in south Fort Worth, where about 70 oak, cypress, and spruce trees were planted in June as part of a school renovation and landscaping project.
The Fort Worth school district spent about $7 million to upgrade the school's electrical and technology systems, replace air conditioning equipment, repair the roof, and build an addition that includes 13 new classrooms, three science labs, and a computer lab. A new parking lot with 128 spaces was also built on what once was a baseball field, and the contractor was required to landscape the area with trees and bushes.
The trees are valued at about $400 each. Add in the labor costs for planting them and building a temporary irrigation system, and the value hovers around $40,000.
"It seems like a terrible thing to let them die and nobody does anything," Etzel said. "If they'd give me a water hose and some water, I'd get out here and water them."
The contractor, Minneapolis-based Adolfson & Peterson Construction, planted the trees in June and spent a week building a temporary above-ground irrigation system made of PVC pipe. Each tree enjoyed its own sprinkler head that provided deep watering to its roots. The trees flourished despite this summer's monumental heat wave.
Neighbors on the school's south side were happy — some of them describe the new building as stark and prison-like and jokingly refer to it as The Shawshank School. The new trees were already about 12 feet tall, with sizable trunks, and well on their way to obscuring the school and giving neighbors a pretty green forest to look at instead of bricks, mortar, and pavement.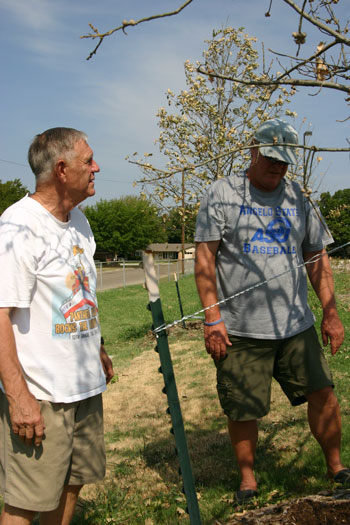 But then the contractor showed up a few weeks ago and spent a day dismantling and hauling off the irrigation system.
"The trees did good for about a week and a half, then they all went … pphfftht," Etzel said, making a thumbs-down sign. "If they weren't going to take care of the trees, they shouldn't have planted them. They could have saved themselves a bunch of money."
Now most of the trees are either missing their leaves or are as brown as dirt — very dry dirt. And that doesn't sit well with residents, who are familiar with the school district's recent layoffs due to budget woes. The district announced in April it would eliminate more than 500 positions to save money. Teachers were among those who lost their jobs.
"This was probably one or two teachers' worth," Etzel said, waving at the dead mini-forest.
With Wedgwood Middle School closed for the summer, a neighbor called school trustee Ann Sutherland to complain about the trees. She contacted superintendent Walter Dansby. He got hold of Conan Mathson, program director of the school district's capital improvement program.
Mathson sent Sutherland and Dansby an e-mail last week saying that the "watering is being addressed" and the trees were under warranty.
A sprinkler system soon was activated but provided only enough water for the grass. Without deep moisture, the trees continued to fade.
Contacted last week, Mathson told the Weekly that the contractor might have jumped the gun on dismantling the irrigation system.
"I imagine they took it down because they figured the trees were established enough," he said. "Unfortunately that's going to cost them."
Adolfson & Peterson Construction did not respond to the Weekly's requests for comment.
Mathson said the renovation project is covered under a one-year warranty, and the contractor is responsible for fixing problems, including replacing trees or bushes that die.
"Those will be replaced I'm sure," he said. "We only pay for them once."
The trees aren't the only victims of a brutal summer. Another mini-forest was planted around a Chesapeake Energy gas-drilling site several years ago in a popular spot known as the Trinity Trees near Colonial Country Club. Chesapeake cut down some of the old-growth trees to make way for a pad site and replaced them with new plantings.
The trees were irrigated for a couple of years but then allowed to become self-sustaining. However, they faltered this summer. Chesapeake has since removed the dead trees and installed a sign that blames the tree deaths on the heat (rather than a lack of watering).
The sign also says the company will replant new trees at summer's end to "replace those that did not survive the heat."