Aiming for the sort of hi-larious raunch that appeals to people who grew up on a diet of Porky's, Meatballs, and the scattered, precious moments of unscrambled Playboy Channel, A Good Old Fashioned Orgy engages in some middling-quality foreplay before going for a big climax. Producing an arrested-development comedy with a Big Chill-y premise turns out to be a heftier load than the filmmakers can handle, and while A Good Old Fashioned Orgy is amusing in parts, it still feels a little limp.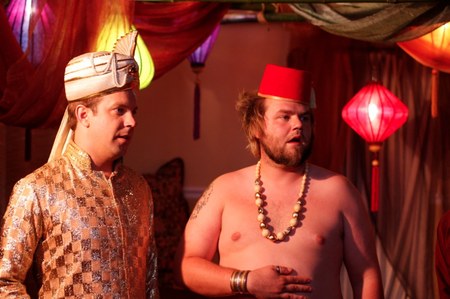 Jason Sudeikis (Horrible Bosses, SNL) stars as Eric, a New York City office drone during the week and a Sag Harbor party bro on weekends. Somewhat improbably, he's managed to stay friends with the same clique since high school, populated by fat slob Mike (Tyler Labine), germaphobic workaholic Adam (Nick Kroll), bashful teacher Laura (Lindsey Sloane), loquacious psychologist Alison (Lake Bell), and girl-who-had-a-crush-on-him-back-then Sue (Michelle Borth). These people have been partying together for as long as anyone can remember, using Eric's old man's house as a grown-up rec center and site for massive themed bashes. After a particularly epic "white trash" July 4th party, Eric discovers his dad (Don Johnson) is selling the place. To mark the end of the era, the friends decide to throw one more bash. After rejecting several crappy themes, Eric decides their throwdown should be just the six of them, an intimate get-together featuring actual, naked polyamorous intimacy.
And so, for about 45 minutes, Eric and his pals convince themselves and one another that having an orgy is a great thing to do. They research (via a sex club run by a bearded, sleazy-as-usual David Koechner), and they plan (around a Kama Sutra theme). But Eric gets cold feet after he starts dating the real estate agent (Leslie Bibb) trying to sell the house. Since they aren't committed, he agrees to go along with the orgy but in secret. Eventually, the group gets sufficiently liquored up to give it a go, but by the time they're standing in a circle wearing ridiculous Indian outfits, the awkwardness is palpable. At that point, the filmmakers start driving home the third act's major plot points: that these lifelong buddies maybe aren't the besties they thought they were and that banging all your buddies may not be such a good idea. In that case, though, how would you get Lake Bell to make out with Michelle Borth or Angela Sarafyan to flash her breasts? Orgy tries to make legitimate commentary on the limits of friendship and intimacy, but it gets bogged down by jerkily paced dialogue (the characters always laugh forcedly at one another's one-liners) and relationships that aren't that compelling to begin with. Like an orgy in real life, this movie sounds like a better idea than it probably is.