OPENING:
Straw Dogs (R) Rod Lurie's remake of Sam Peckinpah's 1971 thriller stars James Marsden and Kate Bosworth as a married couple who come into deadly conflict with the locals when they move back to her hometown in the rural South. Also with Alexander Skarsgård, Dominic Purcell, Rhys Coiro, Laz Alonso, Willa Holland, Walton Goggins, Anson Mount, and James Woods. (Opens Friday)


Amigo (R) John Sayles' drama about a small-town Filipino mayor (Joel Torre) who's forced to take sides during the Philippine-American War of 1899. Also with Chris Cooper, Garret Dillahunt, DJ Qualls, Ronnie Lazaro, Yul Vazquez, and Lucas Neff. (Opens Friday in Dallas)
Circumstance (R) Wrap your mind around this: A lesbian romance set in Iran. Maryam Keshavarz' film stars Nikohl Boosheri as a teenage girl whose love for a friend (Sarah Kazemy) places both their lives in danger. Also with Reza Sixo Safai, Soheil Parsa, Nasrin Pakkho, Sina Amedson, and Keon Mohajeri. (Opens Friday in Dallas)
The Lion King (G) Re-release of Disney's 1994 animated musical — re-formatted into 3D — about an exiled lion prince (voiced by Matthew Broderick) looking to re-take control of his pride. Additional voices by Jeremy Irons, James Earl Jones, Nathan Lane, Ernie Sabella, Robert Guillaume, Jonathan Taylor Thomas, Moira Kelly, Rowan Atkinson, Cheech Marin, and Whoopi Goldberg. (Opens Friday)
Sector 7 (NR) Kim Ji-hun's horror film about a group of South Korean oil rig workers (Ha Ji-won, Ahn Sung-kee, Oh Ji-ho, and Cha Ae-ryeon) stranded in the middle of the ocean while a monster from the deep preys on them. (Opens Friday at AMC Grapevine Mills)
Apollo 18 (PG-13) Gonzalo López-Gallego's vérité horror movie gets it about half right. Warren Christie, Lloyd Owen, and Ryan Robbins play three NASA astronauts on a fictitious secret moon mission in 1974 who discover that unfriendly beings might be lurking on the satellite's surface. The void of space seen through "observation cameras" gives the movie a nice claustrophobic feel, but the editing and choices of background music are contrived, and the creatures themselves are disappointing once they're revealed. While there's plenty of atmosphere and tension here, the film doesn't deliver as well as it could have. — Cole Williams
Bucky Larson: Born to Be a Star (R) Nick Swardson stars in this comedy as a well-endowed idiot who goes to Hollywood to become a porn star. Also with Christina Ricci, Don Johnson, Stephen Dorff, Edward Herrmann, Miriam Flynn, Nick Turturro, and Pauly Shore.
Captain America: The First Avenger (PG-13) Accomplished but empty comic-book adaptation stars Chris Evans as a scrawny asthmatic U.S. Army reject during World War II who submits to a medical experiment that turns him into a warrior with superhuman strength and reflexes. Director Joe Johnston does it all up professionally and prevents the movie from overplaying the patriotism angle. The indistinct characterizations and the blandness of lead actors (Evans and Hayley Atwell as a British agent who's part of the project) are the reason why the movie feels so impersonal. Perhaps he'll be more interesting as part of next year's The Avengers, but here Captain America is a stalwart but boring presence. Also with Tommy Lee Jones, Hugo Weaving, Stanley Tucci, Toby Jones, Dominic Cooper, Sebastian Stan, Richard Armitage, Neal McDonough, Derek Luke, and Samuel L. Jackson.
The Change-Up (R) Better than the similar Hall Pass and Grown Ups, though that's not saying much. Two best friends — a married dad pining for his bachelor days (Jason Bateman) and a single slacker (Ryan Reynolds) — wish for each other's lives and are then magically transported into each other's bodies. The actors squeeze more out of the film's tired premise than you might expect, but for every gag that works there's at least one that's calculated, cynical, and rancid. This movie is occasionally funny, but there are other funny movies out there that don't leave you feeling queasy. Also with Leslie Mann, Olivia Wilde, Mircea Monroe, Gregory Itzin, Sydney Rouviere, Craig Bierko, and Alan Arkin.
Colombiana (PG-13) Zoë Saldana wears the "badass action heroine" suit pretty well in this otherwise slapdash and heavy-handed thriller, portraying an assassin who's out to revenge herself on the drug lord (Beto Benites) who murdered her parents in Colombia. Currently the only African-American woman being allowed to play roles like this, Saldana brings a unique presence to the screen. The vehicle isn't worthy of her, though. The script does its best to make its heroine superhumanly efficient, yet there are gaping holes in her planning and the plot logic in general. Director Olivier Megaton paces this thing indifferently and stages the action scenes unmemorably. Also with Lennie James, Jordi Mollà, Cliff Curtis, Amandla Stenberg, Callum Blue, and Michael Vartan.
Contagion (PG-13) Steven Soderbergh's brisk, intelligent killer-virus movie imagines a global pandemic of a lethal, fast-acting, highly spreadable new disease seen through the eyes of a Centers for Disease Control deputy director (Laurence Fishburne), a virologist trying to find a vaccine (Jennifer Ehle), a CDC investigator who herself becomes infected (Kate Winslet), a World Health Organization official taken hostage in China (Marion Cotillard), a sleazy blogger who gets rich selling a fake cure (Jude Law), and a Minnesota man (Matt Damon) trying to keep his surviving family together after his wife (Gwyneth Paltrow) becomes Patient Zero. A TV miniseries might have been a better format for treating all the issues raised here, but the movie covers a great deal of ground deftly, and convincingly depicts a world where civilization is breaking down. This is generic Hollywood entertainment with a conscience and a brain. Also with Bryan Cranston, John Hawkes, Sanaa Lathan, Demetri Martin, Enrico Colantoni, Anna Jacoby-Herron, Chin Han, and Elliott Gould.
Cowboys & Aliens (PG-13) Not bad at all, but given the setup, this movie should have been altogether wilder and wackier. When space aliens invade an Arizona mining town in 1873, a sadistic cattle baron (Harrison Ford) has to team up with an amnesiac (Daniel Craig) who wanders into town and happens to hold the key to defeating the aliens. Adapted from Scott Mitchell Rosenberg's graphic novel, the story is told from the point of view of cowboys with no concept of extraterrestrials, but this doesn't provide as much juice as it should. Jon Favreau directs this fluidly and makes the movie into an agreeable Western with a twist. It still should have been more. Also with Olivia Wilde, Sam Rockwell, Paul Dano, Noah Ringer, Ana de la Reguera, Adam Beach, Walton Goggins, Clancy Brown and Keith Carradine.
---
Crazy, Stupid, Love. (R) Funny, well-made, glib, sprawling in a good way, and crowd-pleasing in a bad way. This ensemble comedy revolves around a man (Steve Carell) who reacts to being left by his wife (Julianne Moore) by hanging out at a singles bar, where a younger wealthy playboy (Ryan Gosling) teaches him how to join the dating scene. Dan Fogelman's soppy script tells us that no relationship is too broken to repair with a little perseverance, even if that shades over into stalker-like behavior. The movie steers just clear of sentimentality thanks to the tidy direction of Glenn Ficarra and John Requa and the efforts of a peerless, fine-tuned cast that doesn't miss a single beat and plays well as a group. Also with Emma Stone, Jonah Bobo, Analeigh Tipton, Liza Lapira, Josh Groban, Kevin Bacon, and Marisa Tomei.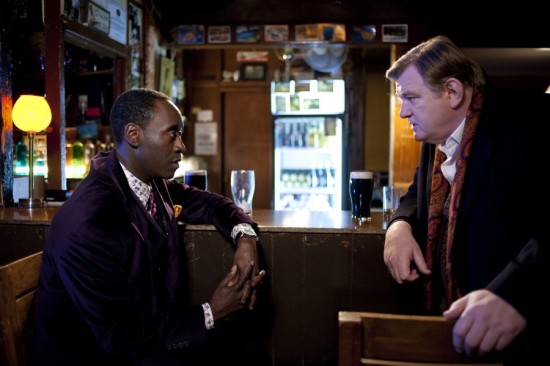 Creature (R) Imagine the crappiest 1970s low-budget horror flick, and you'll get an idea of how this truly awful movie looks and feels. A bunch of moronic young people traveling through the Louisiana backwoods awaken a murderous creature from the swamp while also falling into the clutches of a village full of murderous Christian fundamentalist rednecks. The movie imitates the tropes and aesthetic of old creature features without any note of innovation or cleverness. The filmmakers can't conjure up any scares, and they appear to have spent about $40 on special effects. No reason why you should let them make back their money. Starring Mehcad Brooks, Serinda Swan, Lauren Schneider, Dillon Casey, Daniel Bernhardt, Amanda Fuller, Pruitt Taylor Vince, and Sid Haig.
The Debt (R) This thriller tells parallel stories, one about three Israeli Mossad agents (Jessica Chastain, Marton Csokas, and Sam Worthington) failing to kill a fugitive Nazi (Jesper Christensen) in 1966, the other about the same agents (Helen Mirren, Tom Wilkinson, and Ciarán Hinds) having to live with the consequences of covering up their failure. Director John Madden comes up with some exciting sequences like an escape in a stolen ambulance and a gynecological exam performed by the prospective victim on the female agent. Yet the chemistry among the younger actors isn't up to scratch, and the love triangle among the agents isn't enough to carry this thriller by itself. Much as it would like to be, this movie is no Munich. Also with Romi Aboulafia and Brigitte Kren. — Steve Steward
Don't Be Afraid of the Dark (R) This remake of a 1973 TV movie stars Bailee Madison as a 10-year-old girl who sets loose evil spirits in the giant Victorian mansion being renovated by her dad (Guy Pearce) and his girlfriend (Katie Holmes). Director Troy Nixey mimics the look and feel of 1970s horror flicks and does a good job of managing the creatures' first appearance. Still, the characters behave in a nonsensical fashion, and the movie fails to scare once it shows its cards. With all the superior haunted-house movies that have been made recently, this one falls well short. Also with Jack Thompson, Julia Blake, and Garry McDonald.
The Guard (R) This delightfully twisted Irish buddy-cop movie stars Brendan Gleeson as a loose-cannon beat cop in County Galway who squires around an uptight FBI agent (Don Cheadle) to bust a drug smuggling ring. The chemistry between the two leads is properly offbeat, and Gleeson seems to be at his best on his home turf. First-time writer-director John Michael McDonagh pens some of the funniest dialogue of this year's movies (check the drug lords discussing Schopenhauer) and deals fruitfully with the tension between Dubliners and non-Dublin Irish. An action thriller and a black comedy, this adds up to a terrific piece of entertainment. Also with Mark Strong, Liam Cunningham, David Wilmot, Rory Keenan, and Fionnula Flanagan.
Harry Potter and the Deathly Hallows: Part 2 (PG-13) End of the line! The quest to destroy Lord Voldemort (Ralph Fiennes) leads Harry and his friends (Daniel Radcliffe, Rupert Grint, Emma Watson) back to school for an ultimate showdown. Director David Yates still fumbles a few of the book's key emotional points, and the 3D is unnecessary gilding. On the other hand, there are cool action set pieces and a shattering flashback revealing the hidden motivations of Professor Snape (Alan Rickman). The film stands up well enough on its own, with a lyrical middle bookended by action-dominated sections. Yet it's the slow aging of these kid actors into young men and women that gives unique power to J.K. Rowling's saga of children becoming adults. Also with Warwick Davis, Helena Bonham Carter, Maggie Smith, Michael Gambon, Matthew Lewis, Julie Walters, Mark Williams, Tom Felton, Helen McCrory, Jason Isaacs, Ciarán Hinds, Kelly Macdonald, Bonnie Wright, David Bradley, Gary Oldman, and Robbie Coltrane.
The Help (PG-13) Kathryn Stockett's wildly popular novel becomes this charming but flawed film about two African-American housemaids (Viola Davis and Octavia Spencer) in Jackson, Miss., during the 1960s civil rights movement and one white Ole Miss graduate (Emma Stone) who decides to interview them and write down their stories in a book. The film is impeccably cast down to its smallest roles, but writer-director Tate Taylor's inexperience is plain to see in his inability to transition between scenes. The main characters never seem in any degree of danger, and Taylor yanks on your heartstrings rather shamelessly. This movie is just good enough to make you wish it had been better. Also with Bryce Dallas Howard, Jessica Chastain, Allison Janney, Ahna O'Reilly, David Oyelowo, Chris Lowell, Nelsan Ellis, Anna Camp, Leslie Jordan, Cicely Tyson, Mary Steenburgen, and Sissy Spacek.
Horrible Bosses (R) Exactly what it says in the title. Jason Bateman, Charlie Day, and Jason Sudeikis star in this black comedy as downtrodden white-collar workers who conspire to murder their tyrannical, psychotic employers (Jennifer Aniston, Colin Farrell, and Kevin Spacey). The working guys are tools and the plot machinations overwhelm the writers near the end, but the jokes are consistently funny and the bosses are played with unseemly verve by all three actors, especially Aniston (gleefully shedding her clothes and likability as a sexual harasser) and Farrell (as a cokehead with 30 extra pounds and a greasy combover). It'll do until a better nasty comedy comes along. Also with Jamie Foxx, Julie Bowen, Lindsay Sloane, Isaiah Mustafa, Wendell Pierce, Ioan Gruffudd, Donald Sutherland, and Bob Newhart.
Kevin Hart: Laugh at My Pain (R) This concert film takes in the diminutive, motor-mouthed stand-up comic's performance in Los Angeles, prefaced by footage of him returning to his old stomping grounds in his native Philadelphia. The movie starts off promisingly enough, with Hart's jokes about his wacky family and a disastrous birthday party he threw for his daughter. ("I was scared of SpongeBob.") After that, the set quickly bogs down in routine jokes about sex. The movie concludes with an extended parody of Reservoir Dogs that totally doesn't work. Hart's a funny guy, but this movie should have gone direct to DVD.
Midnight in Paris (PG-13) Woody Allen's charming paean to the City of Lights stars Owen Wilson as an aspiring writer who's magically transported from present-day Paris to the city in the 1920s, where he gets to rub shoulders with Picasso, Gertrude Stein, and F. Scott Fitzgerald. The contemporary characters like the writer's shrewish fiancée (Rachel McAdams) and her phony ex (Michael Sheen) don't add much, but the movie kicks into gear whenever it takes place in Lost Generation Paris, with frequent laughs and a breezy tone. Watch for Corey Stoll's amusingly brusque performance as Ernest Hemingway. Also with Marion Cotillard, Tom Hiddleston, Alison Pill, Léa Seydoux, Gad Elmaleh, Adrien Brody, Kathy Bates, and Carla Bruni. — C.W.
One Day (PG-13) David Nicholls' best-selling novel is reduced to this tastefully indistinct film that follows two British university graduates (Anne Hathaway and Jim Sturgess) on successive July 15ths between 1988 and 2008. The book's insights about British culture and the rewards and discontents of early adulthood are lost, with screenwriter Nicholls turning his characters' struggles into fodder for sitcom patter, and not even funny patter at that. No one brings their best to this, not director Lone Scherfig, not the principal actors, not cinematographer Benoît Delhomme, not composer Rachel Portman. Without the book's insights, the movie feels gimmicky and banal. Also with Patricia Clarkson, Rafe Spall, Romola Garai, Ken Stott, and Jodie Whittaker.
Our Idiot Brother (R) Paul Rudd stars in this comedy as a pothead named Ned who's sweet, dim, and incapable of telling lies or keeping secrets. Because his sisters (Elizabeth Banks, Zooey Deschanel, and Emily Mortimer) are all mendacious people, Ned wreaks havoc on their lives, and the sisters blame him for all their troubles instead of examining their own flaws. In theory, this is a fantastic comic idea. In practice, it only works fitfully. The brother-sister filmmaking team of Jesse and Evgenia Peretz nicely satirize Ned's crunchy New Age scene, but their comic material is still low-grade, and they don't seem to realize what unpleasant people the sisters are. With such a high-powered cast, you'd expect more laughs. Also with Rashida Jones, Steve Coogan, Adam Scott, Kathryn Hahn, T.J. Miller, Shirley Knight, Polly Draper, Katie Aselton, and Hugh Dancy.
Rise of the Planet of the Apes (PG-13) This sci-fi prequel stars James Franco as a genetic researcher whose attempt to cure his Alzheimer's patient dad (John Lithgow) leads to a race of superintelligent apes. Director Rupert Wyatt does this smoothly, particularly in the middle section when the scientist's cerebrally enhanced chimp (played by a motion-captured Andy Serkis) is abandoned in a hellish primate facility where he leads a prison break. Yet the plot is too dependent on security breaches and incredible human stupidity. Somehow, the movie is never as frightening or as thought-provoking as it would like to be. Watch for tons of references to the 1968 film. Also watch for the Harry Potter series' Tom Felton as an animal-torturing American zookeeper. Also with Freida Pinto, David Oyelowo, Tyler Labine, and Brian Cox.
Saving Private Pérez (PG-13) Beto Gómez' black comedy stars Miguel Rodarte as a Mexican drug lord who puts together a suicide mission after his brother (Juan Carlos Flores) is kidnapped in Iraq. Also with Adal Ramones, Jaime Camil, Jesús Ochoa, Gerardo Taracena, Isela Vega, Joaquín Cosío, and Claudia Salinas.
Seven Days in Utopia (G) A Christian golf movie! Actually, the religion is soft-pedaled in favor of snoozy inspirational drama in this adaptation of a badly written novel by a motivational speaker. Lucas Black stars as a golf pro recovering from a high-profile mid-tournament meltdown. When a fender bender strands him in a small Texas town, he meets a former pro golfer (Robert Duvall) who's conveniently on hand to become his Christian Yoda. Some stray bits of good advice on maintaining focus and calming nerves get lost amid hackneyed scenes of mentoring (golf is like fly fishing, golf is like painting, golf is like flying an airplane). Pixar did this whole story much better with Cars. Also with Melissa Leo, Deborah Ann Woll, Brian Geraghty, and K.J. Choi.
Shark Night 3D (PG-13) From David R. Ellis, the director of Snakes on a Plane (yay!) and The Final Destination (boo!), comes another in the long line of Jaws rip-offs. Several attractive young folks (Sara Paxton and Dustin Milligan among them) vacation at a friend's house by a saltwater lake and discuss the ramifications of urban gas drilling. Just kidding. They get attacked by sharks. The PG-13 rating is a real bummer — lack of gore, no nudity — and the flick just isn't scary enough to make up for the deficiencies. Ellis makes an earnest attempt to make the shark-bait — um, we mean, "the characters" — likable, but he just can't muster what's needed. They're still not endearing and not funny. Far from the worst of the killer-shark genre, but far from the best, Shark Night 3D is for people with a serious Carcharodon craving only. Also with Donal Logue, Joshua Leonard, Alyssa Diaz, Chris Carmack, Chris Zylka, Joel David Moore, and Katharine McPhee. –– C.W.
The Smurfs (PG) Exactly as bad as you'd think. This rotten family flick features six of the famous magical blue beings transported to live-action present-day New York City — along with their wizard nemesis Gargamel (Hank Azaria) — and enlisting an expectant married couple (Neil Patrick Harris and Jayma Mays) to help them get back home. The 3D animation is lame, with director Raja Gosnell (the Scooby-Doo movies) bringing his non-magical touch to the proceedings. The script is somehow even lamer, cherry-picking all the most obvious cultural references and indulging in product placement that's shameless even for kids' movies. This movie will give you the blues, all right. Also with Sofía Vergara and Tim Gunn. Voices by Anton Yelchin, Katy Perry, Alan Cumming, George Lopez, Fred Armisen, and Jonathan Winters.
Spy Kids: All the Time in the World in 4D (PG) Worse than the dirtiest diaper. Robert Rodriguez writes, produces, and directs this fourth installment in the precocious-siblings-using-gadgets-and-flatulence-to-defeat-supervillians franchise, perhaps dealing with some family issues at home via a heavy-handed message about the importance of spending time with your kids. Ricky Gervais as a talking robot dog commiserates with the audience by cracking wise, but even he isn't safe from farting babies, awkward exposition, and a peculiar idea of how hearing aids work. Neither late-act cameos by the grown-up stars of the original film nor the "4D experience" (using scratch-off scent cards) can save this turd. Also with Jessica Alba, Joel McHale, Jeremy Piven, Alexa Vega, Daryl Sabara, Rowan Blanchard, Mason Coon, Danny Trejo, and an uncredited Antonio Banderas. –– S.S.
30 Minutes or Less (R) Jesse Eisenberg reunites with his Zombieland director Ruben Fleischer for this comedy that isn't as ambitious or audacious but powered by the same anarchic spirit. Eisenberg plays a pizza delivery boy kidnapped by two criminal morons (Danny McBride and Nick Swardson) who strap a bomb to him and force him to rob a bank. The mayhem comes from all directions here, especially from Aziz Ansari as the delivery boy's best friend who's an alternately brilliant and unhelpful sidekick. There's just enough violence here to give the comedy an unpredictable edge, and even though it lacks the final ounce of lunacy, this quick-and-dirty movie scores its laughs and gets off the screen. Also with Michael Peña, Dilshad Vadsaria, Bianca Kajlich, and Fred Ward.
Warrior (PG-13) Disguised as an MMA movie, this drama is about two working-class Pennsylvania brothers coping with their shared harsh background. Tom Hardy plays a U.S. Marine returned from Iraq, while Joel Edgerton plays a high-school physics teacher trying to save his house. Estranged since their teens, they both enter the same glitzy MMA tournament with an eye to the $5 million prize. Director/co-writer Gavin O'Connor handles the material with a light touch and steers the movie clear of soapy excess but can't keep the film from sagging before the climactic tournament. Edgerton makes little impression; it's Hardy who walks off with the acting honors, playing his character as a damaged case outside the octagon and ball of sheer fury inside it. Also with Jennifer Morrison, Frank Grillo, Kevin Dunn, Noah Emmerich, Kurt Angle, and Nick Nolte.
DALLAS EXCLUSIVES:
Bellflower (R) Evan Glodell writes, directs, and stars in this micro-budget action film as a young man with apocalyptic fantasies who goes off the deep end after his girlfriend (Jessie Wiseman) ends their affair. Also with Tyler Dawson, Rebekah Brandes, Vincent Grashaw, Zack Kraus, Keghan Hurst, and Alexandra Boylan.
Chasing Madoff (NR) Jeff Prosserman's documentary profile of independent financial investigator Harry Markopolos and his years-long effort to expose Bernard Madoff and his Ponzi scheme.
Higher Ground (R) Vera Farmiga stars and makes her directing debut in this adaptation of Carolyn Briggs' memoir This Dark World, about a woman questioning her Christian faith while growing up in an evangelical community. Also with John Hawkes, Dagmara Dominczyk, Joshua Leonard, Taissa Farmiga, Bill Irwin, Ebon Moss-Bachrach, Norbert Leo Butz, and Donna Murphy.
Senna (PG-13) Asif Kapadia's documentary portrait of the Brazilian auto racing champion Ayrton Senna.