WED ? 14
If you've never ridden in a zeppelin before and have loads of spare cash to throw around, the Farmers Airship is in Fort Worth all week. The vehicle is the only zeppelin in the Western Hemisphere and bills itself as the largest passenger airship of its kind. It'll be giving aerial tours of the city. The ship is docked Sep 12-18 at Alliance Airport, 2221 W Alliance Blvd, FW. Flights are $495-950. Call 650-969-8100.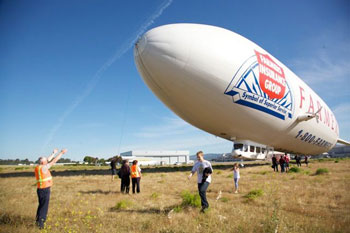 THU ▪ 15
Looks like the programmers at 1919 Hemphill need to step up their game. A new film series focusing on documentaries about human rights launches at the Modern. Kicking off Movies That Matter is A Man Named Pearl, a portrait of an African-American man spurred by a racist remark to become a topiary sculptor. The film screens at 7pm at 3200 Darnell St, FW. Admission is free. Call 817-738-9215.
FRI ▪ 16
The cooler weather will undoubtedly boost attendance at Diez y Seis de Septiembre, the Mexican Independence Day celebration that also has the good luck of falling on a weekend this year. The event will feature folklórico dancing, live music, face painting, and food. The celebration starts at 7:30pm at Rose Marine Theater, 1440 N Main St, FW. Admission is free. Call 817-624-8333.
SAT ▪ 17
This year's is the 25th edition of GrapeFest, and the city of Grapevine is pulling out the stops. The festivities will include the usual: live music, arts and crafts, wine tastings, a golf tournament, and the famous Grape Stomp. But there'll also be champagne and beer events, a building contest at the Grapevine Mills Legoland, and giveaways of two free trips to Sydney (dovetailing with this year's emphasis on Australian wine). The festival runs Thu-Sun at various locations in Grapevine. Admission is free. Call 817-410-3100.
SUN ▪ 18
Contemporary music features early in Fort Worth Symphony Orchestra's new season, as Miguel Harth-Bedoya conducts the rock-influenced Slapdance by John B Hedges. (That's right, there's no period after the B in his name.) The work will be paired with Brahms' Fourth Symphony and Lalo's Symphonie Espagnole. The concerts are Fri-Sun at Bass Performance Hall, 555 Commerce St, FW. Tickets are $10-79. Call 817-665-6000.
MON ▪ 19
Your best bet this evening is the Maya Indie Film Festival, a week-long series of Spanish-language films showing in Dallas. The festival includes Amy Wendel's locally made All She Can (which played at Sundance last year) and Didi Hollywood, a drama by a stalwart of Spanish cinema, Bigas Luna. The festival runs Sep 16-22 at Studio Movie Grill, 11170 N Central Expwy, Dallas. Tickets are $7-9.50. Call 214-361-2966.
TUE ▪ 20
This close to the 9/11 anniversary would be a good time for a talk on Christian-Muslim relations, but instead we're getting Jesus and Jewish-Christian Relations: Problems and Possibilities, a lecture by Vanderbilt University Jewish studies professor Amy-Jill Levine. This talk will probably be productive too. It's at 7pm at TCU, Brown-Lupton University Union, 2901 Stadium Dr, FW. Tickets are $20-75. Call 817-257-7575.