OPENING:
Dream House (PG-13) Daniel Craig stars in this horror film as a father who uncovers murderous past events in the New England house that his family has just moved into. Also with Naomi Watts, Rachel Weisz, Marton Csokas, and Jane Alexander. (Opens Friday)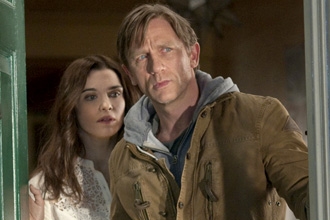 Courageous (PG-13) Alex Kendrick (Fireproof) co-writes, directs, and stars in his latest Christian drama as a police officer who vows to be a better father after a tragedy in his town. Also with Ken Bevel, Ben Davies, Kevin Downes, T.C. Stallings, Rusty Martin, and Renée Jewell. (Opens Friday)
Love Crime (NR) The last film by the late Alain Corneau (Tous les matins du monde) stars Ludivine Sagnier as a French office assistant who takes revenge on her tyrannical boss (Kristin Scott Thomas). Also with Patrick Mille, Guillaume Marquet, Gérald Laroche, Julien Rochefort, Marie Guillard, and Olivier Rabourdin. (Opens Friday in Dallas)
Machine Gun Preacher (R) Gerard Butler stars in this film based on the true story of a former drug-dealing biker who became a humanitarian activist for Sudanese child soldiers. Also with Michelle Monaghan, Kathy Baker, Michael Shannon, Joshua Drew, Madeline Carroll, and Souleymane Sy Savane. (Opens Friday in Dallas)
My Afternoons With Margueritte (NR) Jean Becker's drama about a barely literate Frenchman (Gérard Depardieu) who meets an old woman with a passion for great literature (Gisèle Casadesus). Also with Maurane, Patrick Bouchitey, Jean-François Stévenin, Claire Maurier, and Sophie Guillemin. (Opens Friday in Dallas)
Restless (PG-13) Gus Van Sant's romance stars Henry Hopper as a morbid teenager who falls in love with a terminally ill girl (Mia Wasikowska). Also with Ryo Kase, Schuyler Fisk, Lucia Strus, Chin Han, and Jane Adams. (Opens Friday in Dallas)
Shit Year (NR) Not a title you'll be seeing on a poster at your multiplex. Cam Archer's hallucinatory black-and-white drama stars Ellen Barkin as a famous actress ruing her decision to retire early. Also with Luke Grimes, Bob Einstein, Theresa Randle, and Melora Walters. (Opens Friday in Dallas)
Tucker & Dale vs. Evil (R) Tyler Labine and Alan Tudyk star in this horror-movie spoof as two backwoods rednecks who are forced to hunker down in their cabin by a group of urban college kids who wrongly believe them to be serial killers. Also with Katrina Bowden, Jesse Moss, Philip Granger, Brandon Jay McLaren, Christie Laing, Travis Nelson, and Chelan Simmons. (Opens Friday in Dallas)
What's Your Number? (R) Anna Faris stars in this comedy as a woman who revisits her last 20 ex-boyfriends to see if any of them have become suitable romantic partners. Also with Chris Evans, Ari Graynor, Blythe Danner, Ed Begley Jr., Heather Burns, Ivana Milicevic, Chris Pratt, Joel McHale, Zachary Quinto, Tyler Peck, Mike Vogel, Martin Freeman, Thomas Lennon, Anthony Mackie, Oliver Jackson-Cohen, and Andy Samberg. (Opens Friday)
NOW PLAYING:
Abduction (PG-13) The setup for this movie is promising, as it splits the difference between teen romance and spy thriller. However, director John Singleton doesn't have flair for either of those, and the resulting movie is indifferent paced, terminally lightweight, and generally bad. Taylor Lautner stars as a high-school kid who's caught up in a CIA espionage plot — along with a classmate and neighbor (Lily Collins) who has a crush on him — after discovering his own picture on a web site devoted to missing children. Lautner, alas, is no better an actor outside the Twilight series than in it, but he is an impressive martial-arts performer. (Check out the parkour leaps he does during the climax set at Pittsburgh's PNC Park.) That might be a way forward for him. Also with Alfred Molina, Michael Nyqvist, Maria Bello, Jason Isaacs, Denzel Whitaker, and Sigourney Weaver.
Apollo 18 (PG-13) Gonzalo López-Gallego's vérité horror movie gets it about half right. Warren Christie, Lloyd Owen, and Ryan Robbins play three NASA astronauts on a fictitious secret moon mission in 1974 who discover that unfriendly beings might be lurking on the satellite's surface. The void of space seen through "observation cameras" gives the movie a nice claustrophobic feel, but the editing and choices of background music are contrived, and the creatures themselves are disappointing once they're revealed. While there's plenty of atmosphere and tension here, the film doesn't deliver as well as it could have. — Cole Williams
Captain America: The First Avenger (PG-13) Accomplished but empty comic-book adaptation stars Chris Evans as a scrawny asthmatic U.S. Army reject during World War II who submits to a medical experiment that turns him into a warrior with superhuman strength and reflexes. Director Joe Johnston does it all up professionally and prevents the movie from overplaying the patriotism angle. The indistinct characterizations and the blandness of lead actors (Evans and Hayley Atwell as a British agent who's part of the project) are the reason why the movie feels so impersonal. Perhaps he'll be more interesting as part of next year's The Avengers, but here Captain America is a stalwart but boring presence. Also with Tommy Lee Jones, Hugo Weaving, Stanley Tucci, Toby Jones, Dominic Cooper, Sebastian Stan, Richard Armitage, Neal McDonough, Derek Luke, and Samuel L. Jackson.
The Change-Up (R) Better than the similar Hall Pass and Grown Ups, though that's not saying much. Two best friends — a married dad pining for his bachelor days (Jason Bateman) and a single slacker (Ryan Reynolds) — wish for each other's lives and are then magically transported into each other's bodies. The actors squeeze more out of the film's tired premise than you might expect, but for every gag that works there's at least one that's calculated, cynical, and rancid. This movie is occasionally funny, but there are other funny movies out there that don't leave you feeling queasy. Also with Leslie Mann, Olivia Wilde, Mircea Monroe, Gregory Itzin, Sydney Rouviere, Craig Bierko, and Alan Arkin.
Colombiana (PG-13) Zoë Saldana wears the "badass action heroine" suit pretty well in this otherwise slapdash and heavy-handed thriller, portraying an assassin who's out to revenge herself on the drug lord (Beto Benites) who murdered her parents in Colombia. Currently the only African-American woman being allowed to play roles like this, Saldana brings a unique presence to the screen. The vehicle isn't worthy of her, though. The script does its best to make its heroine superhumanly efficient, yet there are gaping holes in her planning and the plot logic in general. Director Olivier Megaton paces this thing indifferently and stages the action scenes unmemorably. Also with Lennie James, Jordi Mollà, Cliff Curtis, Amandla Stenberg, Callum Blue, and Michael Vartan.
Contagion (PG-13) Steven Soderbergh's brisk, intelligent killer-virus movie imagines a global pandemic of a lethal, fast-acting, highly spreadable new disease seen through the eyes of a Centers for Disease Control deputy director (Laurence Fishburne), a virologist trying to find a vaccine (Jennifer Ehle), a CDC investigator who herself becomes infected (Kate Winslet), a World Health Organization official taken hostage in China (Marion Cotillard), a sleazy blogger who gets rich selling a fake cure (Jude Law), and a Minnesota man (Matt Damon) trying to keep his surviving family together after his wife (Gwyneth Paltrow) becomes Patient Zero. A TV miniseries might have been a better format for treating all the issues raised here, but the movie covers a great deal of ground deftly, and convincingly depicts a world where civilization is breaking down. This is generic Hollywood entertainment with a conscience and a brain. Also with Bryan Cranston, John Hawkes, Sanaa Lathan, Demetri Martin, Enrico Colantoni, Anna Jacoby-Herron, Chin Han, and Elliott Gould.
---
Cowboys & Aliens
(PG-13) Not bad at all, but given the setup, this movie should have been altogether wilder and wackier. When space aliens invade an Arizona mining town in 1873, a sadistic cattle baron (Harrison Ford) has to team up with an amnesiac (Daniel Craig) who wanders into town and happens to hold the key to defeating the aliens. Adapted from Scott Mitchell Rosenberg's graphic novel, the story is told from the point of view of cowboys with no concept of extraterrestrials, but this doesn't provide as much juice as it should. Jon Favreau directs this fluidly and makes the movie into an agreeable Western with a twist. It still should have been more. Also with Olivia Wilde, Sam Rockwell, Paul Dano, Noah Ringer, Ana de la Reguera, Adam Beach, Walton Goggins, Clancy Brown and Keith Carradine.
Crazy, Stupid, Love. (R) Funny, well-made, glib, sprawling in a good way, and crowd-pleasing in a bad way. This ensemble comedy revolves around a man (Steve Carell) who reacts to being left by his wife (Julianne Moore) by hanging out at a singles bar, where a younger wealthy playboy (Ryan Gosling) teaches him how to join the dating scene. Dan Fogelman's soppy script tells us that no relationship is too broken to repair with a little perseverance, even if that shades over into stalker-like behavior. The movie steers just clear of sentimentality thanks to the tidy direction of Glenn Ficarra and John Requa and the efforts of a peerless, fine-tuned cast that doesn't miss a single beat and plays well as a group. Also with Emma Stone, Jonah Bobo, Analeigh Tipton, Liza Lapira, Josh Groban, Kevin Bacon, and Marisa Tomei.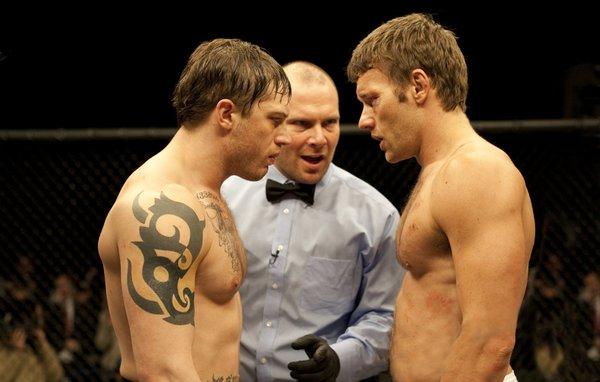 The Debt (R) This thriller tells parallel stories, one about three Israeli Mossad agents (Jessica Chastain, Marton Csokas, and Sam Worthington) failing to kill a fugitive Nazi (Jesper Christensen) in 1966, the other about the same agents (Helen Mirren, Tom Wilkinson, and Ciarán Hinds) having to live with the consequences of covering up their failure. Director John Madden comes up with some exciting sequences like an escape in a stolen ambulance and a gynecological exam performed by the prospective victim on the female agent. Yet the chemistry among the younger actors isn't up to scratch, and the love triangle among the agents isn't enough to carry this thriller by itself. Much as it would like to be, this movie is no Munich. Also with Romi Aboulafia and Brigitte Kren. — Steve Steward
Dolphin Tale (PG) The true story of a dolphin who lost its tail to a crab trap and the boy who saved its life becomes this sleep-inducing kids' movie. The dolphin in question (named Winter) portrays herself and Nathan Gamble portrays the boy who finds her beached in Florida and convinces the financially struggling water park that's sheltering her to take a chance. The material has potential, but director Charles Martin Smith (Air Bud) dials up the cute animal shtick and drowns out all complexity and anything else that might make this an interesting story. The pelican steals a few scenes, though. Do not pay the 3D surcharge for this movie. In fact, just save your money and go to an aquarium. Also with Morgan Freeman, Ashley Judd, Harry Connick Jr., Cozi Zuehlsdorff, Michael Roark, Frances Sternhagen, and Kris Kristofferson.
Drive (R) One of 2011's best and strangest movies stars an oh-so-cool Ryan Gosling as a Hollywood stunt driver who moonlights as a getaway driver. Based on a pulpy novella by James Sallis, this movie would seem to beg for a high-octane treatment, but Danish director Nicolas Winding Refn pulls way back on the throttle and gives the movie a spacey vibe that jives with the deep alienation felt by the nameless and psychopathic main character, whose only human qualities are the ones that move him to protect a single mother (Carey Mulligan) and her young son who get in trouble with mobsters. Brilliantly acted by its ensemble cast, this audacious and superbly stylish thriller is insanely violent and intensely romantic. Also with Bryan Cranston, Albert Brooks, Ron Perlman, Oscar Isaac, Kaden Leos, and Christina Hendricks.
The Guard (R) This delightfully twisted Irish buddy-cop movie stars Brendan Gleeson as a loose-cannon beat cop in County Galway who squires around an uptight FBI agent (Don Cheadle) to bust a drug smuggling ring. The chemistry between the two leads is properly offbeat, and Gleeson seems to be at his best on his home turf. First-time writer-director John Michael McDonagh pens some of the funniest dialogue of this year's movies (check the drug lords discussing Schopenhauer) and deals fruitfully with the tension between Dubliners and non-Dublin Irish. An action thriller and a black comedy, this adds up to a terrific piece of entertainment. Also with Mark Strong, Liam Cunningham, David Wilmot, Rory Keenan, and Fionnula Flanagan.
Harry Potter and the Deathly Hallows: Part 2 (PG-13) End of the line! The quest to destroy Lord Voldemort (Ralph Fiennes) leads Harry and his friends (Daniel Radcliffe, Rupert Grint, Emma Watson) back to school for an ultimate showdown. Director David Yates still fumbles a few of the book's key emotional points, and the 3D is unnecessary gilding. On the other hand, there are cool action set pieces and a shattering flashback revealing the hidden motivations of Professor Snape (Alan Rickman). The film stands up well enough on its own, with a lyrical middle bookended by action-dominated sections. Yet it's the slow aging of these kid actors into young men and women that gives unique power to J.K. Rowling's saga of children becoming adults. Also with Warwick Davis, Helena Bonham Carter, Maggie Smith, Michael Gambon, Matthew Lewis, Julie Walters, Mark Williams, Tom Felton, Helen McCrory, Jason Isaacs, Ciarán Hinds, Kelly Macdonald, Bonnie Wright, David Bradley, Gary Oldman, and Robbie Coltrane.
The Help (PG-13) Kathryn Stockett's wildly popular novel becomes this charming but flawed film about two African-American housemaids (Viola Davis and Octavia Spencer) in Jackson, Miss., during the 1960s civil rights movement and one white Ole Miss graduate (Emma Stone) who decides to interview them and write down their stories in a book. The film is impeccably cast down to its smallest roles, but writer-director Tate Taylor's inexperience is plain to see in his inability to transition between scenes. The main characters never seem in any degree of danger, and Taylor yanks on your heartstrings rather shamelessly. This movie is just good enough to make you wish it had been better. Also with Bryce Dallas Howard, Jessica Chastain, Allison Janney, Ahna O'Reilly, David Oyelowo, Chris Lowell, Nelsan Ellis, Anna Camp, Leslie Jordan, Cicely Tyson, Mary Steenburgen, and Sissy Spacek.
Higher Ground (R) Adapted from Carolyn Briggs' memoir This Dark World, this film stars Vera Farmiga as a woman who comes to question her Christian faith while growing up in an evangelical community in upstate New York. Farmiga also makes her debut as a director, and she makes a few rookie mistakes, leaving in a few scenes that would have been better off cut. However, she displays a sure hand with her fellow actors (including her sister Taissa Farmiga, portraying her character's teenage self). Most importantly, the character's struggle with religious doubt feels real and lived-in. Attractively arranged hymns and songs dot the soundtrack; Farmiga has excellent musical taste. Also with Joshua Leonard, John Hawkes, Dagmara Dominczyk, Bill Irwin, Ebon Moss-Bachrach, Norbert Leo Butz, Nina Arianda, Boyd Holbrook, Sean Mahon, and Donna Murphy.
I Don't Know How She Does It (PG-13) Based on Allison Pearson's novel, this film beats you over the head about how hard and unfair it is to be a successful professional woman and a supermom at the same time, only to hedge its bets by sliding into easy jokes and "you go girl" platitudes. Sarah Jessica Parker portrays a Boston wife and mother of two who's stretched to the breaking point when she encounters new success at her job as an investment analyst. The main character is boring, the gags are straight out of network TV sitcoms, and the message grows tiresome. Also with Pierce Brosnan, Greg Kinnear, Christina Hendricks, Seth Meyers, Olivia Munn, Busy Philipps, Jessica Szohr, Sarah Shahi, Jane Curtin, and Kelsey Grammer. — S.S.
Kevin Hart: Laugh at My Pain (R) This concert film takes in the diminutive, motor-mouthed stand-up comic's performance in Los Angeles, prefaced by footage of him returning to his old stomping grounds in his native Philadelphia. The movie starts off promisingly enough, with Hart's jokes about his wacky family and a disastrous birthday party he threw for his daughter. ("I was scared of SpongeBob.") After that, the set quickly bogs down in routine jokes about sex. The movie concludes with an extended parody of Reservoir Dogs that totally doesn't work. Hart's a funny guy, but this movie should have gone direct to DVD.
Killer Elite (R) Better than your average Jason Statham action flick, this brutally nihilistic thriller set in the 1980s stars Statham as a retired mercenary who's forced to kill three ex-soldiers from Britain's elite military unit, a mission that earns him the attention of a vengeful operative from that same unit (Clive Owen, rocking a pencil mustache). What's notable about this film is its overhanging sense that there are no good guys here, as all higher ideals about love of country and the glory of military service are revealed to be shams. The feel of a world that has completely lost its moral compass is stronger stuff than most action thrillers give you. Also with Robert De Niro, Dominic Purcell, Aden Young, Yvonne Strahovski, Ben Mendelsohn, Rodney Afif, and Adewale Akinnuoye-Agbaje.
Moneyball (PG-13) Based on Michael Lewis' book, this drama tells how Oakland A's general manager Billy Beane (Brad Pitt) and his assistant (Jonah Hill) built a winning baseball team on a budget by upending the sport's conventional wisdom and acquiring underrated players. Pitt and Hill are starkly different comic actors, and the chemistry between them never quite takes, even though they do fine work on their own. Writers Steven Zaillian and Aaron Sorkin turn the story into some good comedy, but repetitive scenes keep this from achieving the streamlined momentum of The Social Network, the movie this so badly wants to be. Still, the ending is near magical, with Billy finding value in sports and life beyond the wins and losses. Also with Philip Seymour Hoffman, Chris Pratt, Stephen Bishop, Arliss Howard, Reed Thompson, Brent Jennings, Kerris Dorsey, and Robin Wright.
Our Idiot Brother (R) Paul Rudd stars in this comedy as a pothead named Ned who's sweet, dim, and incapable of telling lies or keeping secrets. Because his sisters (Elizabeth Banks, Zooey Deschanel, and Emily Mortimer) are all mendacious people, Ned wreaks havoc on their lives, and the sisters blame him for all their troubles instead of examining their own flaws. In theory, this is a fantastic comic idea. In practice, it only works fitfully. The brother-sister filmmaking team of Jesse and Evgenia Peretz nicely satirize Ned's crunchy New Age scene, but their comic material is still low-grade, and they don't seem to realize what unpleasant people the sisters are. With such a high-powered cast, you'd expect more laughs. Also with Rashida Jones, Steve Coogan, Adam Scott, Kathryn Hahn, T.J. Miller, Shirley Knight, Polly Draper, Katie Aselton, and Hugh Dancy.
Rise of the Planet of the Apes (PG-13) This sci-fi prequel stars James Franco as a genetic researcher whose attempt to cure his Alzheimer's patient dad (John Lithgow) leads to a race of superintelligent apes. Director Rupert Wyatt does this smoothly, particularly in the middle section when the scientist's cerebrally enhanced chimp (played by a motion-captured Andy Serkis) is abandoned in a hellish primate facility where he leads a prison break. Yet the plot is too dependent on security breaches and incredible human stupidity. Somehow, the movie is never as frightening or as thought-provoking as it would like to be. Watch for tons of references to the 1968 film. Also watch for the Harry Potter series' Tom Felton as an animal-torturing American zookeeper. Also with Freida Pinto, David Oyelowo, Tyler Labine, and Brian Cox.
Saving Private Pérez (PG-13) Miguel Rodarte stars as a Mexican drug lord who puts together a rescue team after his U.S. soldier brother (Juan Carlos Flores) is taken hostage in Iraq in 2003. The movie takes an unhealthily romantic view of its hero's occupation, and the family issues here are straight out of a telenovela. However, director/co-writer Beto Gómez stages some precise deadpan visual gags and has fun with the prospect of Mexicans adrift in a strange land, putting Tabasco on their tabouli. It's unusual enough to be worth a look. Also with Jaime Camil, Jesús Ochoa, Gerardo Taracena, Isela Vega, Joaquín Cosío, Rodrigo Oviedo, and Marius Biegai.
Sector 7 (NR) This technically impressive but dramatically inert 3D South Korean monster movie stars Ha Ji-won as a mid-ocean oil rig worker (nicknamed "Hardass" by her male colleagues) who must take charge when a sea monster starts preying on her fellow crew members. The nearly indestructible monster is a fearsome creature, and the movie will teach you more about South Korea's petroleum industry than you ever imagined yourself knowing. However, the characters are stock figures who don't react to the monster in any interesting ways, which is why this plays out like a Korean version of one of those Alien-at-sea rip-offs that Hollywood cranked out in the 1980s. Also with Ahn Sung-kee, Oh Ji-ho, Cha Ae-ryeon, Lee Han-wi, Park Cheol-min, Song Sae-byeok, and Park Jeong-hak.
Seven Days in Utopia (G) A Christian golf movie! Actually, the religion is soft-pedaled in favor of snoozy inspirational drama in this adaptation of a badly written novel by a motivational speaker. Lucas Black stars as a golf pro recovering from a high-profile mid-tournament meltdown. When a fender bender strands him in a small Texas town, he meets a former pro golfer (Robert Duvall) who's conveniently on hand to become his Christian Yoda. Some stray bits of good advice on maintaining focus and calming nerves get lost amid hackneyed scenes of mentoring (golf is like fly fishing, golf is like painting, golf is like flying an airplane). Pixar did this whole story much better with Cars. Also with Melissa Leo, Deborah Ann Woll, Brian Geraghty, and K.J. Choi.
Shark Night 3D (PG-13) From David R. Ellis, the director of Snakes on a Plane (yay!) and The Final Destination (boo!), comes another in the long line of Jaws rip-offs. Several attractive young folks (Sara Paxton and Dustin Milligan among them) vacation at a friend's house by a saltwater lake and discuss the ramifications of urban gas drilling. Just kidding. They get attacked by sharks. The PG-13 rating is a real bummer –– lack of gore, no nudity –– and the flick just isn't scary enough to make up for the deficiencies. Ellis makes an earnest attempt to make the shark-bait –– um, we mean, "the characters" –– likeable, but he just can't muster what's needed. They're still not endearing and not funny. Far from the worst of the killer-shark genre, but far from the best, Shark Night 3D is for people with a serious Carcharodon craving only. Also with Donal Logue, Joshua Leonard, Alyssa Diaz, Chris Carmack, Chris Zylka, Joel David Moore, and Katharine McPhee. –– C.W.
The Smurfs (PG) Exactly as bad as you'd think. This rotten family flick features six of the famous magical blue beings transported to live-action present-day New York City — along with their wizard nemesis Gargamel (Hank Azaria) — and enlisting an expectant married couple (Neil Patrick Harris and Jayma Mays) to help them get back home. The 3D animation is lame, with director Raja Gosnell (the Scooby-Doo movies) bringing his non-magical touch to the proceedings. The script is somehow even lamer, cherry-picking all the most obvious cultural references and indulging in product placement that's shameless even for kids' movies. This movie will give you the blues, all right. Also with Sofía Vergara and Tim Gunn. Voices by Anton Yelchin, Katy Perry, Alan Cumming, George Lopez, Fred Armisen, and Jonathan Winters.
Spy Kids: All the Time in the World in 4D (PG) Worse than the dirtiest diaper. Robert Rodriguez writes, produces, and directs this fourth installment in the precocious-siblings-using-gadgets-and-flatulence-to-defeat-supervillians franchise, perhaps dealing with some family issues at home via a heavy-handed message about the importance of spending time with your kids. Ricky Gervais as a talking robot dog commiserates with the audience by cracking wise, but even he isn't safe from farting babies, awkward exposition, and a peculiar idea of how hearing aids work. Neither late-act cameos by the grown-up stars of the original film nor the "4D experience" (using scratch-off scent cards) can save this turd. Also with Jessica Alba, Joel McHale, Jeremy Piven, Alexa Vega, Daryl Sabara, Rowan Blanchard, Mason Coon, Danny Trejo, and an uncredited Antonio Banderas. –– S.S.
Warrior (PG-13) Disguised as an MMA movie, this drama is about two working-class Pennsylvania brothers coping with their shared harsh background. Tom Hardy plays a U.S. Marine returned from Iraq, while Joel Edgerton plays a high-school physics teacher trying to save his house. Estranged since their teens, they both enter the same glitzy MMA tournament with an eye to the $5 million prize. Director/co-writer Gavin O'Connor handles the material with a light touch and steers the movie clear of soapy excess but can't keep the film from sagging before the climactic tournament. Edgerton makes little impression; it's Hardy who walks off with the acting honors, playing his character as a damaged case outside the octagon and ball of sheer fury inside it. Also with Jennifer Morrison, Frank Grillo, Kevin Dunn, Noah Emmerich, Kurt Angle, and Nick Nolte.
DALLAS EXCLUSIVES:
Detective Dee and the Mystery of the Phantom Flame (PG-13) This period thriller by Tsui Hark (Once Upon a Time in China) stars Andy Lau as a 7th-century exiled Chinese detective who must solve a string of murders that threaten the coronation of a new empress (Carina Lau). Also with Tony Leung Ka-Fai, Li Bingbing, Deng Chao, and Jean-Michel Casanova.
The Hedgehog (NR) Mona Achache's adaptation of Muriel Barbery's novel The Elegance of the Hedgehog stars Garance Le Guillermic as an 11-year-old Parisian girl who finds meaning in her life through a friendship with her apartment building's concierge (Josiane Balasko) and a new neighbor (Togo Igawa). Also with Anne Brochet, Ariane Ascaride, Wladimir Yordanoff, Sarah Le Picard, and Gisèle Casadesus.
Senna (PG-13) Asif Kapadia's documentary portrait of the Brazilian auto racing champion Ayrton Senna.