OPENING:
The Way (PG-13) Emilio Estevez writes, directs, and co-stars in this drama about an American (Martin Sheen) who determines to walk El Camino de Santiago in northern Spain after his son dies trying to make the same pilgrimage. Also with Deborah Kara Unger, Yorick van Wageningen, James Nesbitt, Spencer Garrett, and Tchéky Karyo. (Opens Friday)


A Bird of the Air (NR) Adapted from Joe Coomer's novel The Loop, this romance stars Jackson Hurst as an amnesiac security guard who teams with a free-spirited librarian (Rachel Nichols) to find the owners of a stray parrot. Also with Linda Emond, Buck Henry, Judith Ivey, Gary Farmer, and Phyllis Somerville. (Opens Friday in Dallas)
Brighton Rock (NR) Rowan Joffe's adaptation of Graham Greene's novel stars Sam Riley as a 1960s small-town English gangster who becomes more desperate and violent as rival gangsters close in on him. Also with Andrea Riseborough, Helen Mirren, John Hurt, Phil Davis, Nonso Anozie, Sean Harris, and Andy Serkis. (Opens Friday in Dallas)
Gainsbourg: A Heroic Life (NR) Joann Sfar's unconventional live-action/puppet biopic stars Eric Elmosnino as the French singer-songwriter Serge Gainsbourg. Also with Lucy Gordon, Laetitia Casta, Anna Mouglalis, Sara Forestier, Doug Jones, and the late Claude Chabrol. (Opens Friday in Dallas)
Margaret (R) Filmed in 2005 and held up by legal delays, the second film by Kenneth Lonergan (You Can Count on Me) stars Anna Paquin as a high-school girl who blames herself for a fatal bus accident. Also with Matt Damon, Mark Ruffalo, Jean Reno, Allison Janney, J. Smith-Cameron, Jeannie Berlin, Sarah Steele, Kieran Culkin, Stephen Adly Guirgis, Rosemarie DeWitt, Michael Ealy, Krysten Ritter, Olivia Thirlby, and Matthew Broderick. (Opens Friday in Dallas)
1911 (R) Jackie Chan stars in and co-directs this historical epic as a Chinese general who joins the popular revolution against the empire. Also with Joan Chen, Winston Chao, Li Bingbing, Jiang Wenli, and Jaycee Chan. (Opens Friday in Dallas)
Real Steel (PG-13) Hugh Jackman stars in this drama set in the near future as a promoter of robot gladiators who tries to work his way back to the top of his sport while getting to know the 11-year-old son (Dakota Goyo) he was previously unaware of. Also with Evangeline Lilly, Anthony Mackie, Kevin Durand, Hope Davis, and James Rebhorn. (Opens Friday)
War of the Arrows (NR) Park Hae-il stars in this Korean epic as a Manchu dynasty archer who vows revenge after his sister (Moon Chae-won) is captured by invading Chinese forces. Also with Ryoo Seung-ryong, Kim Mu-yeol, Lee Han-wi, Lee Kyeong-yeong, Park Ji-woon, and Ryohei Otani. (Opens Friday at AMC Grapevine Mills)
Abduction (PG-13) The setup for this movie is promising, as it splits the difference between teen romance and spy thriller. However, director John Singleton doesn't have flair for either of those, and the resulting movie is indifferent paced, terminally lightweight, and generally bad. Taylor Lautner stars as a high-school kid who's caught up in a CIA espionage plot — along with a classmate and neighbor (Lily Collins) who has a crush on him — after discovering his own picture on a web site devoted to missing children. Lautner, alas, is no better an actor outside the Twilight series than in it, but he is an impressive martial-arts performer. (Check out the parkour leaps he does during the climax set at Pittsburgh's PNC Park.) That might be a way forward for him. Also with Alfred Molina, Michael Nyqvist, Maria Bello, Jason Isaacs, Denzel Whitaker, and Sigourney Weaver.
Captain America: The First Avenger (PG-13) Accomplished but empty comic-book adaptation stars Chris Evans as a scrawny asthmatic U.S. Army reject during World War II who submits to a medical experiment that turns him into a warrior with superhuman strength and reflexes. Director Joe Johnston does it all up professionally and prevents the movie from overplaying the patriotism angle. The indistinct characterizations and the blandness of lead actors (Evans and Hayley Atwell as a British agent who's part of the project) are the reason why the movie feels so impersonal. Perhaps he'll be more interesting as part of next year's The Avengers, but here Captain America is a stalwart but boring presence. Also with Tommy Lee Jones, Hugo Weaving, Stanley Tucci, Toby Jones, Dominic Cooper, Sebastian Stan, Richard Armitage, Neal McDonough, Derek Luke, and Samuel L. Jackson.
Contagion (PG-13) Steven Soderbergh's brisk, intelligent killer-virus movie imagines a global pandemic of a lethal, fast-acting, highly spreadable new disease seen through the eyes of a Centers for Disease Control deputy director (Laurence Fishburne), a virologist trying to find a vaccine (Jennifer Ehle), a CDC investigator who herself becomes infected (Kate Winslet), a World Health Organization official taken hostage in China (Marion Cotillard), a sleazy blogger who gets rich selling a fake cure (Jude Law), and a Minnesota man (Matt Damon) trying to keep his surviving family together after his wife (Gwyneth Paltrow) becomes Patient Zero. A TV miniseries might have been a better format for treating all the issues raised here, but the movie covers a great deal of ground deftly, and convincingly depicts a world where civilization is breaking down. This is generic Hollywood entertainment with a conscience and a brain. Also with Bryan Cranston, John Hawkes, Sanaa Lathan, Demetri Martin, Enrico Colantoni, Anna Jacoby-Herron, Chin Han, and Elliott Gould.
Courageous (PG-13) Alex Kendrick appears to be regressing creatively in his latest Christian drama. In addition to directing and co-writing, he stars as a deputy sheriff who vows to become a better father after his young daughter is killed in an accident. Every scene in this male weeper seems to end with a guy putting a fatherly hand on someone's shoulder and dispensing a homily on how a man should behave. The acting is terrible too. A few well-executed action sequences can't counteract the stifling preachiness of this exercise. Also with Ken Bevel, Ben Davies, Kevin Downes, Robert Amaya, Angelita Nelson, T.C. Stallings, Rusty Martin, Taylor Hutcherson, and Renée Jewell.
Crazy, Stupid, Love. (R) Funny, well-made, glib, sprawling in a good way, and crowd-pleasing in a bad way. This ensemble comedy revolves around a man (Steve Carell) who reacts to being left by his wife (Julianne Moore) by hanging out at a singles bar, where a younger wealthy playboy (Ryan Gosling) teaches him how to join the dating scene. Dan Fogelman's soppy script tells us that no relationship is too broken to repair with a little perseverance, even if that shades over into stalker-like behavior. The movie steers just clear of sentimentality thanks to the tidy direction of Glenn Ficarra and John Requa and the efforts of a peerless, fine-tuned cast that doesn't miss a single beat and plays well as a group. Also with Emma Stone, Jonah Bobo, Analeigh Tipton, Liza Lapira, Josh Groban, Kevin Bacon, and Marisa Tomei.
The Debt (R) This thriller tells parallel stories, one about three Israeli Mossad agents (Jessica Chastain, Marton Csokas, and Sam Worthington) failing to kill a fugitive Nazi (Jesper Christensen) in 1966, the other about the same agents (Helen Mirren, Tom Wilkinson, and Ciarán Hinds) having to live with the consequences of covering up their failure. Director John Madden comes up with some exciting sequences like an escape in a stolen ambulance and a gynecological exam performed by the prospective victim on the female agent. Yet the chemistry among the younger actors isn't up to scratch, and the love triangle among the agents isn't enough to carry this thriller by itself. Much as it would like to be, this movie is no Munich. Also with Romi Aboulafia and Brigitte Kren. — Steve Steward
Dolphin Tale (PG) The true story of a dolphin who lost its tail to a crab trap and the boy who saved its life becomes this sleep-inducing kids' movie. The dolphin in question (named Winter) portrays herself and Nathan Gamble portrays the boy who finds her beached in Florida and convinces the financially struggling water park that's sheltering her to take a chance. The material has potential, but director Charles Martin Smith (Air Bud) dials up the cute animal shtick and drowns out all complexity and anything else that might make this an interesting story. The pelican steals a few scenes, though. Do not pay the 3D surcharge for this movie. In fact, just save your money and go to an aquarium. Also with Morgan Freeman, Ashley Judd, Harry Connick Jr., Cozi Zuehlsdorff, Michael Roark, Frances Sternhagen, and Kris Kristofferson.
---
Dream House (PG-13) Daniel Craig stars in this slick but forgettable supernatural thriller that might well work better if you haven't seen the movie's spoiler-tastic trailer. He portrays a writer who moves into a new house with his wife (Rachel Weisz) and young daughters (Taylor and Claire Geare), only to encounter hostile neighbors and supernatural phenomena, both related to the house's previous occupants, who were murdered. David Loucka's script is ingenious enough and the movie looks good, but director Jim Sheridan (
In America
,
In the Name of the Father
) has no flair for horror. Too bad. This could have been a terrific scary movie with even a modestly talented producer who fit the genre. Also with Naomi Watts, Marton Csokas, Elias Koteas, Rachel G. Fox, and Jane Alexander.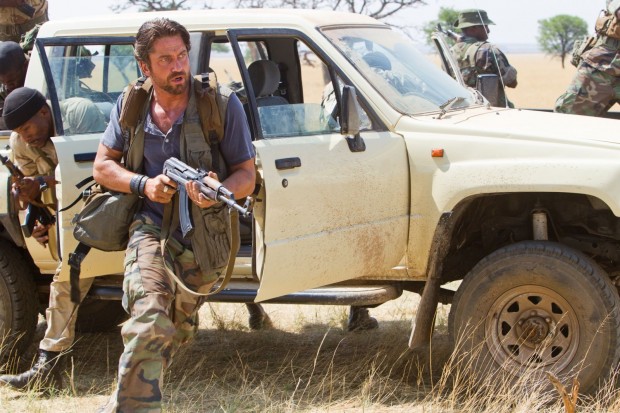 Drive (R) One of 2011's best and strangest movies stars an oh-so-cool Ryan Gosling as a Hollywood stunt driver who moonlights as a getaway driver. Based on a pulpy novella by James Sallis, this movie would seem to beg for a high-octane treatment, but Danish director Nicolas Winding Refn pulls way back on the throttle and gives the movie a spacey vibe that jives with the deep alienation felt by the nameless and psychopathic main character, whose only human qualities are the ones that move him to protect a single mother (Carey Mulligan) and her young son who get in trouble with mobsters. Brilliantly acted by its ensemble cast, this audacious and superbly stylish thriller is insanely violent and intensely romantic. Also with Bryan Cranston, Albert Brooks, Ron Perlman, Oscar Isaac, Kaden Leos, and Christina Hendricks.
50/50 (R) This comedy about surviving cancer isn't as ground-breaking as it thinks it is, but it does have its moments. Joseph Gordon-Levitt portrays a 27-year-old Seattleite who's diagnosed with a rare form of spinal cancer that has a 50 percent chance of killing him. Will Reiser's script is based on his own life experience, but it doesn't go much deeper than other narratives we've seen before about disease. Thankfully, the movie is funny, largely thanks to Seth Rogen as the main character's best friend, a weed-smoking layabout who's forced to assume a few adult responsibilities. There's a great scene near the end, too, when the patient finally calls his even-younger therapist (Anna Kendrick) and lets her hear how scared he is. This may only be a disease-of-the-week movie, but it's rather good. Also with Bryce Dallas Howard, Anjelica Huston, Serge Houde, Matt Frewer, and Philip Baker Hall.
Harry Potter and the Deathly Hallows: Part 2 (PG-13) End of the line! The quest to destroy Lord Voldemort (Ralph Fiennes) leads Harry and his friends (Daniel Radcliffe, Rupert Grint, Emma Watson) back to school for an ultimate showdown. Director David Yates still fumbles a few of the book's key emotional points, and the 3D is unnecessary gilding. On the other hand, there are cool action set pieces and a shattering flashback revealing the hidden motivations of Professor Snape (Alan Rickman). The film stands up well enough on its own, with a lyrical middle bookended by action-dominated sections. Yet it's the slow aging of these kid actors into young men and women that gives unique power to J.K. Rowling's saga of children becoming adults. Also with Warwick Davis, Helena Bonham Carter, Maggie Smith, Michael Gambon, Matthew Lewis, Julie Walters, Mark Williams, Tom Felton, Helen McCrory, Jason Isaacs, Ciarán Hinds, Kelly Macdonald, Bonnie Wright, David Bradley, Gary Oldman, and Robbie Coltrane.
The Help (PG-13) Kathryn Stockett's wildly popular novel becomes this charming but flawed film about two African-American housemaids (Viola Davis and Octavia Spencer) in Jackson, Miss., during the 1960s civil rights movement and one white Ole Miss graduate (Emma Stone) who decides to interview them and write down their stories in a book. The film is impeccably cast down to its smallest roles, but writer-director Tate Taylor's inexperience is plain to see in his inability to transition between scenes. The main characters never seem in any degree of danger, and Taylor yanks on your heartstrings rather shamelessly. This movie is just good enough to make you wish it had been better. Also with Bryce Dallas Howard, Jessica Chastain, Allison Janney, Ahna O'Reilly, David Oyelowo, Chris Lowell, Nelsan Ellis, Anna Camp, Leslie Jordan, Cicely Tyson, Mary Steenburgen, and Sissy Spacek.
I Don't Know How She Does It (PG-13) Based on Allison Pearson's novel, this film beats you over the head about how hard and unfair it is to be a successful professional woman and a supermom at the same time, only to hedge its bets by sliding into easy jokes and "you go girl" platitudes. Sarah Jessica Parker portrays a Boston wife and mother of two who's stretched to the breaking point when she encounters new success at her job as an investment analyst. The main character is boring, the gags are straight out of network TV sitcoms, and the message grows tiresome. Also with Pierce Brosnan, Greg Kinnear, Christina Hendricks, Seth Meyers, Olivia Munn, Busy Philipps, Jessica Szohr, Sarah Shahi, Jane Curtin, and Kelsey Grammer. — S.S.
Kevin Hart: Laugh at My Pain (R) This concert film takes in the diminutive, motor-mouthed stand-up comic's performance in Los Angeles, prefaced by footage of him returning to his old stomping grounds in his native Philadelphia. The movie starts off promisingly enough, with Hart's jokes about his wacky family and a disastrous birthday party he threw for his daughter. ("I was scared of SpongeBob.") After that, the set quickly bogs down in routine jokes about sex. The movie concludes with an extended parody of Reservoir Dogs that totally doesn't work. Hart's a funny guy, but this movie should have gone direct to DVD.
Killer Elite (R) Better than your average Jason Statham action flick, this brutally nihilistic thriller set in the 1980s stars Statham as a retired mercenary who's forced to kill three ex-soldiers from Britain's elite military unit, a mission that earns him the attention of a vengeful operative from that same unit (Clive Owen, rocking a pencil mustache). What's notable about this film is its overhanging sense that there are no good guys here, as all higher ideals about love of country and the glory of military service are revealed to be shams. The feel of a world that has completely lost its moral compass is stronger stuff than most action thrillers give you. Also with Robert De Niro, Dominic Purcell, Aden Young, Yvonne Strahovski, Ben Mendelsohn, Rodney Afif, and Adewale Akinnuoye-Agbaje.
The Lion King (G) This 1994 animated musical remains Disney's highest-grossing movie ever, but you can still see the rot setting in that would end the pre-Pixar golden age for Disney animation. The story is about a lion (voiced by Matthew Broderick) trying to re-take control of his pride, and he's so boring that you'll wind up rooting for the fey usurping uncle (voiced by Jeremy Irons). The movie is reformatted into 3D and looks great, but the songs by Elton John and Tim Rice are less inspired than you might remember. Plus, the comic business is less effective than in previous Disney animated efforts. See the stage musical instead. Additional voices by James Earl Jones, Nathan Lane, Ernie Sabella, Robert Guillaume, Jonathan Taylor Thomas, Moira Kelly, Rowan Atkinson, Cheech Marin, and Whoopi Goldberg.
Moneyball (PG-13) Based on Michael Lewis' book, this drama tells how Oakland A's general manager Billy Beane (Brad Pitt) and his assistant (Jonah Hill) built a winning baseball team on a budget by upending the sport's conventional wisdom and acquiring underrated players. Pitt and Hill are starkly different comic actors, and the chemistry between them never quite takes, even though they do fine work on their own. Writers Steven Zaillian and Aaron Sorkin turn the story into some good comedy, but repetitive scenes keep this from achieving the streamlined momentum of The Social Network, the movie this so badly wants to be. Still, the ending is near magical, with Billy finding value in sports and life beyond the wins and losses. Also with Philip Seymour Hoffman, Chris Pratt, Stephen Bishop, Arliss Howard, Reed Thompson, Brent Jennings, Kerris Dorsey, and Robin Wright.
Rise of the Planet of the Apes (PG-13) This sci-fi prequel stars James Franco as a genetic researcher whose attempt to cure his Alzheimer's patient dad (John Lithgow) leads to a race of superintelligent apes. Director Rupert Wyatt does this smoothly, particularly in the middle section when the scientist's cerebrally-enhanced chimp (played by a motion-captured Andy Serkis) is abandoned in a hellish primate facility where he leads a prison break. Yet the plot is too dependent on security breaches and incredible human stupidity. Somehow, the movie is never as frightening or as thought-provoking as it would like to be. Watch for tons of references to the 1968 film. Also watch for the Harry Potter series' Tom Felton as an animal-torturing American zookeeper. Also with Freida Pinto, David Oyelowo, Tyler Labine, and Brian Cox.
Saving Private Pérez (PG-13) Miguel Rodarte stars as a Mexican drug lord who puts together a rescue team after his U.S. soldier brother (Juan Carlos Flores) is taken hostage in Iraq in 2003. The movie takes an unhealthily romantic view of its hero's occupation, and the family issues here are straight out of a telenovela. However, director/co-writer Beto Gómez stages some precise deadpan visual gags and has fun with the prospect of Mexicans adrift in a strange land, putting Tabasco on their tabouli. It's unusual enough to be worth a look. Also with Jaime Camil, Jesús Ochoa, Gerardo Taracena, Isela Vega, Joaquín Cosío, Rodrigo Oviedo, and Marius Biegai.
Seven Days in Utopia (G) A Christian golf movie! Actually, the religion is soft-pedaled in favor of snoozy inspirational drama in this adaptation of a badly written novel by a motivational speaker. Lucas Black stars as a golf pro recovering from a high-profile mid-tournament meltdown. When a fender bender strands him in a small Texas town, he meets a former pro golfer (Robert Duvall) who's conveniently on hand to become his Christian Yoda. Some stray bits of good advice on maintaining focus and calming nerves get lost amid hackneyed scenes of mentoring (golf is like fly fishing, golf is like painting, golf is like flying an airplane). Pixar did this whole story much better with Cars. Also with Melissa Leo, Deborah Ann Woll, Brian Geraghty, and K.J. Choi.
Spy Kids: All the Time in the World in 4D (PG) Worse than the dirtiest diaper. Robert Rodriguez writes, produces, and directs this fourth installment in the precocious-siblings-using-gadgets-and-flatulence-to-defeat-supervillians franchise, perhaps dealing with some family issues at home via a heavy-handed message about the importance of spending time with your kids. Ricky Gervais as a talking robot dog commiserates with the audience by cracking wise, but even he isn't safe from farting babies, awkward exposition, and a peculiar idea of how hearing aids work. Neither late-act cameos by the grown-up stars of the original film nor the "4D experience" (using scratch-off scent cards) can save this turd. Also with Jessica Alba, Joel McHale, Jeremy Piven, Alexa Vega, Daryl Sabara, Rowan Blanchard, Mason Coon, Danny Trejo, and an uncredited Antonio Banderas. –– S.S.
Warrior (PG-13) Disguised as an MMA movie, this drama is about two working-class Pennsylvania brothers coping with their shared harsh background. Tom Hardy plays a U.S. Marine returned from Iraq, while Joel Edgerton plays a high-school physics teacher trying to save his house. Estranged since their teens, they both enter the same glitzy MMA tournament with an eye to the $5 million prize. Director/co-writer Gavin O'Connor handles the material with a light touch and steers the movie clear of soapy excess but can't keep the film from sagging before the climactic tournament. Edgerton makes little impression; it's Hardy who walks off with the acting honors, playing his character as a damaged case outside the octagon and ball of sheer fury inside it. Also with Jennifer Morrison, Frank Grillo, Kevin Dunn, Noah Emmerich, Kurt Angle, and Nick Nolte.
What's Your Number? (R) Anna Faris' irrepressible charm and talent continue to go to waste on substandard stuff like this comedy, where she plays a woman who tracks down all 20 of her ex-boyfriends to see if any of them have become a suitable romantic partner. She gets good help from Chris Evans as a well-connected musician who helps her quest, and the actors portraying the exes are a good bunch (including Chris Pratt, Joel McHale, Zachary Quinto, Martin Freeman, Thomas Lennon, Anthony Mackie, and Andy Samberg). Yet the material isn't there, and both the heroine and the movie are weirdly and puritanically fixated on how many men she has slept with. With all the ad-libbing going on, the DVD extras for this movie might be more entertaining than the movie itself. Also with Ari Graynor, Blythe Danner, Ed Begley Jr., Heather Burns, Ivana Milicevic, Tyler Peck, Mike Vogel, Oliver Jackson-Cohen, Dave Annable, and Aziz Ansari.
Detective Dee and the Mystery of the Phantom Flame (PG-13) This period thriller by Tsui Hark (Once Upon a Time in China) stars Andy Lau as a 7th-century exiled Chinese detective who must solve a string of murders that threaten the coronation of a new empress (Carina Lau). Also with Tony Leung Ka-Fai, Li Bingbing, Deng Chao, and Jean-Michel Casanova.
Machine Gun Preacher (R) Gerard Butler stars in this film based on the true story of a former drug-dealing biker who became a humanitarian activist for Sudanese child soldiers. Also with Michelle Monaghan, Kathy Baker, Michael Shannon, Joshua Drew, Madeline Carroll, and Souleymane Sy Savane.
My Afternoons With Margueritte (NR) Jean Becker's drama about a barely literate Frenchman (Gérard Depardieu) who meets an old woman with a passion for great literature (Gisèle Casadesus). Also with Maurane, Patrick Bouchitey, Jean-François Stévenin, Claire Maurier, and Sophie Guillemin.