One of the first things the casual listener may notice while listening to Grasshopper Cowpunk, Holy Moly's fourth album in about as many years and the best, is that frontman and lyricist Joe Rose isn't as twangy as he used to be. Though still urgent and evocative, the twentysomething heartthrob's voice has taken on a much less affected, often denser timbre, which will be good news for casual listeners who bristle at the sound of "y'all" or a lot of "drinkin'," "druggin'," "lovin'," and other normally innocuous verbs gettin' countrified.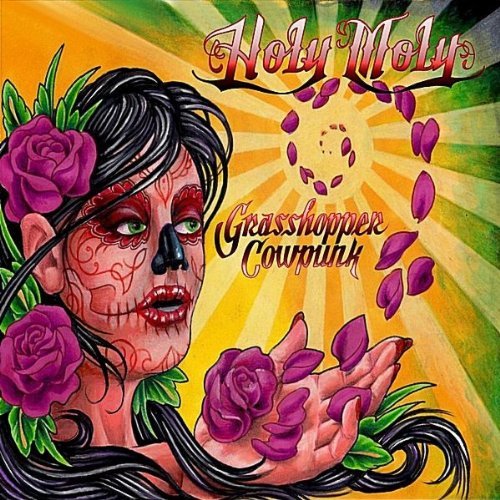 (Drinkin', Druggin' & Lovin' is the name of Holy Moly's second album, natch.) One of the best tracks on Grasshopper Cowpunk, an album littered with superb examples of C&W-inflected songsmithery, is "21 Shots," a swaying, primarily acoustic, melancholy story-song that wouldn't be out of place on 95.9 The Ranch (no little additional thanks to the somber pedal-steel lines of Ben Roi Herring, Austin-via-Fort Worth singer-songwriter Collin Herring's pops and collaborator). I'm willing to bet that the Fort Worth cowpunkers Rose, co-songwriter/guitarist Danny Weaver, bassist/vocalist Jeremy Hull, and drummer Joseph Carpenter would like to distance themselves (even if just a little) from their rowdy, niche-y tag, opening themselves up to a lot more listeners and maybe paving the way to increased exposure. The $64,000 question now is: How do these guys get Grasshopper Cowpunk into the right hands? (Hey, Hayes Carll. Call me!) Produced by Will Hunt (Burning Hotels, Evanescence's Amy Lee, Green River Ordinance), Grasshopper Cowpunk will be released Saturday at the Holy Moly show at The Aardvark (2905 W Berry St, 817-926-7814), with openers People on Vacation.
Joining Dallas' Ishi and the incredible Fort Worth improv-jazz outfit Gunga Galunga on Wednesday at The Where House (2510 Hemphill St, 817-913-7777) will be Ronnie Heart, the nom de musique of Fort Worthian Ronnie Gierhart, who will be dee-jaying. (The evening, after all, is being billed as a "roller disco.") Former guitar player for Gazelles and Neon Indian, young twentysomething Gierhart has been spinning locally with some regularity while at home working on solo band-ish material. He hopes to release his five tracks in a couple of months, not necessarily to peddle product but to buoy a more intense passion: performing live. "I'm more concerned with the performance aspect of it," he said. "The more content I have, the more I'll be able to do as far as playing on stage." He began writing, performing, and recording earlier this year, around the time of his split with Neon Indian. For the Ronnie Heart project, he and some other local musicians have been rehearsing about once a week, he said, though no lineup is finalized. Gierhart's first complete track, "Sultan Flower," which includes contributions from This Will Destroy You drummer Alex Bhore, is a mellow, psychedelic trip. "Obviously, you can tell I was in a little bit more of a calm, not-so-excited state," he said. "It definitely shows in the music, how moody it is." Cover charge to the roller disco is $10. The event is 18-and-up and BYOB.
The Toadies' Vaden Todd Lewis is producing his first non-Toadies record, the still-unnamed new one by good ol' fashioned, punch-you-in-the-face rock 'n' rollers The Phuss. The North-Texas/Fort-Worth-at-heart trio began recording about a week ago at Red Star Recording Studios, presided over by New York City ex-pat Robby Baxter (Moby, The Hanna Barbarians, Robyn Hitchcock). Tracking should be done in about two weeks. No release date has been set.
Contact HearSay at hearsay@fwweekly.com.