Connects, the multimillion-dollar "student information system" software program sold to the Fort Worth school district in 2008, may be headed for the trash bin.


On Nov. 16, the district's legal director, Bertha Bailey Whatley, sent a demand letter to Tyler Technologies, the company that produces the software, stating that the firm had 30 days to cure the "material deficiencies" in the program or the district would exercise its right under the contract to "terminate … for default."
The Connects program includes payroll, purchasing, and the student information software, and all three have been plagued with deep-rooted problems from the beginning. Software failings produced inaccurate paychecks for thousands of employees. Purchasing system slowness reportedly is causing some vendors to quit doing business with the district. And computerized student records have been in such disarray that graduating students feared they wouldn't get accurate records in time to apply for college.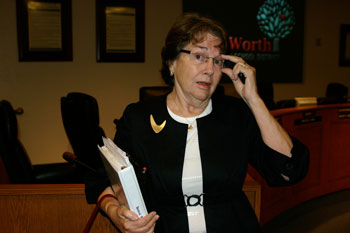 If and when Fort Worth ditches the software, it will become the fifth Texas school district to terminate its contract with Tyler for failing to live up to contractual promises. At least two of those districts are suing to retrieve the taxpayers' investment.
"It is true. We have given Tyler notice because of a serious pattern of noncompliance," Whatley told Fort Worth Weekly.
"That means it's dead," said an excited Larry Shaw, head of the United Educators Association. In the last several years he has received an avalanche of complaints from his membership about various sections of the Connects program.
"I don't see any way they can fix this software in 30 days when they haven't been able to make it work for the last year and a half," he said. "This is probably one of the best Christmas presents the teachers in this district can have."
Interim Schools Superintendent Walter Dansby inherited the Connects problems when Superintendent Melody Johnson, who had signed the contract with Tyler, abruptly resigned in the spring.
Dansby said that he has been working on resolving the failures of the system for many weeks. He is serving as interim superintendent while the school board conducts a nationwide search.
Most of the problems are attributable to a "lack of proper training by Tyler," he said. "The district takes some responsibility for that, though the responsibility is mainly Tyler's."
Dansby said he decided to look at the district's options because it is time to consider a three-year renewal of the contract. He has also implemented an in-house audit of the program, he said, which is not yet complete.
"Walter Dansby deserves enormous credit for taking the initiative early in his administration to investigate and document the massive failures of this program," said trustee Ann Sutherland, an early critic of Connects. She is one of many who have called for the contract to be cancelled. Like Shaw, she has received hundreds of complaints from employees as well as from parents.
One of the most critical complaints had to do with student transcripts, many of which were late — or worse, were totally inaccurate. The problem was especially troubling for seniors who needed transcripts early in order to apply for college. One data clerk reported that a student who was at or near the bottom of his class because of frequent absences and failed grades came up with a transcript that ranked him in the top 10 percent. On the other hand, a parent reported that her child, one of those at the top of his class, was ranked near the bottom. Another complained that report cards for her son, who was never absent or tardy, showed just the opposite.
"It was like I was reading the report card of a total stranger," she said. "I heard from many other parents that inaccurate tardy and absence data turned up on everybody's kids' report cards."
Dansby said that making sure transcripts are accurate is at the top of his priority list. He has put together an in-house team to guarantee student transcripts' accuracy and timeliness this year, he said.
That, ironically, is the very thing that Connects was supposed to do: save time and money.
Implemented 15 months ago, the student records system, known as TEMS, the Tyler Education Management Solution and nicknamed Connects by Johnson, is part of a package of software leased to the district between 2007 and 2008 for a total of $6.3 million.
District employees warned in 2009 that the payroll portion of the program was not ready. Nonetheless, Johnson, board president Ray Dickerson, and then-trustee Chris Hatch insisted on putting it into operation . The result was a major scandal, as the program proceeded to overpay more than 2,000 employees by a total of about $1.5 million in a nine-month period. And while those glitches seem to have been ironed out, a few employees are still reporting serious over- or under-payments from time to time.
Employees in the purchasing department, meanwhile, say that many vendors are closing accounts with the district because of the slowness with which the system is paying their invoices.
However, the student information system — the most expensive component of the deal, costing nearly $5 million plus a $750,000 annual "maintenance fee" — has faced the most critical problems. It has failed to provide accurate grades, transcripts, daily attendance records, and student immunization records — all required by state law.
One of the most frequent complaints of teachers, counselors, nurses, and data clerks has been that the system inexplicably lost information. Employees told the Weekly they would input data at the end of the day (grades, attendance, comments on a student's performance, immunization records, for example) only to have it completely gone the next day, never to be retrieved.
Because it was so slow and because data so often had to be re-entered, Connects cost employees "hours and hours of our time," one data clerk said, "where the system that Connects replaced took seconds."
"This is wonderful news," the clerk said, of the possibility that the program would be scrapped. "Trying to make this program work has been a horror story. All of us working with it are exhausted."
A nurse said that the health information is still "in a huge mess. … We will never be able to use this program for comprehensive nursing records. It is not set up for it, and all of their 'fixes' are cumbersome and make an even heavier workload."
The district's letter to John S. Marr Jr. of Dallas, Tyler's president and CEO, stated that the "TEMS product has been plagued with issues stemming from the unsuitability of the design for the district's needs." In addition, Tyler has not responded to "recent changes in state data reporting requirements," Whatley wrote. One of the promises the company made was that it would track state reporting requirements and update the software as needed.
Calls to Marr were not returned.
Another promise touted by the Johnson administration was a "portal" that would allow parents, using a secure password, to retrieve their kids' records, including grades, daily attendance, and what they are studying at any given time. The district's public relations head, Barbara Griffith, told the Weekly that the portal would be up and running in 2010. Yet it has never been implemented system-wide.
Sutherland said that the head of the technology department, Kyle Davie, charged with making the portal work, told her recently that he had 1,500 parents signed up in a pilot program. "That is laughable," she said, "in a district with 80,000 students."
"The lack of support for the district's staff in resolving [the failures of the program] suggests Tyler has failed to identify the causative factors and remedy them in any meaningful manner," Whatley's letter states. Therefore, it concludes, "The Fort Worth ISD has lost confidence in Tyler's ability to design and implement a student data system … [and] is prepared to pursue all remedies available under the contract if Tyler cannot fulfill its contractual obligations." According to the contract, that includes a lawsuit.
"It is about time," Shaw said.