The first time I ate Greek food, years ago, at an ex-girlfriend's urging, her description of dolmas turned me off. Grape leaves? Who wanted to eat those?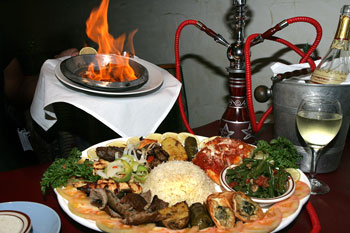 That was a long time ago, though, and when I sat down for lunch at Café Medi recently, I gave dolmas another chance. Located in a strip mall off Grapevine Highway in Hurst, Café Medi is a tastefully decorated bistro with a menu heavy on Greek food but spiced up with dishes from Egypt, Turkey, and parts in between. Its walls are adorned with enlarged photos of Mediterranean seascapes, the azure hues contrasting with the dun-colored walls, dark slate tile floor, and the darker acoustic panels in the ceiling. Before I tried a single bite, I was digging this place on its atmosphere alone; even the mini-Christmas trees on the tables and tinsel hung from the ceiling made the place look inviting. Helped by the earnest, personable service, Café Medi could serve totally average food and still get by on its charm and goodwill.
Luckily, said charm and goodwill are matched by the food. I started out with the vegetarian plate appetizer, a sampler heaped with hummus, falafel, two dolmas, and spanakopita: sheets of phyllo layered with spinach and feta, baked to flaky perfection. Curiously, the hummus was accented by bite-sized triangles of something pink — I thought it was some kind of chip until I picked it up. Turns out the garnish was pickled turnip. "It's a different flavor," my server said. "It goes good with things that are crispy or warm — totally changes your palate." I ate it before and after a bite of the spanakopita; underneath the briny pickled flavor was a delicious earthiness that did indeed match well with the creamy spinach profile of the baked phyllo.
Of course, I also tried it with something warm, a ground-beef kefta kebab. Where the items on my appetizer plate were mildly piquant, the strips of ground beef were comparatively zestier — not hot by any Mexican or Thai standards but a nice change from the hummus and the cool tang of the dolma (and, boy, was I wrong to have turned up my nose at those grape leaves — these were delicious). Served with grilled onions and peppers, the kefta had my mouth watering for more once I'd polished off the last piece of meat, which I dipped in tahini and followed with a bite of pickled turnip. I don't know if my palate changed with the pairing or not, but I ate a piece of pita bread to get ready for something else.
That something else was souvlaki lamb served with rice and green beans. The rice had hints of olive oil, and the chunks of lamb curled my tongue with a savory blend of spices. The green beans had a fresh, lightly seasoned taste with hints of olive oil — not even distantly related to all the barbecue-joint and cafeteria versions I've eaten over the years. I practically inhaled them.
Finally, I sampled beef shawerma, a staple of Mediterranean cuisine. The lamb was a tough act to follow, but these cuts of beef were a little fattier and juicier. I wondered if there were any steakhouses that try their hand at a shawerma filet; if there are, I'd definitely give it a try, especially if said imaginary steakhouse served it with a baked potato flavored like Café Medi's rice.
Café Medi's ambience and friendly staff make it a great date spot; every server I talked to was friendly and had advice on what to order. With its outdoor patio and a hookah menu, Café Medi is more than just a great introduction to Mediterranean cuisine.
Café Medi
420 Grapevine Hwy, Hurst. 817-788-5110. 11am-9pm Sun, 11am-2:30pm & 5pm-10pm Tue-Sat, closed Mon. MasterCard, Visa accepted. BYOB.
Vegetarian plate………. $7.95
Kefta kebab ……………. $8.95
Souvlaki lamb ………… $10.95
Shawerma ……………… $8.95