A strange woman approached Brad Cannon not long ago after his band, The Cleanup, finished a set at a venue in Fort Worth. The woman, old enough to be the 21-year-old's mother, nudged her way through a crowd to find him, determined to deliver her message.


"I really like you guys," the stranger reportedly said, "but you know what I like the most? That ass. Whatever you guys do, don't ever stop shaking that ass."
Her words caught him off guard, and he's still not exactly sure what to make of her message, so he's filed it away as just another anecdote born of the group's ever-increasing visibility in Fort Worth.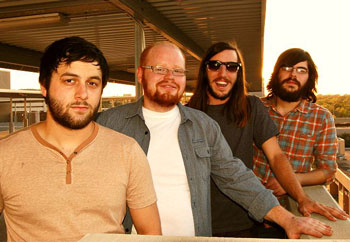 The Cleanup's brand of rock follows a fiercely progressive vein, its ever-mutating structure punctuated by occasional bursts of keyboard psychedelia. Drummer Riley Pennock, also 21, drops jazzy hints behind Cannon's vocals, his pipes echoing the same grounded emo twang as Saosin and Thrice.
The result is two parts Mars Volta, one part Explosions in the Sky, and an occasional pinch of Dredg. Not that the band's members are quick to claim any of the above as muses.
As individuals, the guys in The Cleanup draw on a wide spectrum of influences, from Pennock's affinity for jazz to guitarist Landon Cabarubio's enjoyment of socially "conscious" hip-hop to bassist Kyle Harding's unabashed appreciation for pop (something his bandmates take every opportunity to rib him about).
The band traces its collective musical influences back several decades to the likes of Pink Floyd, Frank Zappa, and Carlos Santana. The Cleanup's sound, however, is too modern and rapidly evolving for easy definition.
"We don't have any specific goals, other than something that's interesting, something that reminds everybody of what they enjoy about music," Cannon said. "It's almost like we want to leave people not quite able to put their finger on what they like about it, other than the fact that all these different styles fit together."
Among The Cleanup's signature feats is musical parity. No single element hijacks the spotlight. Harding's bellowing bass work shines just as prominently as Cabarubio's sharp guitar chops ring and buzz or Pennock's beats thunder and roil –– his flailing arms and shit-eating grin behind the kit make him look like an honest-to-goodness human doppelganger of Animal, the Muppet.
The band bears little resemblance to its original makeup from three years ago. Cabarubio, now 22, is the only original member remaining; he joined in 2008 after a couple of his friends ratcheted their jam sessions up to a more serious level. He's the one who pitched the name one day, mostly in jest, as one of his then-bandmates mopped spilled food off the floor. Despite his protests, the name stuck as the band began playing shows in 2009.
Harding, a friend of one of the original members, joined early that year after the group fired its original bassist. Cannon's predecessor had a myopic obsession with Metallica and the like that eventually got him fired; Cannon joined later that year after meeting Cabarubio at a local party.
Pennock became the group's third drummer early last year after years of informal jam sessions with Cannon at the former's family home in Alvarado. The original drummer quit when Cannon once brought beer to a rehearsal (the guy was straight-edge), and a second failed to grasp the musical direction agreed upon by Harding, Cannon, and Cabarubio.
Despite the band's revolving-door history, all four men agreed the current group has finally found stability. Each member has his place in a creative process that begins with Cabarubio bringing the seeds of a song to his bandmates, particularly Cannon, who, according to the consensus, is the Paul McCartney to Cabarubio's John Lennon.
"Landon is the sperm, and me and Riley and Brad are collectively like the egg –– the ovum, if you will," Harding said. "Landon just kind of impregnates our egg. He's the genesis of whatever song we're doing."
The Cleanup typically plays two or three shows per month at venues like The Grotto, The Where House, and Lola's Saloon, but momentum is building. The quartet played five shows in October. They also recently recorded a two-song EP and are working on another five-song follow-up.
There's little to say about long-term plans. All four disclaimed any hopes of mainstream success, because, they said, their music simply doesn't attract wide audiences. They do hope to eventually hit the road to play shows outside Fort Worth. Beyond that, they want to avoid the burden of expectation and philosophically approach The Cleanup more like a side project than as a potential career.
"You just kind of have to mentally think of it as a secondary thing, even if it is our primary focus," Harding said. "Nobody is tied to The Cleanup. Nobody is going to get pissy if somebody decides to play with somebody else."
He paused. "We're in an open relationship. It's Facebook-official."
The Cleanup
Fri w/ Skeleton Coast, Collective Dreams at Stay Wired Coffee House, 2918 W Berry St, FW. $10. 817-920-0909.