The financial success of last year's Valentine's Day inspired director Garry Marshall and screenwriter Katherine Fugate to team up for yet another star-packed omnibus comedy themed around a holiday. New Year's Eve takes place in New York on Dec. 31 instead of L.A. on Feb. 14, and even though it has even more stars, it's so sloppy and formulaic that it makes its unremarkable predecessor look like a luminous comic masterpiece. I reviewed Valentine's Day by ranking its many plotlines. I'm doing the same here, but in the New Year's spirit, I'm counting down. From least interesting plotline to most, here's what happens: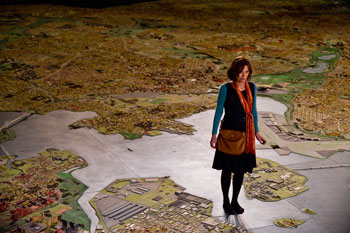 Eight! An expecting couple (Seth Meyers and Jessica Biel) have their eye on a cash prize for delivering the year's first new baby, only to encounter another equally expectant couple (Til Schweiger and Sarah Paulson) at the same hospital. The race to induce labor is supposed to be funny, but it's creepy instead, and not even Meyers' ad-libbing ("No one wins when pregnant women fight!") can redeem this.
Seven! One-named rock star Jensen (Jon Bon Jovi) is booked to play Times Square and other gigs on the 31st, but he's more focused on reconciling with Laura (Katherine Heigl), his pissed-off ex whom he ran out on and who just happens to be working as a chef at a party he's playing. The leads and the writing are bland, but as Laura's sous chef, Sofia Vergara and her tired hoochie-mama shtick make this downright irritating.