Chow, Baby is not good at maintaining automobiles. I often wish I had a grown-up around to nag me about things like getting my oil changed and my tires rotated. So it wasn't that big of a surprise when my car broke down the other day. I had it towed to a mechanic in Arlington, near where I lived during my lengthy tenure at the University of Texas at Arlington (I was on the 8-year plan). My transmission may have gone on the blink, but my food karma was working like a charm. Thanks to the breakdown, I ended up enjoying good meals at two very different eateries.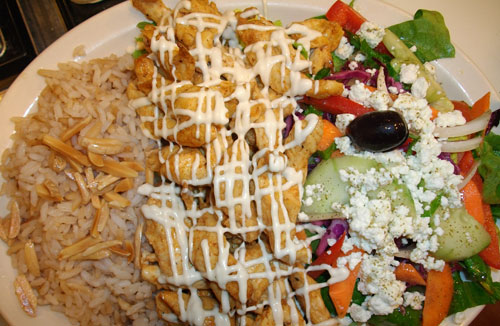 By the time my car and I reached the mechanic's shop, it was lunch time, and I was famished. Luckily, his garage is on Pioneer Parkway, not far from a place I'd been dying to try: Shisha Cafe (2301 Pioneer Pkwy., Pantego.), a new-ish Mediterranean grill and hookah lounge.
The ambience at Shisha is a cross between a smoky bingo hall and a Middle Eastern fast-food chain. Plumes of smoke hung in the air from hookahs. Blaring on the television was a Middle Eastern music video channel that I found alternately fascinating and annoying (to be fair, I would have found an all-English-speaking video channel just as annoying and not at all fascinating). The red pleather tablecloths were dingy and full of what I assumed were burn holes from rogue tobacco embers. It's pretty clear that the building itself started life as a fast-food outlet, and the Shisha décor neither hid nor improved on those origins.
On the server's recommendation, I ordered the chicken shawarma, which comes with a choice of salad ($7.49). I went for the Greek salad with a tangy Greek dressing over lettuce, olives, tomatoes, and goat cheese. The tomatoes looked dull and tasted bland, like they'd been pre-sliced by a food distributor, but the tang of the dressing rescued the salad. The shawarma — shaved pieces of marinated chicken breast — tasted unbelievably fresh. The garlicky, mayonnaise-like sauce blended well with the chicken's curry and lemon marinade. The dish was served with moist rice and more of the dull tomatoes.
My car needed an overnight stay, so I hitched a ride home with a friend and resigned myself to being stuck at Chow, Baby HQ all weekend. I'm a fan of delivery, but I'm an even bigger fan of the fact that Winslow's Wine Café (4101 Camp Bowie Blvd.) now serves lunch and is within walking distance of my current apartment.
Late on a Saturday afternoon, the dining room was mostly empty, but it's still a very inviting environment. Winslow's oozes chic from every molecule of its bright wood-tone décor and stylish blue banquettes.
My guest and I started with the fantastic clam chowder ($4), a classic New England version with potatoes and a bit of spice in the broth. We were a little less impressed with the salmon bruschetta appetizer ($8). The raisin and tomato chutney overpowered the salmon — all I could taste was the sweetness of the raisins and the layer of goat cheese slathered on the toast points. It wasn't bad — I just wanted to taste more salmon.
The entrées were both excellent. The crab cake sandwich ($15) was more of a DIY project than a sandwich. Small but flavorful crab cakes sat atop toast points brushed with olive oil. A bacon-and-blue-cheese remoulade was spread on top, with lettuce, red onions, and fresh tomatoes on the side. The chicken pesto pizza ($15 for a small) was thin-crusted with grilled basil pesto chicken, mushrooms, artichokes, and a creamy bechamel sauce base. I'm usually leery of gourmet pizzas, but this was remarkably restrained, elegant, and delicious.
I still don't know when my car will be ready, but I know that Winslow's is going to be seeing a lot of me until it's fixed. I probably won't stop at Shisha when I pick up my car, but the food there is well worth a try. I just don't care for the smoke — whether it's billowing from a hookah or from under the hood of my car.
Contact Chow, Baby at chowbaby@fwweekly.com.