The Tarrant Area Food Bank's Cooking Matters program, a partnership with the national anti-hunger organization Share Our Strength, is a six-week class in food preparation, budgeting, and nutrition for low-income families. Moms, dads, and kids are also taught by local volunteer chefs how to shop seasonally, cook economically, and make the most of staples from the food bank, an organization that serves Tarrant County and 12 surrounding counties.


Every year around this time, Cooking Matters gets a sweet little boost courtesy of Walter Kaufmann's Chef's Holiday Pantry. The fancy bake sale is named for the longtime Fort Worth culinary icon who was the former executive chef and owner of the venerable Old Swiss House restaurant. Kaufmann is an active member of the Chef's Holiday Pantry committee.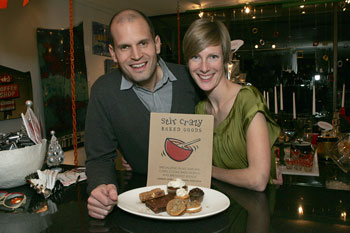 "The original idea was inspired by Chef Tom McGrath, who was a volunteer for the Tarrant Area Food Bank," Kaufmann said. "His passion was contagious. I got involved because I thought that I could help raise awareness and get more chefs involved in the food bank's programs."
Presented by Fort Worth Foodie magazine, this year's Holiday Pantry will take place from 10 a.m. to 4 p.m. on Saturday at Ridgmar Mall, in front of Macy's on the lower level. Customers will be able to indulge in their choice of pastries, cookies, and muffins, including apple-and-cranberry chess pies from the Black Rooster Bakery, pumpkin cheesecake from Bonnell's Fine Texas Cuisine, dessert tamales from Reata Restaurant, and alfajores (a kind of dulce de leche shortbread cookie) from Lanny's Kitchen. Blue Bonnet Bakery will bring gingerbread houses, and the Colonial Country Club will roll out Christmas yule logs. If all of that sounds a little too sweet, try Stir Crazy Baked Goods' Rahr Blonde cheesy mini-bread. Proceeds from the event benefit Cooking Matters and the education fund of the Fort Worth chapter of the Texas Chefs Association.
Christina Jett-Meyer, who co-owns Red Jett Sweets with Natalie Gomez, is a first-time participant in the event and says she's psyched about donating her cupcakes to the cause. "I believe that one of the key issues with our health in this country today is that no one cooks real food anymore," she said. "All of the processed and fast food is making us a sick nation. Teaching cooking skills will ensure we have healthy, strong, happy people."
In Tarrant County, one in every six families is "food insecure," the federal government's odd term for not consistently having enough food for every meal. And one in four children in this county goes hungry every day.
The Tarrant Area Food Bank offers Cooking Matters to community groups and churches serving primarily low-income clients. The program focuses on helping families establish healthy eating habits and provides tips on household budgeting. For $10, a family of four could buy food for one meal off a dollar menu at a local fast food restaurant. That same $10 spent in the grocery store could provide one meal plus leftovers for another meal. The problem is that adults who haven't been taught how to cook don't know how to cook. And the tradition of cooking (or not cooking) gets passed down generationally.
That's where Cooking Matters fits in. The program provides long-term solutions to families most at risk of food insecurity by teaching them how to obtain the best nutrition possible on a limited budget. A donation of $100 to Cooking Matters, said the food bank's nutrition services manager, Micheline Hynes, allows the agency to both stock the classroom with meal preparation items and send 15 participants home with the groceries to make that meal for their families.
Last year, 270 people participated in the program. An impressive 89 percent finished, according to the food bank's annual Cooking Matters program report.
The Chef's Holiday Pantry aims to raise $5,000 this year for the program, double what was raised last year, according to Kaufmann. With more than 50 chefs and some of Fort Worth's best and newest restaurants participating, raising that kind of cash should be, well, a piece of cake.
For more information about Cooking Matters or to volunteer, call the Tarrant Area Food Bank at 817-332-9177.
For more information about Walter Kaufmann's Chef's Holiday Pantry, please contact event chair Crystal Vastine at 214-923-5453 or crystal@fwfoodie.com.