Most colleges have at least one pizza-'n'-subs joint nearby. TCU has Buffalo Bros. and the original location of Mama's. UNT has Crooked Crust, which, coincidentally, has a sister location in Norman, Okla., thus proving my point. Old School Pizza & Suds clearly aims to be the go-to place for UTA students for pizza and beer. Old School took over the building that formerly housed Mi Tierra just east of campus a few months ago.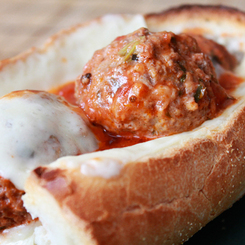 The place now looks and feels like a college hangout. Mi Tierra's tropicalia has been replaced by Mavericks posters and beer signs, which isn't a bad thing. The major flaw in the operation is the building's sprawling size and odd shape. There are two entrances and several rooms but no host/hostess –– diners must wade into the building, which can prove to be especially troubling for newcomers. The night I went with my sub-loving partner, the restaurant was hosting a party that took up all of the tables in the back. Since there's no greeter, nobody was around to let us know if seats were available or even to tell the wait staffers that we existed. All three women working the tables that particular evening seemed to go out of their way not to make eye contact with either us or the family of three who'd been waiting longer. Here's a hint to any server: If a customer has had time to wander to the bar, peruse the two dozen-ish beers on tap and the small but adequate selection of liquor, order a drink, and consume half the beverage, she's likely been waiting at least 15 minutes. You should probably seat her prior to the other woman who just walked in the actual front door.
Eventually we were seated –– and apologized to for the confusion. All was forgiven when the chicken wings appeared. Though we had ordered the mild, what we got was pretty darn spicy. But the wings were extremely fresh and plump and delivered that bursting-in-your-mouth thing that happens only with fresh, not frozen, wings. (The sauces –– blue cheese, creamy Italian, and ranch –– are not homemade.) The accompanying salad was pretty forgettable: just lettuce and some store-bought croutons.
Now to what Old School does best: pizza and subs. First, the crust: The super-thick version rivals that of my favorite, Mama's. Old School also offers a regular crust, but you can get a floppy slice anywhere. Thick-crust pizza is a rarity in these parts, and Old School's version is made more interesting by the list of 21 toppings, including trimmings both common and odd (bacon, anchovy, banana peppers). Brackish, tangy anchovies, salty green olives, and melt-in-your-mouth mushrooms combined in an orgy of sea and earth on the fluffy, chewy crust.
The meatball sub was also scrumptious. A massive quantity of zesty beef-and-probably-pork balls came out piled with melty Swiss cheese and a little tomato sauce on doughy Italian bread. The sauce-to-cheese ratio was just right, rendering the sub's interior moist, not gloppy. And as enjoyable as the anchovy-topped pie was, I was wishing for a meatball pizza. Maybe next time.
The only dessert that's house-made is the dessert pizza, described as fruit filling (apple or cherry) packed into a sweeter version of the homemade crust. Crusted out, we opted for the chocolate cheesecake: a large-enough-to-share triangle featuring a ganache-like top and a center of extremely fluffy, not-too-sweet cheesecake that tasted almost homemade.
For a libation, we went with one of the few gluten-free items on the menu, Ace Cider. Alcoholic apple and pear, with maybe a hint of vanilla, combined to smooth over the rough edges of the initial seating chaos. Yes, Old School Pizza & Suds needs a host/hostess or at least a sign directing newbies to the seats. But if you're patient, you'll be rewarded with some of the best pizza in Arlington.
Old School Pizza & Suds
603 W Abram St, Arlington. 682-323-4441.
Sun-Thu 11am-midnight, Fri-Sat 11am-2am. All major credit cards accepted
Six chicken wings ………………. $5.99
12-inch meatball sub …………… $8.50
8-inch pizza (three toppings) .. $7.00
Side salad or Caesar …………… $2.99
Ace Cider ………………………….. $5.00
Chocolate cheesecake ………… $3.99