If a burger joint is to set itself apart from all others in a crowded field, it needs a little shtick. In Keller, Hello, My Name Is Eat has honed in on a pretty darn good one: Like Patty Shack Burgers in Grand Prairie, My Name Is Eat stuffs various extras directly into the patty.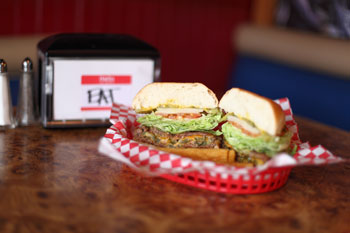 It's a clever trick, and it works. The eight-month-old greasy spoon's signature stuffed burgers are gut-busting indulgences that melt off the bun. And what hungry carnivore wouldn't want a pocket of goodies tucked into the beef?
But bring your thinking cap along with your hunger, because the flipside of all of that customization is a confusing menu. Several mix-and-match options featuring an 8-ounce or 14-ounce burger plus fries and a drink may lead to a bit of head-scratching. Just ask the waiter for help; see if he or she will draw you a flow chart.
You can go with as many stuffing items as you like, but the combo options give you only one or two freebies, and extras cost anywhere from 60 cents for veggies to 90 cents for various cheeses to more than $1 to have your patty stuffed with … other meat. That's right: meat squared. It's every bit as decadent and cardiologist-frightening as it sounds.
Once you've decided what you want in your patty, pick what you don't want outside it. Check off what to hold: lettuce, tomatoes, onions, mustard, or pickles.
Finally, check off the box for specialty fries, if you fancy, and pick a beverage. No alcohol is served, but the place is BYOB.
Now with your menu marked up like a midterm exam, run all of this by the server and try to calculate exactly what you've just ordered while you take in the atmosphere. Whoever designed this suburban burger joint went to great lengths to ensure that it looks just like a suburban burger joint. Its walls are peppered with Americana, from Rat Pack posters to framed celebrity photos to faux portraits of the Seinfeld character Kramer. It's kitschy, cluttered, and somewhat contrived. Unlike some seedier burger joints, though, Hi, My Name Is Eat is spotless. Even the men's restroom sparkles.
This was not fast food. Expect orders to take 20 minutes or more to arrive. An appetizer, of course, can help while away the time. But pass on the jalapeño poppers, peppers and melted cheddar coated in fried batter. They were edible but not much better than what you might find in the freezer aisle and nuke at home.
Then came the entrées, starting with the 14-ouncer stuffed with spinach and Swiss cheese paired with what appeared to be authentic fries — that is, actual potato wedges. Upon first bite, however, they turned out to be nothing more than handsome flash-frozen starch sticks.
But the burger did not disappoint. It turns out "stuffed" truly means "hidden." There was no sign of stuffings when the burger arrived. The customized options materialized only after a few sloppy first bites, meaning they were really cooked into the unmistakably fresh beef.
The patty itself was cooked to about medium-well (standard, apparently, because the server didn't ask for preference) and arrived on a slightly crisp Kaiser bun. The beef itself –– juicy, evenly grilled –– held its own. Then the payload of the stuffings appeared. Spinach leaves –– steamed but not too soggy –– popped through the patty first and made for a pleasant leafy counterbalance to the huge hunk of protein.
Next ingredient to surface was the Swiss cheese, thoroughly melted and clinging to the patty with every bite. Other cheese options, including feta and blue, undoubtedly would have been no less sinfully gooey. Have an ample supply of napkins on hand. Plus, the bun becomes soggy with delicious grease.
With 23 stuff-it options, you can't help but believe that this restaurant has, to borrow from video-game parlance, high replay value. A near-future visit might involve the sausage and avocado options or caramelized onions for a nice touch of sweetness.
Just for grins, we also ordered a turkey sub –– but promptly pushed it to the side after only a couple of bites. (Two words: Bor. Ing.) When it came to flavor, there simply was no comparison to the burger.
The service was adequate and friendly. Also, check your sweet tooth at the door. No desserts are served. Carry out and catering options are available.
Hi, My Name Is Eat
9500 Ray White Rd, Keller. 817-741-3600.
Sun 11:30am-4:30pm, Mon-Thu 11:30am-9pm, Fri-Sat 11:30am-9:30pm. All major credit cards accepted.
Turkey sub…………….. $5.75
Combo No. 3 ………….. $9.95
(8-oz burger w/single stuffing, drink, and appetizer)