Chow, Baby wasn't born with a silver spoon in its mouth, which is just so wrong. Many were the nights that young Chow, Baby cried itself to sleep because Chow, Mère refused to put a white tablecloth on the high-chair tray (maybe those stains from pureed carrots were the problem). My favorite bedtime story was Robin Leach's Lifestyles of the Rich and Famous. But I showed them. Since I grew up I've spent many evenings surrounded by wonderful food with multiple sauces, beautifully presented — even if I was usually the one serving the food rather than paying for it.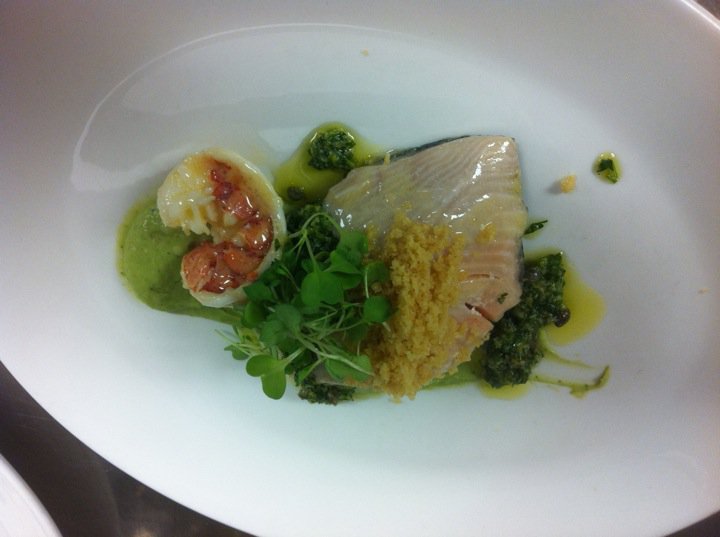 These days, occasionally, not only am I the guest rather than the help at fine restaurants, but I'm actually getting paid to eat there. I have to admit, though, that when I go to a place that serves $35-$70 entrées, I'm looking for mistakes.
That being said, I had to sheathe my claws on a recent evening at Grace (777 Main St.). Well, mostly.
The décor at Grace is modern, albeit a little barren, with classical flourishes. Inside the enormous, open dining room is a glass-encased wine room, showing off one of the restaurant's claims to fame. Grace has one of the premier lists in North Texas and some well-reputed wine snobs to guide you. There aren't enough reasonably priced wines on it (that is, under $70 a bottle), but the few they do have are excellent.
The menu isn't vast, but that's a good thing. Grace is at heart an upscale steakhouse and features a somewhat perfunctory a la carte steak option, in which diners can choose the cut, size, sauce, and topping of their meat. But I was more interested in the flavor combinations dreamed up by the kitchen. The non-steak parts of the menu show the rare restraint of a chef not afraid to let the ingredients speak for themselves.
The burrata mozzarella appetizer with warm fig jam and arugula pesto ($16) was like spreading candy over toast. The gooey mozzarella and jam combination was as decadent as dressed-up s'mores. Grilled bread usually ends up hard enough to stop a mugging, but this was soft, with just enough crunch. Equally successful were the crispy fried oysters with baby spinach and black pepper butter ($14), accompanied by pepperoni-esque slices of pork fat. The crispy oysters were not overpowered by the batter, and the peppery sauce elevated the otherwise simple dish to lofty elegance.
The entrée of Maine diver scallops, with American caviar butter sauce ($36) radiated a sweet, beautiful flavor. The accompanying shallot potato cakes added a crunchy texture that complemented the rich scallops and buttery sweet sauce. The succulent Colorado rack of lamb, served with a dollop of cauliflower puree and golden raisins ($43), was flavorful enough to gnaw to the bone.
The service was prompt and professional; the staff clearly knows its stuff. Empty plates and glasses were cleared or refilled appropriately, and the courses were well timed, so as not to rush the preceding dishes. Based on the service and the turn-around time of the kitchen, my guest and I would never have known it was a busy night.
But hey, it wasn't a perfect evening. It was a busy night, and the dining room was noisy. So there — one claw mark.
I'm still more comfortable at a dive-y Thai restaurant in Hurst or a taco stand on Hemphill Street — and really, who isn't? But it's good to know that when those old "champagne dreams and caviar wishes" (to quote Robin Leach) are strong, there are a few restaurants in this town that can fulfill them.
Contact Chow, Baby at chowbaby@fwweekly.com