Last week, Fort Worth Weekly broke the news of a lawsuit filed against La Familia by three former employees who claim they were threatened, humiliated, and repeatedly denied their due wages ("La Familia Sued by Ex-Employees," Blotch, Tuesday, Jan. 3, 2012). The suit, filed in late December in Fort Worth federal court, alleges that restaurant co-owners, the father-and-daughter team of Al and Lanette Cavazos, committed numerous violations of the Fair Labor Standards Act (FLSA), a 1938 law that applies to any business with annual sales of more than $500,000. Plaintiffs Joe Lara, Miguel Velazquez, and Juan Cano are seeking unspecified actual damages, punitive damages, and legal fees.


The former employees initially filed the suit in state district court in October. The Cavazoses denied all of the allegations in a formal legal response a month later. Father and daughter also took advantage of their legal right to have the case transferred to federal court.
In a phone call with the Weekly last week, Lanette Cavazos referred all questions to her and her father's attorney, Dallas-based Mike Coles, who has been unavailable for comment.
On Friday, the plaintiffs' attorneys, Matthew Bobo and Chip Searcy, amended the lawsuit to include two additional charges: one of conversion (depriving a person of personal property without his or her consent) and one of theft.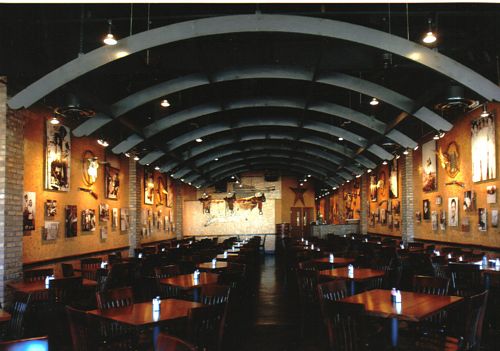 The plaintiffs' attorneys have also filed complaints with the U.S. Equal Employment Opportunity Commission (EEOC) and the Fort Worth Human Relations Commission. In the EEOC complaint, Bobo and Searcy allege that the Cavazoses routinely discriminated against Velazquez for his non-citizen status. In the other complaint, the plaintiffs' attorneys allege that the Cavazoses discriminated against Lara, 57, for his age.
Both agencies will investigate the
restaurant unless the Cavazoses agree to mediation. However, Searcy said, the family has rejected all such offers.
The Cavazoses, the court filing alleges, frequently made improper deductions from the former employees' paychecks. The former employees also say they were "regularly, even daily, cursed at, psychologically humiliated, and, in some cases, even threatened [and] physically abused."
The filing quotes Al Cavazos as having once told one of the plaintiffs, "If you f–k with my restaurant or my livelihood, I will kill you." The document alleges that Lanette Cavazos sometimes managed the restaurant "in a severely intoxicated state and on one or more occasions brandished a firearm and waved it around the restaurant in the direction of various employees."
Lara had worked as a waiter for La Familia for about 20 years before he was "abruptly terminated without cause" on March 17, according to the court filing. Velazquez, who'd been waiting tables at the restaurant for about 15 years, was "constructively terminated," the filing says, in late March "because of the unconscionable conduct" of the Cavazoses. Cano worked as a cook off and on for many years and consecutively for the past five years until he was "abruptly terminated without cause" in mid-March, the court document says.
A fourth former employee, waiter Genaro Rodriguez, who quit in October, is also interested in joining the suit, and the plaintiffs' lawyers are trying to identify "all [La Familia] employees who have been denied wages so that they can be notified and joined to the suit should they so desire," said Searcy.
The plaintiffs allege that other employees also were financially shorted or emotionally abused. Current La Familia employees, the filing says, "have been wrongfully threatened by the defendants because of [current employees'] friendship and/or kinship with the plaintiffs."
Velazquez' brother had been working for La Familia for several weeks before he was recently terminated without cause, leading Velazquez and his brother to believe the Cavazoses fired him only because of Velazquez' participation in the lawsuit.
La Familia operated in Denton and then Grapevine before taking over a former McDonald's building on West 7th Street in the late 1990s. In 2006, at the vanguard of the extensive and successful redevelopment of the West 7th corridor, the Cavazoses shifted operations to a much larger, elegant space on nearby Foch Street. Several months ago, the restaurant added a second dining room and a bar outfitted with an "ice rail," a strip of crushed ice running the length of the bar counter to keep drinks cold, and a blooming "liquor tree" that resembles a tangle of giant antlers. The additions increased the restaurant's footprint by about 2,000 square feet.
Former waiter Lara worked for the Cavazoses since the restaurant's beginnings in Denton. "I feel bad about [getting fired], but I'm happy, because it's hard to be with that family," he said.
He said that the abuse began in the West 7th location and appreciably intensified on Foch.
Documents obtained by the Weekly show handwritten deductions to the former employees' pay, including some that reduced take-home pay to zero. Lanette Cavazos, Rodriguez claims, teased him every time he received a paycheck that wasn't zeroed out. "She would say, 'Hey, 'Naro! You're getting a paycheck this week!' And I'd look at it, and it'd be for, like, $10," he said.
Deductions, the former employees say, were made for mistakes, both legitimate and arbitrary. The former employees claim that if they screwed up an order, they had to pay for the food item and throw it away in front of Lanette Cavazos. Rodriguez also claims she would say, "I don't like the way you're talking to me" and charge him $10 for the offense –– she kept a running tab of the waitstaff's offenses and mistakes on each food/drink order ticket, the three former waiters claim.
Deducting pay from employees' paychecks for perceived grievances is "not only not right, it's illegal," Bobo said.
The wage law, he said, "is there to protect employees, whether you're an undocumented worker or you have work papers. Somebody takes money away in violation of those laws, they have to be held accountable. That's why this lawsuit is filed. … There's absolutely no reason anybody should work hard in this economy and have money taken from them."
The three former waiters claim the deductions would often amount to as much as $30 per employee per eight-hour shift.
The former employees also claim they regularly worked in excess of 60 hours per week, sometimes arriving for work at 10 a.m. and leaving at 3 a.m., but were regularly paid for only 40 hours per week.
Former head cook Cano said he had a different problem. The Cavazoses didn't deduct anything from his pay, he said. Instead, they failed to pay him the overtime wages that he claims he was owed.
Cano, who made $10 an hour, said he regularly worked about 70 hours a week and was regularly paid for only 40 hours plus occasional small bonuses –– nowhere near what the proper overtime pay of $15 per hour would have added up to.
The former employees claim the Cavazoses would collect money from employees for mistakes and offenses every Saturday night after closing time. At one particular collection meeting, Rodriguez claims Lanette Cavazos said, "All right, mama's gotta be shopping this weekend. Get your money out. A lot of you owe me [money]."
Lanette Cavazos, Lara said, pre-empted complaints by telling her employees, " 'If you don't like it, there's the back door.' That's the first thing they tell you, right away, every single thing you do: There's the back door."
After she collected the money, the former employees say, she would force the debtor to tear up his or her "ticket" of mistakes and offenses in front of her and the staff and throw it away.
However, Lara, Rodriguez, and Velazquez managed to save dozens of tickets. "It was just for protection," Velazquez said, "and [the Cavazoses] always said, 'There's nothing you can do to us. There's no way you can ever do anything to us.'
"We're not [filing suit] because we want to hurt them," he said. "It's just the way they were acting, the way they treat everybody there, it's just really bad."
The former employees say they put up with the alleged abuse to continue earning a living in a bad economy.
They decided to sue, Lara said, to "get back the money they took from us" and also to improve the working conditions for current and future La Familia employees.
The legal machinery involved in such a lawsuit could grind into 2013, Bobo said.
However, Searcy added, "anytime the defendants want to talk, we'd be open."