After premiering at last summer's Cannes Film Festival to rave reviews and a Best Actor prize, The Artist has played to rapturous reception at festivals (including the Lone Star International Film Festival) and art houses, picked up numerous other laurels, and seems a lock for multiple Oscar nominations next week. As always happens in these instances, it's now encountered something of a backlash. This black-and-white silent film is a trifle, claim the naysayers, a pleasant and charming but fatally shallow one. That assessment is correct for the movie's first half-hour or so, but then it springs on you in a rather vicious way near the end that turns it into a surprisingly emotionally draining experience. Not bad for a trifle, I'd say.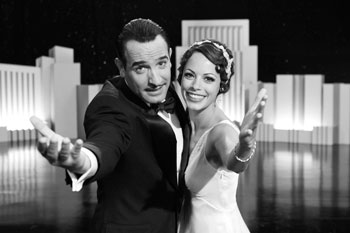 The story begins in 1927 in Hollywood, as silent film star George Valentin (Jean Dujardin) basks in the glow of yet another box-office hit. While posing for red-carpet photos at the premiere, he has a chance encounter with Peppy Miller (Bérénice Bejo), an extra dreaming of stardom, and winds up giving her her first acting job. When the studios all stop making silent films and switch over to sound, Peppy becomes a leading lady in the new era. George, on the other hand, refuses to adapt to the technology, betting his personal fortune that his fans will stick with him as he continues to make silents.
Even though the film was shot in Los Angeles with Hollywood supporting talent (including John Goodman as a cigar-chomping mogul and an eloquent James Cromwell as George's loyal chauffeur), it's the brainchild of French writer-director Michel Hazanavicius, who collaborated with Dujardin and Bejo on OSS 117 and its sequel OSS 117: Lost in Rio, two wildly successful comedies at the French box office that spoofed 1960s spy thrillers. In case you've never seen them, they land somewhere between the Pink Panther movies and the Austin Powers movies.
The Artist is built on a similar spirit of pastiche. While its plot draws heavily from A Star Is Born, its slapstick set pieces and wistful tone take their cue from Charlie Chaplin's comedies. The hallucination early on when George's world suddenly bursts into sound is a clever bit worthy of the old silent directors. The movie also refers on numerous occasions to that other great movie about the transition from silent to sound film, Singin' in the Rain, not only in its tap-dance numbers but also in Dujardin's astonishing resemblance to Gene Kelly, especially when George flashes his self-satisfied, overly broad movie-star smile. The visual surfaces are sharp and stylish, thanks to Guillaume Schiffman's black-and-white cinematography and Laurence Bennett and Gregory S. Hooper's Art Deco art direction.
If that were all to this, then the movie would indeed be little more than a gimmick. However, George's hubris-fueled descent into poverty and obscurity gives the story a dramatic power that's akin to F.W. Murnau's 1927 silent masterpiece The Last Laugh. Without dialogue, much of the film's emotional burden falls upon Ludovic Bource's music, which shoulders the burden in inspiring fashion. The orchestral score starts out in typically splashy and jazz-inflected old-Hollywood style, but when George's fortunes turn, the music becomes sparser, expressing the fallen star's despair in angry Bernard Hermann-like blocks of dissonant string chords. (In fact, bits of Hermann's score for Vertigo turn up on the soundtrack here, which has kicked up a minor awards-season fuss.)
Dujardin's performance follows suit, plumbing the desperation of a charmer trying to summon his professional elegance and bonhomie in the face of personal disaster. When George's inner resources run out, his resulting fit of pique (taking out his frustrations on his personal film collection and almost killing himself in the process) shows a man staring into an abyss of spiritual emptiness. The lack of dialogue also places unusual demands on the actors, and while the pretty Bejo has moments when she oversells, Dujardin does just the right amount of hamming as a self-absorbed star before turning this stranded actor into a tragic figure.
Rather than indulge in easy nostalgia for a bygone era, Hazanavicius takes a harder road. He's hardly a Luddite in regard to technology — the triumphant final scene alone showcases the wonders of innovation. Nevertheless, his story illustrates in stark terms how technological progress almost always claims victims. Somehow he manages to segue from that to a redemptive ending that lifts The Artist's mood of gathering gloom without feeling conjured from thin air. Just the last act of magic that this film has up its sleeve, it sends the movie out on a brilliant high note.
The Artist
Starring Jean Dujardin and Bérénice Bejo. Written and directed by Michel Hazanavicius. Rated PG-13.