Whether it's some sort of backlash, the inevitable byproduct of a male-dominated system, or just a coincidence, our multiplexes are currently being overrun by fantasy adventure films with young men at the heart. Next month's release of The Hunger Games will restore the gender balance, but for now, let's ring up the accomplishments and shortcomings of the three movies in our theaters.


The 2008 version of Journey to the Center of the Earth inaugurated a new age of 3D films, and in the four short years since then, its 3D effects have been left in the dust by the likes of Avatar and Hugo. Now comes its sequel, Journey 2: The Mysterious Island, and while it doesn't measure up to James Cameron's or Martin Scorsese's 3D stylings, it's also leaps and bounds beyond what the original offered. At least from a visual standpoint, that is. As far as the story goes, it's just as forgettable as its predecessor.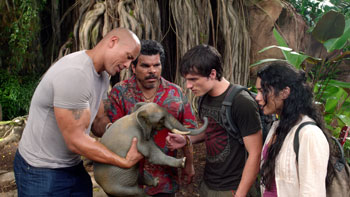 The film begins with Sean Anderson (Josh Hutcherson) receiving a coded radio transmission from his long-lost explorer granddad (Michael Caine). Sean's mom's boyfriend Hank (Dwayne Johnson) — who just happens to have been a U.S. Navy codebreaker — helps the kid makes the astonishing literary discovery that the enchanted locale described by Jules Verne in The Mysterious Island is a real place and is identical with the kingdom of Atlantis, Robert Louis Stevenson's Treasure Island, and Jonathan Swift's Lilliput. Quicker than you can say "Cyrus Smith," Sean and Hank are on a helicopter off the coast of Palau that promptly crash-lands on an island populated by miniature elephants and giant bees as well as Sean's grandpa.