I take back mostly everything I've ever said about Complete, the heavy metal Fort Worth band that will be playing the upcoming annual SXSW music festival and conference for the fourth consecutive year, joining the synth-rocking Burning Hotels, the '60s-infatuated Fungi Girls, partially Denton-based punks Mind Spiders, and the Jason Mraz-y Hudson Moore as the only officially showcasing artists from the 817 this year.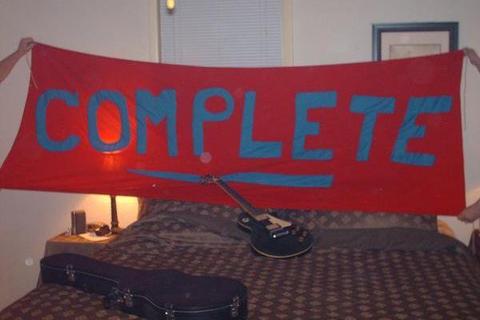 That's right: four years in a row for Complete. Apparently, the band plugs up a musical void in Austin during the weekend of March 17 that cannot be filled by Telegraph Canyon, Calhoun, The Orbans, Whiskey Folk Ramblers, Stella Rose, The Hanna Barbarians, Quaker City Night Hawks, or any other real, progressive Fort Worth artist you can think of. Everything I've ever said about Complete –– mainly some version of "They're tone deaf, untalented, and unconscionably horrible" –– has never been said in spite or out of meanness. I've never met the guys, but I'm sure they don't, y'know, secretly murder people or plant pipe bombs in crowded areas. Plus, after watching some YouTube video of Complete on some local cable-access show from the late 1990s, I'm inclined to believe that the band members are a little –– how you say? –– touched in the head (bless their hearts). In the video –– it's received more than 224,000 views since its initial upload in 2006 –– live footage is intercut with interview snippets with the show's host. At one point, the host asks if Complete is going to try to "get into some clubs in Deep Ellum or something?" The bass player, a sweet-looking skinny guy wearing an exaggeratedly large red-and-white-striped Dr. Seuss stovepipe hat, responds, "Oh, yeah. I wanna go into that original scene, that underground scene where we can play our music and not have to worry about the cover scene" –– oddly, the interviewer, based on his line of questioning, is mildly obsessed with covers and cover bands versus originals. "Covers," the bass player goes on, his Texas accent thicker than Rick Perry's skull, "it's not from our heart and our soul, and our music is. It's from our heart and from our soul, and that's what counts to us." Now, how can anyone with any semblance of either a heart or a soul hate on a band that sweet-natured? Not me. As if that response wasn't awww-inducing enough, at one point during the video a now-disconnected phone number to the "Complete hotline" pops up in a small box onscreen. Adorable. Weeks ago, after learning that Complete was once again invited to play a sanctioned South-by showcase –– and was chosen over Telegraph, Calhoun, et al. –– I wrote a hotly persuasive (filthy) e-mail to South-by honchos demanding explanation. Never heard back, but I understand now perhaps all too clearly why Complete was chosen –– again. Look at all the views that YouTube video received. Plus, the six songs on Complete's MySpace page (yes, MySpace) have gotten just more than 35,000 (!) total plays, and there's a Complete fanpage, whose six songs have received just more than 58,000 total plays (!!!). By comparison, Stella Rose's 10 MySpace songs have gotten only 38,116 total plays. Stella Rose! Clearly, South-by bosses are simply looking to capitalize on Complete's infamy. To those evil, predatory Austinites ensconced in their robes of Matthew McConaughey chest hair, I say, "Shaaame!" And I also say that I've been to at least two of Complete's four SXSW performances over the years and that, well, I've been one of only about 10 people total in attendance, including the four guys onstage. Complete's 2012 SXSW sanctioned showcase has not been set yet, but the band has always managed to land cushy time slots, to which I heartily say, Good for you, Complete. Good. For. Youuuuu.
Contact HearSay at hearsay@fwweekly.com.