It's been a long time coming for this weekend's world premiere of Larry Herold's comedy The Sports Page at Stage West. The playwright wrote the first version of his script — about a young reporter witnessing cultural and social upheaval at a 1966 Dallas Cowboys training camp — almost a decade ago.


Herold is a veteran sports journalist who began his career at The Waco Herald-Tribune in the late 1970s and went on to write for The Dallas Morning News, Texas Monthly, D Magazine, and other publications. He encountered a lot of Texas sports reporters from an earlier era, guys like Blackie Sherrod, Sam Blair, and Gary Cartwright. They spun colorful yarns about pro sports press coverage back in the '60s, before network television caused the athletes' salaries to skyrocket and women reporters were allowed in locker rooms. Herold first decided to try his hand at fiction to capture this world. But he quickly realized that the best medium for evoking the hard-drinking, nicotine-stained reporters of his memory was the theater.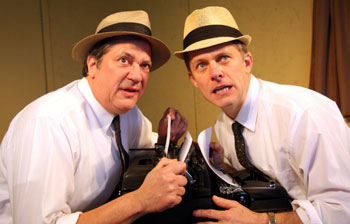 "The dialogue was always the part I liked the most [in fiction]," Herold said. "It was the part I was best at. So why not get into an area where everything the audience knows comes from the characters' mouths? And then about 15 years ago I saw Tom Stoppard's play Arcadia in London. I couldn't believe how good it was. I realized you could address big questions in a play but also have jokes and pratfalls."
After placing in various national play competitions, The Sports Page won Stage West's Texas Playwriting Competition in 2010. Season subscribers were asked at a staged reading if they'd attend a full production of Herold's script, and the unanimous response was yes. So Stage West decided to take a big commercial and artistic risk by putting a lot of talent and cash into a full mainstage show by an unknown North Texas playwright.
With that in mind, Herold dipped into his own pockets and hired Fort Worth actor and filmmaker Adam Dietrich to create some special online content to help promote and enrich the play's world premiere. Dietrich is the Hip Pocket Theatre-trained performer who went on to found the nonprofit multimedia collaborative The Butterfly Connection. It has since morphed into TBC Studios, a for-profit company that develops and shoots movies, commercials, web-only shows, and other digital video content.
In Dietrich's mind, internet words and images supply an extra level of context that will deepen the experience of the play itself. He insists that to attract more people into the theater, artists "need to speak a language that everyone understands. Video on the internet is something that almost everyone understands now, because people go online to receive their information. If theaters can work with filmmakers in their communities to help develop content, it enhances the stage play the way, say, a DVD is enhanced by special features."
Dietrich and Herold ultimately decided to film a multiplex-style trailer for the play and shoot a series of two-minute interviews with veteran North Texas sports journalists talking about how their field has changed. The trailer was shot in one day using the cast of the Stage West show in the locker rooms and on the football field of Fort Worth's Trimble Technical High School. In addition, Herold and Dietrich interviewed stalwart sports reporters like Mark Oristano, Mike Shropshire, Mike Jones, and Carlton Stowers, who discussed in brief video segments the shifting culture of press coverage in the '60s, '70s, and '80s. (One of the obvious ways it has shifted is that sports reporters are no longer exclusively white and male.) Dietrich said it was interesting how different men had completely different takes on their jobs. Shropshire, for instance, was adamant that drinking had been an integral part of the culture, whereas Jones was a non-drinker and insisted it didn't mean so much. The point of the interviews is to provide audiences information and perspective before they walk into the theater. (The video content is available on YouTube, via Stage West's web site, www.stagewest.org.)
Herold is keeping his fingers crossed that The Sports Page becomes a hit for Stage West, thus encouraging the company to take chances on other full productions of new playwrights' work. Both he and Dietrich are aware that using the internet to promote the play mirrors the change in media that the show explores. It was that period in the '60s when TV producers were just learning how to use the broadcast network medium to draw in football fans and print journalists were beginning to feel the competition.
"Technology forces us to develop and progress," Dietrich said. "In some ways, The Sports Page isn't about sports at all but about people who are trying to evolve — or trying not to evolve. Larry has done a brilliant job of harnessing all these different specific characters and making their journeys important."
The Sports Page
Feb 9-Mar 18 at Stage West, 821 W Vickery St, FW. $26-$30. 817-784-9378.