Knowing how to tell a story with a camera might not get Mosley very far, if he didn't also have considerable chops as an actor. Years of roles in small films have provided the extra smidgen of money that allows him to march forward with his directing projects. His combination of resources doesn't exactly pay for big-budget movies, but it does get him past the financing hurdle that stops many beginning filmmakers.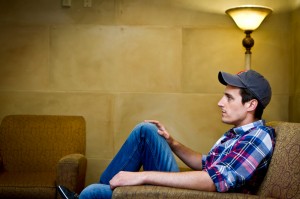 He has occasionally played supporting roles in his own films out of necessity when a part couldn't be filled. But Mosley has discovered that acting in other directors' projects can be a form of both relaxation and research: Allowing himself to be used as a tool by other filmmakers provides new ideas and methods for his own movies.
The movie that got him noticed as a performer in the North Texas indie film scene was his UTA friend Justin Hilliard's debut, a dark comedy called The Other Side of Paradise (2009), in which he played an emotionally stunted man just released from prison.
"I was coming off of Hold, and I'd never had a role of that magnitude," Mosley said. "I feel like it was a turning point in terms of people seeing what I could do [as an actor]."
As a performer, he said, "I like to start with the externals — how does a guy look, how does he walk? — and then move from the outside inward."
In the couple of dozen features, shorts, and web series he's performed in since Paradise, Mosley has blossomed into an impressive character actor, playing everything from a comical hip-hop pimp (the TV show Ghostbreakers) to a hostile, obsessive college professor (Clay Liford's feature Wuss) to a callow young businessman who loses his naïvete during a business lunch (Eric Steele's short Cork's Cattlebaron). Steele is one of the co-founders of the reincarnated Texas Theatre, the Oak Cliff movie house that specializes in foreign, cult, and independent films. He also co-produced Wuss.
As an actor, "Frank's extremely versatile," Steele said. "The first time I saw him in action was in Wuss, where he played this college professor who smoked a lot of pot and had this weird fetish for Asian schoolchildren. He really brought a kind of dark underbelly to the movie.
"In the movie I directed [Cork's Cattlebaron], he had to show this youthful optimism that could turn on a dime. He played a guy who went to dinner with his boss, and the boss was a total obnoxious blowhard [played by Los Angeles actor Robert Longstreet]. Frank had to do that thing that's so hard in movies and life — he had to just sit there and listen. He has a wonderful camera presence."
At this point, Mosley figures his chances of getting noticed and hired for projects with higher profiles and bigger paychecks are much better as an actor than as a director. That's part of the reason he's poured so much energy into his character roles in little movies.
He has tried for more lucrative acting work, auditioning for numerous TV shows and commercials. So far he's only filmed one gig for a Lotto Texas ad, which he's never seen. "I don't think I'd be very happy making commercials [for a living]," Mosley said.
Acting in low-budget indie projects has kept him busy. "I'm lucky to know so many talented film people," he said. "One project always leads to another." His online networking with other filmmakers has resulted in recent out-of-state gigs on small-budget shoots in Louisiana, New York, and Missouri. Mosley traveled to rural Stanberry, Mo., to play an introverted brother in director Blake Eckard's Ghosts of Empire Prairie. Afterward, he swung by Cape Cod and Brooklyn to serve as assistant director for a comedy feature called Satisfaction, in which he also has a small role.
Johnston, Frank's longtime friend and frequent collaborator, said that other local filmmakers have come to know that Mosley "always gives a role his all, no matter how thankless it is." Or how bizarre: Later this year, he'll be heavily decked out in prosthetic makeup for a character role in John Wildman's satirical horror film Stripped, about a group of cannibalistic strippers who lure men to their doom. The movie will shoot in Dallas.
 ********
The last few years have been creatively satisfying but also incredibly hectic for Mosley — working a couple of weeks a month at Starbucks, shooting and editing his own movies, and acting in other people's projects. But he's ready to move on.
Next spring Mosley plans to relocate to New York City, where he hopes to get more work as an actor to finance his moviemaking.
"I've made a lot of friends and contacts [in New York]," he said. "Los Angeles isn't really my scene."
Johnston said he's never had a conversation with Mosley about "breaking out" or "taking his career to the next level."
"He's clearly approaching his work more as an artist [than a businessperson]," he said. "As long as he can keep a roof over his head, I think he should continue doing what he's doing if it makes him happy."
But if pushed to offer advice, Johnston said, his would be: Find a producer who will make good business decisions for you. "Cassavetes didn't become John Cassavetes without someone helping him."