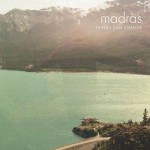 First, the good news.
Awesome Fort Worth dream-poppers Madràs have just released their debut album, Things Can Change, a collection of 13 rather mellow tracks interspersed with audio samples, usually of friends' voices, and though the trio of drummer Ben Hance (Secret Ghost Champion frontman) and brothers Jeevan and Mathew Antony is subdued on the recording, the guys exude great energy live –– you can catch them on Sunday at 6 p.m. at The Durty Crow as part of our 10th Annual Fort Worth Weekly Music Awards Festival. There's also one track on the album that reflects the band's spark, "Once I."
Bassist/keyboardist/backing-vocalist Mathew has been studying abroad for the past several months but will return next month –– special guests have been filling in for him live. Once he returns, Madràs will begin recording another album. Mathew and Jeevan also have another band, Fou, and they will begin recording their sophomore album once Mathew gets back.
Now the bad news: Jeevan came here five years ago from Dubai to study at TCU, but since graduating last year, he hasn't been able to find an employer to sponsor him. Once his visa runs out in August, he's going to have to move back to Dubai. He's not sure what's ahead but figures he might work there for a couple of years before eventually returning to North America. Mathew, by contrast, has two years left at TCU.
"I'm sad to be leaving the scene," Jeevan said. "So many bands here are just about to explode."
After August, Madràs won't be touching a stage anytime soon, which means you shouldn't miss the chance to see them before Jeevan leaves — their live shows are pretty magical. But Jeevan's departure doesn't signal an end to the band. Even when they were both in Fort Worth, the brothers would often record and add to each other's ideas separately, sharing audio tracks electronically. There's no doubt that will continue once Jeevan's back in Dubai.