The Fort Worth Weekly Music Awards evolved into a multi-event extravaganza over the years, and 2012 is destined to be the biggest blowout yet.
Festivities kicked off last night with the Weekly's charity compilation CD release party at The Wild Rooster featuring Jefferson Colby, Cleanup, and Secret Ghost Champion.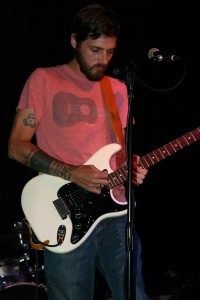 Wild Rooster offers pool tables, and Jenni Ellis needed only to knock in the eight ball to win her game — and the little black ball was conveniently sitting near a side pocket.
"Will it make you nervous if I take a photo of you knocking in the winning ball?" I asked.
"No," Ellis said with confidence.
I situated myself in front of the eight ball, with my lens pointed directly toward Ellis. I didn't want my flash to blind her so I waited until she'd made her shot before I took my picture. Ellis hit the cue ball, but it completely missed the eight ball and then banked into a corner pocket.
In other words, Ellis holed the cue ball and lost the game. And my camera captured the gut-wrenching moment that will live in sports infamy.