Former Green Bay Packers quarterback Brett Favre says the quarterback most like him is Dallas Cowboys qb Tony Romo.
Ouch.
Romo idolized Favre while growing up and is probably thrilled by the compliment.
But when I think of Favre, I recall a reckless gambler who too often bet the ranch on a long throw and lost his ass.
Back when the Cowboys were good in the 1990s, it was always a relief when Troy Aikman went head to head with Favre in the playoffs. You could count on Aikman to be cool, steady, and precise, and Favre to fumble or throw a pick at clutch time.
The Cowboys knocked the Packers out of the playoffs three years in a row under Aikman.
Favre said Romo b is "underrated" and gets unfairly scrutinized by the sports media. In other words, Favre is saying he was underrated and unfairly scrutinized.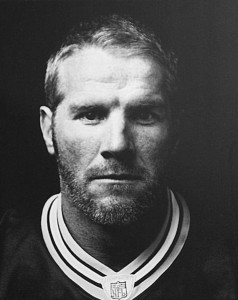 Favre could be great at times. He won a Super Bowl and multiple MVP awards.
But to many fans he's still the unpredictable gunslinger tossing interceptions; the married dude sexting unwanted photos of his, er, pigskin;  the drama queen who retired and unretired multiple times until nobody cared anymore; the only unfunny person in "There's Something About Mary."
And he's the guy who purposely took a dive and allowed New York Giants defensive end Michael Strahan to fall on top of him and get the single season record for most sacks. (Wonder how Jared Allen feels about that? He's the Minnesota Viking player who would have tied the sack record if not for Favre's fake fall.)
A competitor like Aikman would never do that.
Nor would Romo.