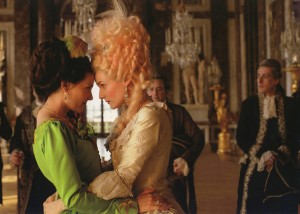 Madagascar 3: Europe's Most Wanted (PG) This noisy and inconsequential third installment has our animal heroes (voiced by Ben Stiller, Chris Rock, Jada Pinkett Smith, and David Schwimmer) becoming stranded in Europe, pursued by a fanatical Monaco animal control officer (voiced by Frances McDormand), and forced to take refuge amid a multinational troupe of circus animals. The movie doesn't have any dead spots, and the plot isn't as scattered as Madagascar: Escape 2 Africa's, but the jokes are largely forgettable and the new characters don't add much, aside from McDormand singing a credible "Non, je ne regrette rien." It's all professionally made, but it's empty. Additional voices by Sacha Baron Cohen, Cedric the Entertainer, Andy Richter, Bryan Cranston, Martin Short, Paz Vega, and Jessica Chastain.
Madea's Witness Protection (PG-13) If you need an introduction to Tyler Perry's universe, this is as good as any. Which isn't to say that it's a good movie. Eugene Levy plays a clueless corporate executive who is forced, along with his wife (Denise Richards), mother (Doris Roberts), and kids to go into the witness protection program after he testifies to his company running a Ponzi scheme and laundering money for the mob. Where does the federal prosecutor (Perry) decide to hide them? Why, at his Aunt Madea's house, of course! As usual, Perry writes and directs in the broadest strokes imaginable, and while a few lines earn some chuckles, most of the humor flops. The film is mired in unfunny black and white stereotypes, and Perry's theater-based direction drags the talents of Levy and Roberts down to the level of a bad church play. Even a wooden actress like Denise Richards has performed better. Also with Romeo, Danielle Campbell, John Amos, Marla Gibbs, and Tom Arnold. — Steve Steward
Magic Mike (R) Even if you have minimal interest in watching hot guys take their clothes off, Steven Soderbergh's drama is still an enjoyable yarn. Channing Tatum portrays a stripper who introduces a teenager (Alex Pettyfer) to the business and falls for his protégé's protective sister (Cody Horn). Tatum is much better as a goofy but sexy Everydude than as anything else. The story falls apart somewhat in the second half with some contrived stuff about drug dealers. Still, the comic vignettes about stripping are funny, and the tale of a slab of beefcake who tries to prove he's more than that is a decent hook. Also with Joe Manganiello, Matt Bomer, Adam Rodriguez, Kevin Nash, Gabriel Iglesias, Riley Keough, Olivia Munn, and Matthew McConaughey.
Moonrise Kingdom (PG-13) This luminescent children's fable from Wes Anderson is about 12-year-old kids in love (Jared Gilman and Kara Hayward) who run off together to live in the woods, launching a massive childhunt on the New England island where they live. The director's scrupulously composed visuals keeps things from becoming too syrupy. The kids take their wilderness adventure matter-of-factly, but their deeper emotions come out in oblique ways, such as a great montage with the openings of their letters to each other over the hellish moments of their lives. Anderson's style is at its most scrupulous and typically Anderson, but it's secondary to the delicate love story he crafts about two children carving out a space in the world where they can be themselves. The paradise they create is bewitching. Also with Bruce Willis, Edward Norton, Bill Murray, Frances McDormand, Jason Schwartzman, Bob Balaban, Tilda Swinton, and Harvey Keitel.
Runaway Slave (PG) Pritchett Cotten's right-wing documentary argues that welfare has reduced African-Americans to dependence on the state. Also with Glenn Beck, Herman Cain, Thomas Sowell, Allen West, and the late Andrew Breitbart.
Savages (R) Once you get past the terrible dialogue, macho posturing crap, and generally self-impressed attitude that comes standard with Oliver Stone movies, this isn't too bad a thriller. Aaron Johnson and Taylor Kitsch portray best friend pot dealers in Laguna Beach whose shared girlfriend (Blake Lively) is kidnapped by a Mexican drug cartel after a business deal goes bad. The three protagonists are pretty boring, so it's no wonder that the show is stolen by the supporting players: Salma Hayek as a ruthless drug queenpin, Benicio Del Toro as a sadistic hit man, and John Travolta as a crooked DEA agent. The movie could have been 20 minutes shorter, but the machinations of these naughty people are still moderately diverting to follow. Also with Demián Bichir, Sandra Echevarría, Antonio Jaramillo, and Emile Hirsch.
Step Up Revolution (PG-13) Terrible, but the dance numbers are cooler than ever in this fourth film in the series. Lead actors Ryan Guzman and Kathryn McCormick are painfully bad, and the plot is something out of a 1980s breakdancing movie. None of that matters, though, when there's a flash mob performance on Ocean Drive that features low-rider cars and ballerinas in glowing tutus under a blacklight. McCormick comes alive in the dance portions, especially in a number staged in the dining room of a fancy restaurant. From a pure dance perspective, this is the strongest in the series. Also with Peter Gallagher, Misha Gabriel, Cleopatra Coleman, Stephen Boss, Michael Langebeck, Mia Michaels, Mari Koda, and Adam Sevani.
Ted (R) Seth MacFarlane makes a brilliant big-screen debut with this comedy about a man (Mark Wahlberg) who wished his teddy bear to life as a boy but now finds that the bear (voiced by MacFarlane) has aged into a horny bachelor whose hard-partying ways are jeopardizing his relationship with his girlfriend (Mila Kunis). The actors react to the bear no differently than they would to a human, and Wahlberg's underrated comedic skills finally get the showcase they deserve. Some of the jokes misfire, but for each one of those there's at least one that hits, like the conversation about white-trash girl names and especially the fistfight between the man and his teddy bear. Also with Giovanni Ribisi, Joel McHale, Patrick Warburton, Matt Walsh, Jessica Barth, Aedin Mincks, Sam J. Jones, Norah Jones, and an uncredited Ryan Reynolds.
Total Recall (PG-13) The remake of the 1990 thriller is turned into a space thriller that's so generic and anonymous that you wonder why the filmmakers even bothered. Colin Farrell portrays a factory worker on a dystopian future Earth who learns that he was once a leader of the resistance against the evil dictator (Bryan Cranston) who rules the world. Director Len Wiseman gives us the same vision of the future that we saw in Blade Runner and a thousand bad knock-offs since. His real-life wife Kate Beckinsale plays the villain well enough, but the movie is so soulless that its only clear reason for existing is to cash in on our attachment to the original. You'll leave here wanting to implant a better memory in your head. Also with Jessica Biel, Bokeem Woodbine, John Cho, Will Yun Lee, and Bill Nighy.
The Watch (R) Um, yeah, so this exists. This comedy is about three frustrated white dudes (Ben Stiller, Vince Vaughn, and Jonah Hill) and one mysterious Indian-British guy (Richard Ayoade) who confront an alien invasion centered around the small Ohio town where they live. This shaggy affair has one badly thought out plot twist and a few small chuckles, most of them emanating from British TV star Ayoade. Still, given how much comic talent goes into this thing (the script is co-authored by Evan Ross and Seth Rogen), this should have been more than just mildly funny. Also with Rosemarie DeWitt, Will Forte, Erin Moriarty, Doug Jones, R. Lee Ermey, Nicholas Braun, Jorma Taccone, and Andy Samberg.
DALLAS EXCLUSIVES:
Farewell, My Queen (R) Benoît Jacquot (The School of Flesh) adapts Chantal Thomas' novel about a girl (Léa Seydoux) who's brought in to read to Queen Marie Antoinette (Diane Kruger) in the days shortly before the French Revolution. Also with Virginie Ledoyen, Xavier Beauvois, Noémie Lvovsky, Michel Robin, and Julie-Marie Parmentier.
The Graduate (NR) 45th-anniversary reissue of Mike Nichols' comedy about a recent college grad (Dustin Hoffman) who has an affair with his father's business partner's wife (Anne Bancroft) before falling for her daughter (Katharine Ross). Also with William Daniels, Murray Hamilton, Elizabeth Wilson, Alice Ghostley, Norman Fell, and Buck Henry.