Ice Age: Continental Drift (PG) The well is long dry for this fourth installment, as Manny the mammoth (voiced by Ray Romano) gets separated from his family and once again relies on the help of his buddies (voiced by John Leguizamo and Denis Leary) to reunite with them. The domestic drama fails to generate any emotional heat or make us invest in the main characters, and the addition of a villainous orangutan pirate (voiced by Peter Dinklage) and some hefty vocal talent in the cast accomplishes nothing. The wordless four-minute Simpsons short that accompanies the feature is a better piece of filmmaking than this. Additional voices by Jennifer Lopez, Queen Latifah, Keke Palmer, Wanda Sykes, Seann William Scott, Josh Peck, Josh Gad, Aziz Ansari, Nick Frost, Rebel Wilson, Alan Tudyk, Joy Behar, Patrick Stewart, Heather Morris, Nicki Minaj, and Drake.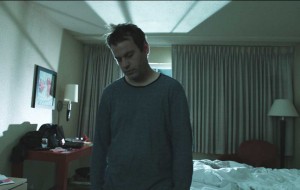 Killer Joe (NC-17) Matthew McConaughey gives one of the year's scariest performances as a gentlemanly, sociopathic, sexually violent Dallas cop who moonlights as a killer for hire in William Friedkin's adaptation of Tracy Letts' play. Emile Hirsch stars as a small-time drug dealer who hires Joe to murder his mom for her insurance money and pimps out his willing sister (Juno Temple) in exchange for advance payment. Friedkin and Letts make hash out of the murder plot, but Temple's angelic-demonic baby doll and McConaughey's orderly, well-spoken, depraved killer will burn themselves into your memory. All those bland romantic comedies that McConaughey starred in in the past look different now. Also with Gina Gershon, Marc Macaulay, and Thomas Haden Church.
Lawless (R) Based on Matt Bondurant's novel The Wettest County in the World, this Prohibition-era thriller stars Shia LaBeouf, Tom Hardy, and Jason Clarke as three brothers in backwoods Virginia who go to war with a crooked Chicago deputy (Guy Pearce) who wants to take over their moonshine business. Director John Hillcoat and writer Nick Cave do justice to the extreme levels of violence here and prevent the momentum from flagging, but they mishandle some dull romantic subplots and stack the deck against a cardboard bad guy. Better stuff comes from the actors, especially Hardy, playing a laconic guy whose grunts express a whole rainbow of emotions. Also with Mia Wasikowska, Jessica Chastain, Dane DeHaan, Bill Camp, Noah Taylor, and Gary Oldman.
The Odd Life of Timothy Green (PG) When two parents who can't have children (Jennifer Garner and Joel Edgerton) deal with their heartache by describing the child they want on paper and burying the paper in the backyard, a little boy (CJ Adams) springs fully formed from the ground. Timothy is supposed to be a catalyst for all sorts of good things, but writer-director Peter Hedges doesn't handle the boy's existence with much imagination. The movie takes flight only near the end, as it conveys its theme about the miraculous nature of every human soul. Its excellence is fleeting, but that seems in keeping with the theme that life itself is fleeting. On balance, this is no better than an average film, but it reaches exalted territory in a few patches. Also with Odeya Rush, Dianne Wiest, Rosemarie DeWitt, M. Emmet Walsh, David Morse, Ron Livingston, James Rebhorn, Common, and Shohreh Aghdashloo.
ParaNorman (PG) This is how I like my kids' movies — intelligent, funny, and disturbing enough to keep you up at night. The animation studio behind Coraline brings us this stop-motion film about a bullied morbid 11-year-old New England boy (voiced by Kodi Smit-McPhee) who can talk to ghosts and must use his power to prevent a witch's curse from destroying his town. The movie strikes a fine balance between comedy and horror, and the voice actors are cast against type in a movie where none of the characters is who he or she appears to be. The movie comes to grips with the complexities of bullying, and when the witch (voiced by Jodelle Ferland) finally appears to Norman, she takes a form far more terrifying than an old woman with a pointy hat could ever be. This virtuoso piece of work is the best animated movie so far this year. Stay after the end credits for a speeded-up montage of the Norman figurine being assembled. Additional voices by Tucker Albrizzi, Anna Kendrick, Casey Affleck, Christopher Mintz-Plasse, Jeff Garlin, Leslie Mann, Elaine Stritch, Bernard Hill, and John Goodman.
The Possession (PG-13) Only the second Jewish exorcism movie I can recall, this one is better than 2009's The Unborn, though that's not saying much. Jeffrey Dean Morgan stars as a divorced dad whose younger daughter (Natasha Calis) becomes possessed by a dybbuk after buying a mysterious lidless box with Hebrew inscriptions carved into the side. Norwegian director Ole Bornedal spends the first hour or so throwing moths in our face trying to scare us, and the domestic drama is crudely handled. Things improve near the end, when reggae singer Matisyahu comes on as a Hasidic exorcist who confronts the demon with his lovely singing voice. It's a nice payoff, though better buildup would have served it better. Also with Kyra Sedgwick, Madison Davenport, Jay Brazeau, and Grant Show.
Premium Rush (PG-13) Because we haven't had a movie with a good bicycle chase in a while. An overqualified Joseph Gordon-Levitt stars as a New York City bike messenger who must ride for his life when a crooked cop (Michael Shannon) with a gambling habit tries to hijack a package that he's delivering that's worth $50,000. Director/co-writer David Koepp does a fair job with this thriller until the end, when the proceedings get too waterlogged with melodrama. Before that, he executes some crisp chases, with the messenger picking his way through Manhattan's crowded streets and sidewalks. Also with Dania Ramirez, Jamie Chung, Wolé Parks, Henry O, Christopher Place, and Aasif Mandvi.
Sparkle (PG-13) This big, messy, ambitious remake of the 1976 film musical stars Jordin Sparks as a songwriter and backup singer who becomes a Motown music star with her two sisters (Carmen Ejogo and Tika Sumpter) before  success tears the group apart. The original film's songs by Curtis Mayfield are as strong as ever, and some of the domestic scenes are exceptionally well-written. However, American Idol winner Sparks' acting is too weak to hold the movie together, and she looks like a star only during the last two numbers, which include the R. Kelly-penned "One Wing." Director Salim Akil (Jumping the Broom) leads this epic up lots of blind alleys, some of them more interesting than others. Also with Derek Luke, Mike Epps, Omari Hardwick, Curtis Armstrong, Michael Beach, Cee-Lo Green, and the late Whitney Houston.
2016: Obama's America (NR) This lumbering documentary is based on Dinesh D'Souza's book The Roots of Obama's Rage, in which the right-wing pundit argues that our current president is motivated by resentment at the white establishment that comes from his background growing up in colonial countries. The film's cool, scholarly tone may win it a few converts, but it can't cover up the gaping hole in D'Souza's theory: If our president were secretly an Angry Black Man, wouldn't we have seen him lose his temper by now? Every president is subjected to armchair psychoanalysis these days, but this movie's diagnosis is too easily picked apart. The sprinkling of factual errors doesn't help D'Souza's argument, either.
The Words (PG-13) For a movie about writers, this isn't well-written. Bradley Cooper portrays a struggling novelist who stumbles on an unpublished manuscript and publishes it as his own work, only to have the real author (Jeremy Irons) come out of the woodwork. Writer-directors Brian Klugman and Lee Sternthal (real-life friends of Cooper making their filmmaking debut) do a lot of maundering about the truth, and yet nothing in their movie rings true. The story is cliched in content and delivery, and the techniques are unsubtle. The movie fails to rise above the middling in every way. Also with Dennis Quaid, Zoe Saldana, Olivia Wilde, Ben Barnes, Nora Arnezeder, Michael McKean, J.K. Simmons, Ron Rifkin, John Hannah, and Zeljko Ivanek. — Zack Shlachter
DALLAS EXCLUSIVES:
For a Good Time, Call… (R) Lauren Anne Miller co-writes and stars in this comedy as a Manhattan single woman who discovers that her new roommate (Ari Graynor) is working as a phone sex operator. Also with Justin Long, Mark Webber, Mimi Rogers, Don McManus, Nia Vardalos, James Wolk, Martha MacIsaac, Ken Marino, Kevin Smith, and Seth Rogen.
Robot & Frank (PG-13) Frank Langella stars in this science-fiction film as an elderly former jewel thief who plots a heist with the robot (voiced by Peter Sarsgaard) purchased by his children to take care of him. Also with James Marsden, Liv Tyler, Jeremy Sisto, Ana Gasteyer, and Susan Sarandon.
Sleepwalk With Me (NR) Mike Birbiglia co-directs and stars in this autobiographical film as a stand-up comedian who begins to sleepwalk while going through a personal crisis. Also with Lauren Ambrose, Carol Kane, Marc Maron, James Rebhorn, Kristen Schaal, Alex Karpovsky, David Wain, Ira Glass, and Loudon Wainwright III.