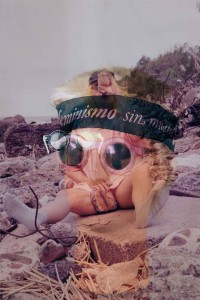 The Independent Study Program "is almost like graduate school. It's a critical think tank," said Jay L. Sanders, a curator at the Whitney Museum of American Art, of the. "That's where I first saw K8's work and her required presentation in 2004."
Sanders was an independent curator then, always on the lookout for new talent. He began to see Hardy's work around the city. "She had a show at a scrappy gallery — Reena Spaulings — that I remember. She was very involved with LTTR [the feminist collective]. Then she collaborated in a street performance. She was very much on people's minds."
When performance art became an emphasis for the respected Whitney Biennial in 2012, Sanders was tapped as one of two lead curators for the event. "I thought of K8's very fresh and very relevant perspective at the time," he said. "Her work is inspirational. She finds her own channels to articulate and affect a viewer. She's a catalyst for a lot of dialogue."
Sanders believed Hardy could bring together many strands in what would become a 51-artist show: aspects of subculture, an underground vibe, the history of conceptual art, feminism, photography, and performance. "She collides and blends all these different strata," he said. "Her work is very accessible, entertaining, and affronting. I think that's one of its great strengths."
The 2012 Biennial took a broad look at art across America. "It's a survey show," Sanders said, "so we wanted to put forward what we thought were the most interesting practices in that moment." Hardy was an obvious choice. "Her work deals with identity and feminism, for sure," Sanders said. "Beyond that, she considers adornment and how a woman sees herself in terms of class, style, economic and social status. Her take on feminism is nuanced and contemporary."
For the Whitney runway show and as an apparent homage to early feminists, Hardy crafted a garment made entirely of bras — some with soot-colored burn marks — for one model to wear. All the models balanced exaggerated wigs, veils, and/or hats and unusual shoes. One is dressed like an outcast from a medieval Renaissance fair. Another sports thong panties, bare thighs, and swatches of fabric just above the knees. One young woman wears an artist's palette sculptured in fabric. At least two of them could be drag queens.
"K8 plays with the culture codes of what everything means," Sanders observed. "I see all kinds of historical references in her work. American Dada. Marcel Duchamp's early window displays — those blunt, disjunctive arrays of objects with different meanings, for example."
In a video clip shot by her sister (available on YouTube), Hardy walks out to take a bow for the Whitney performance finale, in typical fashion show style, dressed in an elegant man's smoking jacket and trousers. For a split second, at a distance, with a bright red scarf draped around her neck, she looks just like Halston.
"K8 has real charisma," Sanders said. "As a performance artist, not everybody can command attention in front of a crowd. Of course, she's not performing all the time, but if she wants to be outrageous and provocative, she can be."
Old friends and family, artists and art-lovers likely will flock to K8 Hardy's opening night at the Dallas Contemporary. Equally likely, they'll complain about having to travel "all the way to Dallas," the way Dallas folk drive, the traffic, and perhaps the weather.
Some will wonder why the Modern Art Museum of Fort Worth didn't snag this hometown sensation for her first big Texas show.
"I wonder if Fort Worth is ready for me?" Hardy said.
North Texas freelance writer Annabelle Massey Malloy can be reached at annabellemm@sbcglobal.net.