The Master (R) Like most of Paul Thomas Anderson's films, this one resists easy analysis even as it impresses the hell out of you. Joaquin Phoenix plays an alcoholic World War II veteran who drifts under the spell of a cult leader (Philip Seymour Hoffman) in 1950. The story's surface resemblances to the history of Scientology are merely a jumping-off point for pondering the appeal of cults. Even though the film is meticulously composed, it never feels overly put together because of its core of boiling anger. Phoenix, Hoffman, and Amy Adams (as the cult leader's wife and ideological enforcer) are all in fantastic form here, and they contribute heavily to the film's bravura set pieces, like a full-roar exchange in adjoining prison cells midway through. This frequently enigmatic spiritual quest comes to an end that makes this small-scale story feel large. Also with Rami Malek, Jesse Plemons, Madisen Beaty, Lena Endre, Kevin J. O'Connor, Christopher Evan Welch, and Laura Dern.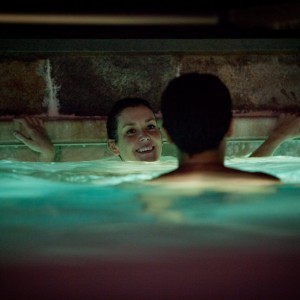 Masquerade (NR) Choo Chang-min's foursquare but gorgeously photographed Korean epic stars Lee Byung-hun as both a historical 17th-century king and a bordello entertainer who's hired to act as the king's double in the face of assassination plots. The film does well with the story's farcical elements, especially in a scene with the double finding out how the king goes to the bathroom. The later scenes, when the double has to take over for a temporarily incapacitated king and discovers the responsibilities of ruling, aren't as much fun. Still, the film is handsomely appointed, and the director makes sure the proceedings don't flag. Also with Ryu Seung-ryong, Han Hyo-joo, Kim Myung-gon, Kim In-kwon, Shim Eun-kyung, and Jang Gwang.
Occupy Unmasked (NR) Stephen K. Bannon (The Undefeated) directs this right-wing documentary exposing the evil of the Occupy Wall Street movement. (Opens Friday at AMC Grapevine Mills)
The Odd Life of Timothy Green (PG) When two parents who can't have children (Jennifer Garner and Joel Edgerton) deal with their heartache by describing the child they want on paper and burying the paper in the backyard, a little boy (CJ Adams) springs fully formed from the ground. Timothy is supposed to be a catalyst for all sorts of good things, but writer-director Peter Hedges doesn't handle the boy's existence with much imagination. The movie takes flight only near the end, as it conveys its theme about the miraculous nature of every human soul. Its excellence is fleeting, but that seems in keeping with the theme that life itself is fleeting. On balance, this is no better than an average film, but it reaches exalted territory in a few patches. Also with Odeya Rush, Dianne Wiest, Rosemarie DeWitt, M. Emmet Walsh, David Morse, Ron Livingston, James Rebhorn, Common, and Shohreh Aghdashloo.
ParaNorman (PG) This is how I like my kids' movies — intelligent, funny, and disturbing enough to keep you up at night. The animation studio behind Coraline brings us this stop-motion film about a bullied morbid 11-year-old New England boy (voiced by Kodi Smit-McPhee) who can talk to ghosts and must use his power to prevent a witch's curse from destroying his town. The movie strikes a fine balance between comedy and horror, and the voice actors are cast against type in a movie where none of the characters is who he or she appears to be. The movie comes to grips with the complexities of bullying, and when the witch (voiced by Jodelle Ferland) finally appears to Norman, she takes a form far more terrifying than an old woman with a pointy hat could ever be. This virtuoso piece of work is the best animated movie so far this year. Stay after the end credits for a speeded-up montage of the Norman figurine being assembled. Additional voices by Tucker Albrizzi, Anna Kendrick, Casey Affleck, Christopher Mintz-Plasse, Jeff Garlin, Leslie Mann, Elaine Stritch, Bernard Hill, and John Goodman.
The Possession (PG-13) Only the second Jewish exorcism movie I can recall, this one is better than 2009's The Unborn, though that's not saying much. Jeffrey Dean Morgan stars as a divorced dad whose younger daughter (Natasha Calis) becomes possessed by a dybbuk after buying a mysterious lidless box with Hebrew inscriptions carved into the side. Norwegian director Ole Bornedal spends the first hour or so throwing moths in our face trying to scare us, and the domestic drama is crudely handled. Things improve near the end, when reggae singer Matisyahu comes on as a Hasidic exorcist who confronts the demon with his lovely singing voice. It's a nice payoff, though better buildup would have served it better. Also with Kyra Sedgwick, Madison Davenport, Jay Brazeau, and Grant Show.
Premium Rush (PG-13) Because we haven't had a movie with a good bicycle chase in a while. An overqualified Joseph Gordon-Levitt stars as a New York City bike messenger who must ride for his life when a crooked cop (Michael Shannon) with a gambling habit tries to hijack a package that he's delivering that's worth $50,000. Director/co-writer David Koepp does a fair job with this thriller until the end, when the proceedings get too waterlogged with melodrama. Before that, he executes some crisp chases, with the messenger picking his way through Manhattan's crowded streets and sidewalks. Also with Dania Ramirez, Jamie Chung, Wolé Parks, Henry O, Christopher Place, and Aasif Mandvi.
Resident Evil: Retribution (PG-13) The cinematic equivalent of a greatest-hits compilation by a band that was never that good, this fifth installment in the series brings back a number of actors from the first four films. Milla Jovovich stars once again as a warrior whose battle against an evil corporation and the zombies they created brings her into contact with clones of people she's met before. Paul W.S. Anderson continues to slowly improve as an action director, but neither his visual style nor the flimsy excuse for a story can hold our interest for long. This series is a zombie, continuing to run around and cause damage long after it has died. Also with Michelle Rodriguez, Aryana Engineer, Sienna Guillory, Li Bingbing, Boris Kodjoe, Johann Urb, Kevin Durand, Iain Glen, Thomas Kretschmann, Oded Fehr, James Purefoy, Wentworth Miller, and Ali Larter.
Stolen (R) As dull and forgettable as its title, this thriller stars Nicolas Cage as a jewel thief who gets out of prison only to find that his estranged teenage daughter (Sami Gayle) has been kidnapped by a revenge-minded ex-cohort (Josh Lucas). The film doesn't drag, but it's carried out with zero ingenuity and ham-fisted attempts to tug at our heartstrings, and patches of it are way overwritten. Director Simon West also helmed The Expendables 2, which is exploding with personality compared to this. Also with Malin Akerman, M.C. Gainey, Mark Valley, Barry Shabaka Henley, and Danny Huston.
Trouble With the Curve (PG-13) The curve isn't the only thing troubling this flat, rhythmless, mawkish, badly written baseball drama. Clint Eastwood stars as an aging scout with failing eyesight who tries to repair his strained relationship with his attorney daughter (Amy Adams) while she helps him scout one last prospect. The flaws in this script could have been papered over, but first-time director Robert Lorenz (a longtime assistant director under Eastwood) has no idea how to build momentum within a scene or get to the next one. As a former player-turned-rival scout who falls for the daughter, Justin Timberlake isn't the most convincing ex-jock, but he snags all the best laugh lines and walks home with the movie. Also with John Goodman, Matthew Lillard, Joe Massingill, Bob Gunton, Ed Lauter, Jack Gilpin, Jay Galloway, and Robert Patrick.
2016: Obama's America (NR) This lumbering documentary is based on Dinesh D'Souza's book The Roots of Obama's Rage, in which the right-wing pundit argues that our current president is motivated by resentment at the white establishment that comes from his background growing up in colonial countries. The film's cool, scholarly tone may win it a few converts, but it can't cover up the gaping hole in D'Souza's theory: If our president were secretly an Angry Black Man, wouldn't we have seen him lose his temper by now? Every president is subjected to armchair psychoanalysis these days, but this movie's diagnosis is too easily picked apart. The sprinkling of factual errors doesn't help D'Souza's argument, either.
Unconditional (PG-13) Lynn Collins stars in this drama as a woman who must decide between taking revenge on her husband's killer or helping her childhood friend (Michael Ealy) achieve his dream. Also with Bruce McGill, Kwesi Boakye, Diego Klattenhoff, and Cedric Pendleton. (Opens Friday)
Wild Horse, Wild Ride (PG) Alex Dawson and Greg Gricus' fairly decent documentary is about horse trainers from all over America who come to Fort Worth to compete in the 2009 Extreme Mustang Makeover at Will Rogers Memorial Center. The film follows them in the 100 days they have to domesticate a wild horse captured by the federal government. The contestants are a fascinatingly varied lot, including two clowning brothers from New Hampshire, a beauty queen from Arizona, a Texas A&M engineering Ph.D., a Mexican vaquero in Wisconsin, and a Navajo cowboy and his son (competing separately). The filmmakers only sketch in their subjects and don't give us much insight into training horses (this movie isn't as good as Buck), but the competition and the horse auction that follows it gives the movie structure and makes it an engaging piece of storytelling.
The Words (PG-13) For a movie about writers, this isn't well-written. Bradley Cooper portrays a struggling novelist who stumbles on an unpublished manuscript and publishes it as his own work, only to have the real author (Jeremy Irons) come out of the woodwork. Writer-directors Brian Klugman and Lee Sternthal (real-life friends of Cooper making their filmmaking debut) do a lot of maundering about the truth, and yet nothing in their movie rings true. The story is cliched in content and delivery, and the techniques are unsubtle. The movie fails to rise above the middling in every way. Also with Dennis Quaid, Zoe Saldana, Olivia Wilde, Ben Barnes, Nora Arnezeder, Michael McKean, J.K. Simmons, Ron Rifkin, John Hannah, and Zeljko Ivanek. — Zack Shlachter
DALLAS EXCLUSIVES:
Compliance (R) This film by Craig Zobel (Great World of Sound) is about a mysterious prank caller who induces a fast-food outlet manager (Ann Dowd) to inflict a series of humiliations on her employee (Dreama Walker). Also with Pat Healy, Bill Camp, and Philip Ettinger.
Elena (NR) This thriller by Andrei Zvyagintsev (The Return) stars Nadezhda Markina as a Russian housewife who schemes to make sure her dying husband's inheritance goes to her instead of her stepdaughter (Elena Lyadova). Also with Alexei Rozin and Andrei Smirnov.
For a Good Time, Call… (R) Lauren Anne Miller co-writes and stars in this comedy as a Manhattan single woman who discovers that her new roommate (Ari Graynor) is working as a phone sex operator. Also with Justin Long, Mark Webber, Mimi Rogers, Don McManus, Nia Vardalos, James Wolk, Martha MacIsaac, Ken Marino, Kevin Smith, and Seth Rogen.
Hello I Must Be Going (R) Melanie Lynskey stars in this drama as a 35-year-old woman who copes with her divorce by moving back in with her parents and having an affair with a teenager (Christopher Abbott). Also with Blythe Danner, John Rubinstein, Dan Futterman, Jimmi Simpson, and Julie White.
Robot & Frank (PG-13) Frank Langella stars in this science-fiction film as an elderly former jewel thief who plots a heist with the robot (voiced by Peter Sarsgaard) purchased by his children to take care of him. Also with James Marsden, Liv Tyler, Jeremy Sisto, Ana Gasteyer, and Susan Sarandon.
Sleepwalk With Me (NR) Mike Birbiglia co-directs and stars in this autobiographical film as a stand-up comedian who begins to sleepwalk while going through a personal crisis. Also with Lauren Ambrose, Carol Kane, Marc Maron, James Rebhorn, Kristen Schaal, Alex Karpovsky, David Wain, Ira Glass, and Loudon Wainwright III.
10 Years (PG-13) Screenwriter Jamie Linden (Dear John) makes his directing debut with this comedy about a bunch of high-school friends who gather for their 10th reunion. Starring Channing Tatum, Jenna Dewan-Tatum, Justin Long, Max Minghella, Oscar Isaac, Chris Pratt, Ari Graynor, Scott Porter, Brian Geraghty, Anthony Mackie, Kate Mara, Aaron Yoo, Lynn Collins, Aubrey Plaza, Ron Livingston, and Rosario Dawson.