Art enthusiast and promoter Morris Matson picked the brain of A.C. "Ace" Cook for 10 years to learn the ins and outs of finding, buying, restoring, documenting, displaying, and preserving vintage Texas art.
Cook is no longer with us, and Matson is no spring chicken. If you've wondered about collecting regional art, here's your chance to learn from someone who's been doing it for 50 years and has a brain chock full of practical experience.
Matson is teaching "Collecting Early Texas Art For Fun And Profit" at 6:30 to 8:30 on Tuesday nights from Oct. 9 to 23 at Texas Christian University. The course is open to the public and costs $75.
"When I tell my story of collecting I'll talk about wandering in the wilderness for 40 years and then I met Moses," he said with a laugh, referring to Cook.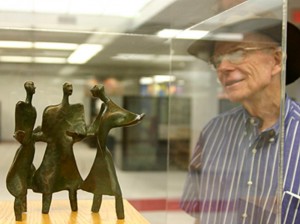 Ten years ago, Matson read a newspaper article about Cook's art collection, sought him out, became friends, and solicited collecting advice from the wily old wheeler-dealer up until Cook's death in 2010. A portion of Cook's art collection sold for $2.5 million not long ago. The collection had been hanging at Cook's gourmet ice cream deli, The Bull Ring, in the Stockyards.
This marks Matson's first time to teach this class. He's excited. That's good — it will show in his preparation.
And he's vowing to make it interesting and useful for beginning or advanced collectors.
"The minimum that I hope to accomplish is that collectors will feel very strongly the need to organize and document their collections, and to plan what they want to happen to it when it's all over," he said. "Besides being entertaining and fun, collecting art has a value to the community. Paintings reflect the perceptions of artists at the time they lived, and it gives us insight into what was going on in that part of history. The collector is doing the world a real favor by making sure art is not lost."
Matson is a longtime docent at the Amon Carter Museum of American Art, a former Fort Worth City Council member, and a retired city official.
I've known him since 2005, and we've spent many hours discussing Texas art. I'll vouch that his class will be entertaining and useful.