Fort Worth's most unusual collection of early Texas art has been sold, packed, and trucked to its new home in Houston, leaving the Stockyards poorer for the loss.


A.C. "Ace" Cook spent three decades compiling his Hockshop Collection, which included several hundred paintings representing Texas' best artists from the late 1800s to the mid-1900s. The collection hung at The Bull Ring ice cream parlor in the Stockyards for several years. After doctors diagnosed Cook with pancreatic cancer in 2007, he sought a buyer who would keep the collection together and struck a deal with a Houston collector. Cook died in 2010, and The Bull Ring closed.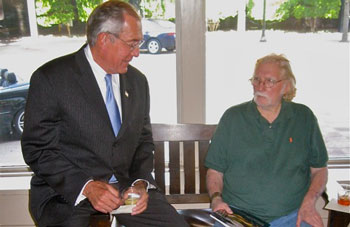 Before the art moved, however, Cook's wife Diane moved to contest the will. The entire estate was in limbo for a year. Cook had changed his will in 2008 to give daughter Charlene Lindstrom about half of his property, including the paintings. Diane claimed her husband's mental capacity was by then impaired and that he was unduly influenced. Cook's friends volunteered to testify that he was of sound mind up to the end. Legal fees on both sides grew to hundreds of thousands of dollars before a settlement was reached in September.
Cook's art collection was valued at about $6 million, but his estate also included land, mineral interests, and other historic memorabilia collections that were collectively worth much more than the Hockshop Collection. The battle over it all left mother and daughter reeling and bitter.
"It was ugly," Diane said last week while sifting through some of her husband's files and papers that are still stored at The Bull Ring. She is unsure whether her relationship with her daughter will ever be repaired.
Lindstrom said their rift is permanent. "It's been horrible," she said. "The whole thing makes me sick."
Court documents revealed that Houston businessman John L. Nau and his wife Bobbie agreed to pay $2.5 million for the Hockshop Collection. Most of that money was used to fund Lindstrom's settlement amount, while the remainder of the estate went to Diane Cook. "The paintings are much more valuable than what John and Bobbie paid us," Diane said. "But John will take care of them, and that's why he got the paintings."
Nau owns a beer distributorship operating in Houston and San Antonio. He also served as former finance chairman for Kay Bailey Hutchison during her gubernatorial campaign in 2010 and was an appointee to the Texas Historical Commission by Governors Ann Richards, George W. Bush, and Rick Perry. The Naus spent the past decade compiling a huge collection of important Texas paintings. Along the way they crossed paths with Ace Cook.
Cook, a ferocious promoter of early Lone Star painters, wanted the Hockshop Collection to stay whole rather than being pieced out and sold after his death. Cook offered the collection to Nau at an attractive price because he liked the Houston collector's meticulous care of his own paintings. Much of Nau's art collection is displayed at his Houston-based corporate headquarters, but he also lends them to museums, schools, and exhibits.
"I like John Nau a lot," Lindstrom said. "He understands Texas art. He'll promote it in the way it should be."
Nau, his wife, and a conservator will spend two or three months documenting and studying the Hockshop collection and preparing some of the works for public display.
"It's beyond art," Nau said. "It's a history of Texas and its people — images of Texas before cameras. We want to use it for the education and enrichment of people."
Diane Cook said the paintings found a good home. "[Nau] is not going to break up the collection," she said, but added that it's his now and "he can do what he wants with it."
The Hockshop Collection went well beyond typical landscape and bluebonnet scenes favored by so many Texas artists in the early 20th century. Cook gravitated to paintings that featured the working poor, African-Americans, Latinos, and other minorities in a favorable light –– a rare subject for the era. Cook spent years in the pawnshop business, thus the Hockshop tag.
The paintings were like children to Cook, and he couldn't name a favorite. But he was enamored of a portrait of a black gardener painted by Douglas Chandor, the renowned artist who created Chandor Gardens in Weatherford. Cook loved how Chandor painted the gardener with the same care and dignity with which he had previously painted President Franklin D. Roosevelt, Queen Elizabeth II, and Winston Churchill. But Cook was most impressed that Chandor hung the gardener's portrait over his fireplace in his Weatherford home, in an era prior to the Civil Rights movement.
"It wasn't fashionable for an artist to paint a magnificent portrait of a black man, especially an artist who'd been painting FDR and FDR's wife," Cook told Fort Worth Weekly in 2006. "To most people, these were stoop-labor cotton pickers who couldn't drink from water fountains or use the same restrooms. Then to hang it in his own home! A lot of people are too young and don't remember when black and white people didn't get along. If you don't understand what it meant, it's just a portrait of a black guy. But if you understand the situation and the times, then you understand what this painting represents."
That passion spawned the Hockshop Collection, and the prospect of merging it with the Nau collection has art enthusiasts buzzing across the state.
"Everybody's been asking when it's going to sell and to who," said Fort Worth art dealer Greg Dow.
Dow said the Hockshop paintings combined with the Nau's collection make it one of the top three collections in the state.