Parents, business leaders, faith-based groups, social service representatives, students, and educators meet regularly in Fort Worth to discuss ways to improve the school system. One of the issues that the Community Action Teams (CATs) analyzed over the years was the impact of zero-tolerance initiatives on students. Zero tolerance leaves no wiggle room, leading, for instance, to a good student with no previous problems getting expelled for accidentally leaving a butter knife in his car after using it as a screwdriver.
"Over the years we have been trying to break this school-to-prison pipeline," Griffin said. "Part of the strategy was to cut it off at the school level by working with school administrators on this zero-tolerance thing, because a lot of teachers were abusing that. Johnny would say something wrong one time, and they'd throw him out of class, and that would create other problems."
The efforts led to new policies to protect first-time offenders and changed the way many schools deal with troubled kids.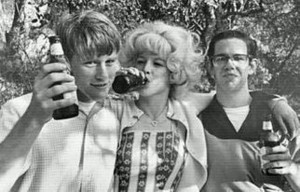 "We also worked with Fort Worth police … to [encourage them to] use their discretion and keep from sending kids to lockup," Griffin said. "Kids can be horse-playing, and it's up to the SRO (school resource officer) who can chalk it up to child's play — or charge them with aggravated assault. The SROs get word now that unless it's a real serious offense [they should] avoid criminalizing kids by running them through the juvenile justice system."
Furthering that cause at Trimble Tech is Tatum, a graduate and former football star during the mid-1980s — one of the few eras when Trimble Tech fielded an accomplished team. Tatum and his classmates won several championships back then.
Now he's older and grayer but no less active on campus. On Sept. 21, Tatum invited an influential group of people to the Brilliant Bulldog Center, a former utility room converted to office space for Tatum and his helpers. Meeting with Tatum were a University of North Texas Health Science Center research director, two Workforce Solutions for Tarrant County managers, a UNT associate dean, and a retired college professor who volunteered to help write grant proposals.
"My hope is, you are connected with this mission to help build a grassroots movement to get common people to do extraordinary things to help change the lives of the least, last, lost, and left out," Tatum said. "My dream is that somehow we can connect all these incredible people to make this a reality."
He spent almost an hour describing how he hopes to catch at-risk students before they give up on school or before school gives up on them. A recent statewide study by researchers at Texas A&M University showed that African-American males in middle and high school were sent to the principal's office more often than Latinos or whites. Many are kids from poor neighborhoods, often being raised by single working parents. A desire for attention, even negative attention, gets these high-risk kids labeled as problems, setting a pattern that can continue through adulthood. Blaming and punishing children is too easy, Tatum said.
"If one fish belly is up in the lake, you have to look at the fish," Tatum said. "If half of the fishes' bellies are up in the lake, you have to start looking at the lake to see what's going on."
Tatum serves as a living example. He grew up in south Fort Worth in a poverty-stricken home with nine siblings and no father. His mother drove a school bus to pay bills. The Tatums were the first to integrate the downtown Ripley Arnold public-housing project built for poor whites in the 1940s and then torn down in the 2000s to make way for RadioShack corporate offices.
Tatum fared poorly in school. But he found a role model in John Naylor, a tough but fair football coach who turned Tatum and many of his troubled friends into champions in the 1980s. Naylor looked for the best traits in his players, praised them, and encouraged them through discipline to become even better. It was a magic elixir for a student needing direction and a dominant male figure in his life.
The big kid on the verge of dropping out of school instead became a football star, received a college scholarship, earned a criminal justice degree at UNT, and became a minister, civil-rights activist, and president of the Fort Worth-Tarrant County chapter of the Southern Christian Leadership Conference.
"The coach found my strengths," Tatum said.
In August, Tatum spoke to several hundred Fort Worth coaches gathered at the annual Coaches' Appreciation and Orientation Program. Broken eyeglasses on the day of the speech meant Tatum couldn't read his notes. No problem. He spoke from the heart and was in top preacher form, brimming with eloquence and passion.
"Guess who is going to light the fire?" he said. "Thank God for coaches! Coaching has the ability to create hope in the lives of others who don't have hope."
On Sept. 21, he was in similar selling mode with the small group of educators and social workers in his basement office. He was preaching to the choir — everyone in the room had a vested interest in children, and the retired professor who had volunteered to write grant requests was Naylor's widow, Karen Johnston.
Tatum wants to do what Naylor did — find kids' strengths. He convinced Fort Worth school superintendent Walter Dansby and Trimble Tech principal Joe Dugan to give him a shot. The Brilliant Bulldog program is in its infancy, having started in January. But already Tatum can point to success stories.
Harold Austin struggled at Tech last year. His grades weren't terrible, but behavioral problems marked him.
"I was hanging with the wrong crowd and thinking high school was a joke," he said.
He grew up without a father in the home, and his mother was often working. Unsupervised, he got into trouble. Earlier this year, he was sent to the principal's office for disrupting class. An assistant principal told him to go downstairs and talk to Tatum.
Austin didn't know Tatum and had never heard of the Brilliant Bulldog program. He didn't expect to find much, certainly not redemption. What he found was a tall, burly black man wearing a suit and a smile.
Tatum wasn't angry or skeptical. He was happy to see Austin. During a conversation he tried to identify the boy's strengths, just as Naylor had done with Tatum all those years ago.
"The Rev showed me that he wanted me to do better than I was," Austin recalled. "After that I went down there every day. He kind of kept me out of trouble. He grew up in the neighborhood where I grew up. I could relate to him. He showed me how to get my act right. He told me how he grew up on the South Side and how he used to have his flaws when he was young and how he grew up to be a better person."
College wasn't in Austin's plans. But ever since he was a youngster he'd harbored a dream of helping people who were hurt. In May, Tatum took Austin and several other students to tour colleges in Arlington, San Marcos, and Tyler.
Austin felt most comfortable at Tyler Junior College and saw that they had a physical therapy program. With Tatum's help, he filled out an entrance application and sought financial aid. He's now a freshman with plans to become a physical therapist.
"I know the Rev can help out more people and let them see there is life after high school and that you can move forward and experience other stuff," he said.
Tatum knows he can do it as well, especially with the help of people such as the educators, researchers, grant writers, and Workforce social workers.
"I see where everybody at this table fits into this puzzle, but I'm trying to see if you all can see where you fit in this process," he said.
At least one person at the table was on board — Johnston. She sees an opportunity to carry on in her husband's name. Naylor died in June. The school's field house was named after him in 2011.
"John loved this school very deeply, and he would be very proud of what you are doing," she told Tatum.