Middlebrooks started school there at the same time. He lived in the Riverside neighborhood and feared going to Carter-Riverside High School, where the reputation for gang activity was worse. Trimble Tech became a school of choice in 1995, accepting applications from students citywide. Middlebrooks was accepted at the school and became sophomore class president with little effort.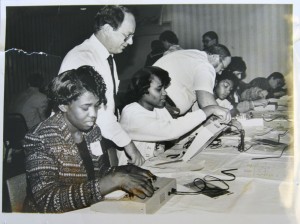 "There was a lack of interest in anything other than that street life," he said. "We didn't have people beating down the doors to be in student council."
Many students lived in distant neighborhoods and attended solely for vocational training. When school let out each afternoon, they were gone.
Middlebrooks "majored" in business law (Trimble Tech students pick a major for their field of study, similar to college students). But law didn't grab the Fort Worth kid, and he found his calling in Penland's newly created theater department. He wanted to be an actor, and he received well-rounded training in the school's media technology classes, where he learned to shoot and edit videos and film sporting events.
Those sporting events were threatened in 1995, when the school board floated the idea of cutting the athletic department. If athletics were killed, extracurricular activities such as band and cheerleading would follow. There was even a discussion about returning students to the high schools closest to their homes and busing them to Trimble Tech only part-time for certain vocational courses.
Students heard about the "plan" (it had been a discussion only, never a formal plan) and revolted.
"When you take away sports, you are taking the entire high school spirit," Middlebrooks said.
School pride blossomed again as students prepared for a three-mile march. About 1,000 Trimble Tech kids vowed to leave school shortly after classes started on a Monday morning, cross underneath the freeway, traipse across the long Trinity River bridge on West Lancaster Avenue, and then head up University Drive to school district headquarters.
Graduation ceremonies were just around the corner. Trimble Tech officials threatened to ban seniors from walking across the stage if they participated in the march. That cut the number of marchers by half. Middlebrooks, who had intuitively grabbed a bullhorn from the band hall, found himself at the head of the pack, leading hundreds of his peers across the bridge. Sympathetic teachers just happened to leave boxes of pom-poms in the hallways. The youthful marchers waved the school colors while chanting "Save our sports!"
Police stopped the march near the corner of Lancaster and University and corralled the kids onto Farrington Field while TV news crews captured the scene. The students agreed to return to school with the promise that no cuts would be made to sports without a public hearing.
"What got everybody upset is, there was no discussion," Middlebrooks said. "If we wouldn't have fought for it, I don't know if Trimble Tech would still be open, at least not as it is today."
Any discussion about killing sports faded away, and district leaders — and even some students — looked at the old school with fresh eyes.
"It showed the people that Trimble Tech actually cared about what happened at their school," he said. "After that, anything going on with the school, we would have discussion and meetings. It became a different way of dealing with the changes that needed to be made."
Community activist Eddie Griffin had two children attending the school in the 1990s, and he helped to usher in changes as PTA president in 1995. First, he and others noted the need to update the school's campus and antiquated vocational equipment. They developed an improvement plan and presented it to then-Supt. Thomas Tocco.
"I saw a disparity in resources between the urban minority schools and what the other schools were receiving," Griffin said. "Our kids were not getting as good an education."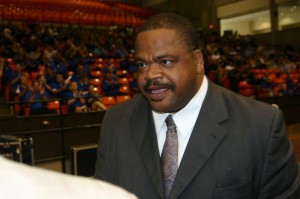 Tocco took an interest in Trimble Tech and sent a group of educators and parents to Orlando, Fla., to observe a vocational school that was upgrading its computer equipment. That prompted similar ideas for Trimble Tech. Meanwhile, new principal Sue Guthrie was making her own mark.
"Sue was the key to the turnaround," Griffin said. "You judge a school by the restrooms — if you can get the little things right, you can get the big things right. When she went to work, that was her first priority — put doors back on the stalls, engage the students about not stopping up the toilets. She got that fixed and was able to reform the behavior of the school."
Since students had to apply for enrollment, they took more pride in being there. Together, the students, teachers, and Guthrie collectively changed the school's culture.
"Our student body just seemed energized," Penland recalled.
So was the staff.
"We all wanted to stay late and work harder," she said.
Something similar happened this year after NBC's Smash decided to sponsor Trimble Tech for a year and help it establish a self-sustaining musical theater group.
"Their mission was to go into under-served high schools and support fine-art programs," Penland said. "They knew we were trying to get a musical program started."
The Smash sponsorship included money for costumes, props, and sets, but more than anything it was an ego boost for the students and staff. "We were so excited that we were jumping up and down," recalled Lessly Hernandez, a junior.
"It got more people here involved [in theater]," said Tempie Love, a senior who attended workshops sponsored by Smash. "If it wasn't for Smash a lot of people wouldn't have joined us."
  ********