The school building, with its weathered red brick face and ornate, buttermilk-colored trim, looms like a Gothic castle amid the modern medical offices of Fort Worth's hospital district. Its imposing facade makes Trimble Tech High School unique — architecturally at least.
But that wasn't enough to impress Candy Clark back in the 1960s. She was embarrassed about enrolling there. She came from a single-parent home in a low-income Southside neighborhood, and she rode the bus to Trimble Tech each day.
"It was a trade school," recalled the actress, who would earn an Academy Award nomination in 1973 as Best Supporting Actress for her role in American Graffiti. "I wanted to go to Arlington Heights or Paschal. Those were the more elite schools at the time. But I had no math abilities and no interest in going to college. Paschal required you to have math courses. Tech didn't."
The student body seldom stood out academically or athletically during its first five decades.
By the 1950s, students were mostly white but with a sprinkling of Latinos. In 1964 Trimble Tech became Fort Worth's first school to integrate African-American and white students. Minority enrollment has increased steadily since then. Now about 75 percent of its students are Hispanic.
The building that houses Trimble is the city's oldest high school. It started in 1918 as Central High School and later became Paschal High. But when Paschal moved to a new building in 1955, Fort Worth Technical High School relocated from the North Side to the four-story behemoth and was renamed Trimble Tech after longtime principal Green B. Trimble. Numerous additions and renovations have been made over the years.
Despite geographic and demographic changes, the focus on skills training has been steady. The school earned a reputation in the past as a place for young adults to become plumbers, electricians, and beauticians rather than doctors, lawyers, and bankers.
No longer a feeder school attended only by students living in the vicinity, Trimble Tech is a so-called school of choice — Fort Worth's only public high school without attendance boundaries. Teens from around the city can seek entrance for its mix of traditional classroom instruction and applied-learning programs. In an era of skyrocketing costs for higher education, students are drawn to the school's wide range  of courses that can lead straight to a job or a career after high school. Construction, audio-visual, health science, automotive repair, culinary arts, cosmetology, carpentry, business management, and computer animation are among the courses attracting students these days.
The school has acquired a bit more swagger of late. It earned a rare "Recognized" status in 2010 for its students' success in TAKS testing. Then, earlier this year, it was selected for NBC's "Smash: Make a Musical" theater program.
The Texas ACT (American College Test) Council presented the school with a "College Readiness Award" in 2011 for having "a significant increase in its ACT composite score over the past five years." Only 10 percent of Texas high schools received the award. Meanwhile the school's 11th-graders recently racked up an average 98.5 overall score on mandatory state tests, the highest average recorded by a Fort Worth high school … ever.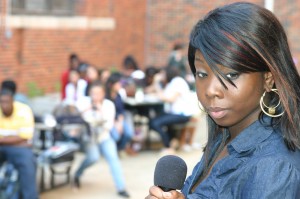 Clark's Facebook page proudly lists her alma mater as Trimble Tech, and she added this note: "I hear it is the place to go now."
Fort Worth students are now gussying up their scholastic resumés and fighting for spots at the school. Only about half of those who apply are accepted. This year alone, more than 1,500 applicants were turned away. About 80 percent of Trimble Tech seniors surveyed this year said they plan to go to college.
Not bad for an inner-city minority school in a district with above-average dropout rates and widespread struggles with test scores.
The Trimble Tech improvements might seem sudden, but the seeds for transformation were sown back in 1995: A student march, a revival of pride, and a subsequent bond package led to many campus improvements.
"It was never a vocational school to me — it was regular high school," said Windell Middlebrooks, who as a sophomore led the march to protest a proposed disbanding of the school's athletic program and extracurricular activities. "It showed the people that Trimble Tech High School actually cared about what happened at their school."
Middlebrooks now stars in the ABC medical drama Body of Proof and has appeared in Miller High Life commercials.
These days, a new program focused on at-risk students is planting more seeds. The Rev. Kyev Tatum attended Trimble Tech in the 1980s, and he's back on campus. The school is providing office space for Tatum's Brilliant Bulldog Center, a mentoring and tutoring program geared toward kids on the verge of dropping out or worse.
"This is our plan to get our babies back on base," he said.
 ********
The ground rules as explained by drama teacher Cheryl Penland were simple and altruistic: "We're coming here to support artistic expression," she said on a recent afternoon in the Trimble Tech courtyard. "All we want from you is positive energy. If you have negative energy, go run some laps or something."
The students laughed. The school's courtyard is on the small side, but about 70 teenagers found places to sit and watch their classmates sing, play instruments, and recite poems. The open-mic poetry slam, held once a semester, draws students from freshmen to seniors, as well as teachers and coaches. It's refreshing to see kids and teachers hanging out, laughing, performing, and supporting one another.
The atmosphere is lighter than it was in 1994, when the school hired Penland to start its theater program. She politely characterized the school as "in flux" at the time.
"When I came, there was a little bit of racial tension," she recalled.
Zero tolerance, no pass/no play, and other punishment-based initiatives had helped create a generation of young criminals with little to lose. Students from impoverished neighborhoods and broken homes were especially likely to get expelled, jailed, or killed. Gang activity was on the rise citywide and spilling onto middle- and high-school campuses.
Shaun Russell grew up in Crowley and went to school there through junior high. For most of those years, he was one of the few African-American kids in his school. When his family moved to Fort Worth in the 1990s, he began attending Trimble Tech. The student body was evenly divided between blacks and Hispanics, and the relationships and racial overtones could get tense.
"The biggest thing they would always ask me was why would I talk white," he said. "I'd say, 'I don't talk white, I just talk proper.' "
Gangs fought over turfs and colors — Russell estimated a third of the student body could be characterized as borderline thugs. Suddenly the redneck "rebel-flag types" at Crowley seemed tame by comparison.
"We had the black gangs and the Mexican gangs," he said. "It opened my eyes, but I didn't participate in it because I was raised better than that."
One day a gangbanger started trying to intimidate Russell in class. They were taking a TAKS practice test, and the kid purposely stepped on Russell's freshly polished shoes. They scuffled. Both were suspended during the school's  investigation. Russell was back in class after a couple of days. The gangbanger dropped out.
Russell ran into the kid about a week later at a bus stop.
"I was scared for my life," he said. "I thought he was going to try and retaliate."
Instead, the kid was friendly as he described his gang life. Russell wasn't impressed.
"He didn't have nothing to look forward to," he said.