Titanic: The Artifact Exhibit debuts Saturday at the Fort Worth Museum of Science and History, and Blotch got a sneak peek today.
The admission is pricey ($26 for adults, $18 for kids over 3), but devotees of the Titanic's tragic tale will probably consider it money well spent.
The exhibit uses music, lighting, and sound effects to make you feel like you're on the ship, and the artifacts are generously sprinkled amid props, photos, videos, and storyboards to tell the passenger's stories.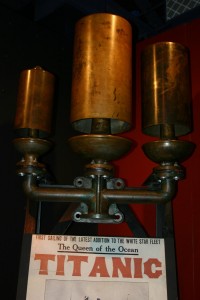 Each admission ticket even contains the name and biography of a ship's passenger. When you finish touring the exhibit, you search a passenger list to discover whether your ticket belonged to a survivor or a victim. (My ticket had info about English teenager Percy Bailey, 18, who was a second-class passenger traveling alone to America to begin work as an apprentice butcher.  He died in the icy Atlantic Ocean that night.)
The exhibit is designed to share the human stories, but doesn't mention Addie Bracken's sad tale, which Fort Worth Weekly shared with its readers last week.