Transplanted Pittsburgh guido Anthony Mariani sits a few desks from me and is under the illusion that he can write a credible column about the Dallas Cowboys. Mariani bleeds black and gold; he gets all discombobulated when he sees Silver and Blue.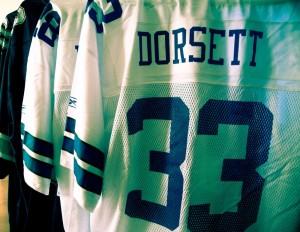 It's time he got schooled.
Cowboys Fans, Be Not Proud is a typical Steelers fan's take on Sunday's big win for the Pokes. The Cowboys traveled to Philadelphia – home of the loudest and craziest fans anywhere – and pulled out a season-saving victory despite a rocky start.
Mariani's response: The Cowboys aren't very good and Tony Romo "has never been more inaccurate."
If I'm not mistaken, and I'm not, Romo hasn't thrown an interception in two weeks, and he never looked better than at crunch time against the Eagles on Sunday. The Cowboys were behind by a touchdown late in the third quarter. The Eagles had momentum. On a big third-and-5 play, Romo dropped back to pass but the pocket collapsed. He zigged, zagged, and sidestepped every Eagles rusher until he found Miles Austin for a 25-yard completion and a first down.
The Cowboys scored a touchdown and tied the game a few plays later. Pow! Bam! Pop!
Meanwhile, Dez Bryant is improving his Hero-Goat ratio. He's been 50-50 for much of the year. Now he's about 70-30 in favor of heroics. He'll continue to get less goat-like.
Losing linebacker Sean Lee for the year was tough, but Bruce Carter has turned into a stud (10 tackles against Philly) and is solidifying an already strong defense. Anthony Spencer's bad-ass self is back, and he's hungry for a new contract.
It's all upside, baby!
Romo (aka Mr. November) is getting on his usual roll. Bryant and Austin are settling into their Nos. 1 and 2 spots. Running back Felix Jones is filling in admirably for DeMarco Murray. The hard-churning Murray will be fresh as a daisy and ready to pound when he returns from a foot injury.
The defense is solid. We've got an accurate field goal kicker. Other NFC East teams, including the Super Bowl champion New York Giants, are fading at the worst time.
Upside, I tell ya!
The remaining teams on the Cowboys schedule don't look too intimidating, particularly the Steelers. (See how I turned that back around on Mariani? Zip! Pow! Pop!)
The Cowboys will march into the playoffs rather than "squeak" into them as Mariani so elegantly put it.
Next stop, Super Bowl.
I feel it.
Mark my words.
This is the year.