The county report showed that 61 percent of moms who had lost children to infant mortality were overweight or obese when they got pregnant. Extra weight adds risk to pregnancy — and like many of the other factors associated with infant deaths, obesity is linked to poverty.
"Obesity doesn't cause one specific problem, but many," Dr. Henderson explained. Extra weight can increase a woman's chances of developing gestational diabetes, decrease oxygen delivery to the  fetus, and increase the risk of pre-eclampsia, a potentially fatal condition that causes high blood pressure and a build-up of protein in the urine. (For fans of Downton Abbey, that's what caused Lady Sibyl's death last season.)
There's also a correlation between obesity in the mother and stillbirth, Henderson said, but doctors aren't exactly sure why. "Correlation doesn't mean causation," she warned.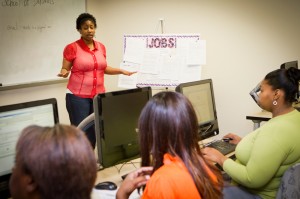 According to the state health department, African-Americans and Hispanics have higher obesity rates than whites. Henderson said African-American women also have a higher chance of delivering their babies prematurely, although the reasons aren't clear. Both factors increase the risks of infant mortality for blacks and Hispanics: In the county study, 37 percent of the mothers whose babies died were African-American — twice their representation in Fort Worth's population.
Gracie Stearns, a bilingual health education specialist with Healthy Start, said that immigrants to Texas from Latin America have higher rates of infant mortality once they get here. "They start eating fast foods, and they no longer go to the market and eat fresh foods or exercise," she said. The longer such immigrants stay in the United States, the higher their risk of infant mortality, Stearns said.
The Healthy Start program focuses on 11 Tarrant County zip codes with the highest rates of infant mortality; many of the areas have a majority-minority population.  The zip code with the single highest infant mortality rate is in southeast Fort Worth, which also has some of the highest poverty rates in the area.
"Our program targets African- Americans and Hispanic moms, because those two races have the highest rates of infant mortality," said Misty Wilder, outreach program manager. The women she works with have various obstacles to healthy pregnancies — and healthy lives —  including lack of transportation, a weak support system, and poor access to care.
The dangers to babies of sexually transmitted diseases are another important reason for women to get prenatal care during their first trimesters.
In Tarrant County's study, such diseases were the most common form of medical problems reported by women who lost their babies, said Micky Moerbe, biostatistician at Tarrant County Public Health and one of the study's authors.
STDs can be passed from mother to child during pregnancy and birth. According to the Centers for Disease Control, STDs can bring on early labor and are a contributing factor in stillbirths, low birth weight, and other serious complications. If STDs aren't caught and treated early in a pregnancy, the diseases can affect a baby's development.
"It makes a big difference getting treated for a sexually transmitted infection before delivery," said Massingill. If a woman is trying to get pregnant, she and her partner should get tested, he said.
Between 2004 and 2009, the rate of sexually transmitted diseases in pregnant women increased by 191 percent in Tarrant County, although those numbers have since declined somewhat. African-American mothers had far higher rates of STDs than other ethnic groups.
"Sexually transmitted infections are more prevalent because we don't do a good job at sex education," Massingill said. "Condoms, even in the worst-case scenario, prevent 70 percent of sexually transmitted infections."
  ********
Although obesity, sexually transmitted diseases, and poverty in general are significant factors in infant deaths, they don't do much to explain Tarrant County's dubious honor of having the worst infant mortality rates in the state.
The county's poverty rate isn't far off the state average, and local rates of obesity and STDs aren't much different than elsewhere in the state. Teen pregnancy isn't considered a strong indicator for infant mortality, and while Fort Worth and Tarrant County are near the top of an undesirable heap in terms of teen pregnancy statistics, so are all the other major Texas cities.
But health practitioners and others see high STD rates and high teen pregnancy rates as part of the same larger problem.
"We don't just have a teen pregnancy epidemic in the state, we have a huge problem with sexually transmitted infections," said Dan Quinn, communications director at Texas Freedom Network, an advocacy group that promotes civil liberties.
Massingill said teen pregnancies are more likely to be unplanned, teen mothers are more likely to be unmarried, and they are more likely to delay getting prenatal care until late in their pregnancies — and those factors do affect infant mortality. According to the United Way, Tarrant County ranks ninth-highest in Texas for teen pregnancies, behind other major metropolitan counties.
Wilder, with Healthy Start, and Ann Salyer-Caldwell, with the county health agency, both emphasized that women who want to become mothers really should think about getting and staying healthy long before they get pregnant.
"We're trying to make people healthy for nine months," said Wilder. "But it starts way before we're pregnant. I don't think a lot of people realize it — I didn't. It's a full life course perspective."
"One healthy life equals another healthy life," Salyer-Caldwell said.
A pregnant woman's health is also affected by her environment and her culture, by what she eats and how much she exercises, Massingill said — and a doctor may not be able to have much effect on those things. For poor women, eating cheap is a lot easier and more convenient than eating healthy.
Massingill said he thinks Tarrant County does a great job in caring for women during pregnancy and delivery but falls short on providing care between the baby's first six weeks and its first birthday. "A lot of the problems … can't be addressed through better medical care," he said.
Salyer-Caldwell said she thinks the topic of infant mortality is so depressing that many people will tune it out.
"People want to hear about healthy babies," she said. "We want to talk about solutions now."
Jodie held a small memorial service for her son.
"Everyone prayed over the family. It was really nice," she said, remembering the funeral at Baylor Hospital in Dallas six years ago.
She said she knows now that her son's death wasn't her fault. "I'm at peace with it inside," she said.
Fort Worth freelancer Sarah Angle writes for national and regional publications.