The Host (PG-13) Spectacularly bad. This thriller is set in an Earth where sparkly, floating alien invaders called "souls" have taken over the bodies of most humans, turning them into peaceful, courteous, loveless automatons with a curious preference for white clothing and silver vehicles. Saoirse Ronan (Hanna) stars a human girl captured at the beginning of the film and implanted with one of the souls, only the implant doesn't quite take. Her human personality and the soul carry on a running conversation on the voiceover track, and the device is so laughable and hokey that you wonder why no one told writer-director Andrew Niccol that it wasn't working. This is based on a novel by Twilight author Stephenie Meyer. Somehow, it manages to be worse than any of the Twilight movies. Also with Diane Kruger, Max Irons, Jake Abel, Chandler Canterbury, Boyd Holbrook, Frances Fisher, and William Hurt.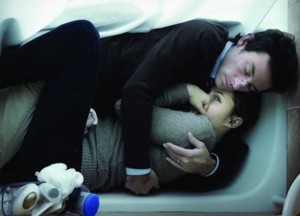 Jurassic Park (PG-13) Steven Spielberg's 1993 dinosaur blockbuster holds up better than you might think in this 20th-anniversary 3D re-release. The script's characters are poorly drawn (the kids especially, but the adults too), which is the biggest reason why the movie doesn't rank with the director's best work. Still, Spielberg's ingenuity and flair for action sequences are on good display here — check the T. rex's artfully stage-managed entrance or the scene with the van stuck in a tree. For a movie whose success was based on special effects that were cutting edge 20 years ago, this has aged rather well. Starring Sam Neill, Laura Dern, Jeff Goldblum, Richard Attenborough, Ariana Richards, Joseph Mazzello, Bob Peck, Wayne Knight, and Samuel L. Jackson.
The Lords of Salem (R) For Rob Zombie diehards only. The director's latest attempt at horror stars his wife Sherrie Moon Zombie as a radio DJ in Salem, Mass., who receives a mysterious vinyl record that when played causes her physical distress and bizarre hallucinations of the coven at the center of the notorious Salem witch trials. At some point, Heidi becomes a key element in bringing Satan's heir into the world, but this movie is such a mess that you soon quit caring. Amid massive plot holes, no real story logic, and Zombie's typical, schlocky sacrilege, the film feels more like a collage of his favorite spooky stuff –– most of which fails to scare at all –– than a work of narrative cinema. On the plus side, Sherri Moon tones down her performance from those in her husband's other movies, but it still doesn't make her or the movie any more interesting. Also with Jeff Daniel Phillips, Ken Foree, Bruce Davison, Dee Wallace, Meg Foster, and Judy Geeson. — Steve Steward­
Oblivion (PG-13) It leaves you cold, but, man, it looks sharp. Tom Cruise stars in this science-fiction thriller as a drone repairman in a postapocalyptic Earth who discovers that the world and his place in it are not what he's been led to believe. Director Joseph Kosinski (Tron: Legacy) adapts this from his own graphic novel, and you can see the plot twists coming, especially since they were treated better in Duncan Jones' Moon. Yet the high-tech gadgetry is seamlessly integrated with the blasted natural scenery, and the movie benefits from Andrea Riseborough's crisp, authoritative-beyond-her-years presence as the hero's co-worker. Kosinski knows how to make cool visuals. If he ever gets hold of good material, watch out. Also with Morgan Freeman, Olga Kurylenko, Nikolaj Coster-Waldau, Zoe Bell, and Melissa Leo.
Olympus Has Fallen (R) Gerard Butler stars in this thriller as a haunted-by-failure Secret Service agent who infiltrates the White House after North Korean terrorists breach the perimeter and massacre everyone who's supposed to protect the president (Aaron Eckhart). The only thing that's done well is the staging of a large-scale, multiplatform, paramilitary assault on the White House, executed in scarily plausible detail by director Antoine Fuqua (Training Day). Everything else here is lame, jingoistic, obvious, and casually racist. Oh, and the plot is full of holes, too. Every story beat is shamelessly cribbed from Die Hard, and not well, but that 13-minute White House sequence is worth buying a ticket to a different movie and then sneaking into this one for. Also with Morgan Freeman, Angela Bassett, Melissa Leo, Dylan McDermott, Rick Yune, Robert Forster, Finley Jacobson, Radha Mitchell, Cole Hauser, and Ashley Judd.
Oz the Great and Powerful (PG) A good-looking mess. Sam Raimi directs this movie that stars James Franco as a circus illusionist who is transported to the magical land of Oz, where he meets three magically empowered sisters (Mila Kunis, Rachel Weisz, and Michelle Williams) and becomes the wizard. Raimi and cinematographer Peter Deming render Oz and its creatures in eye-popping color, but the movie is tone deaf, lurching from slapstick comedy to lyricism to action thriller at will. It misses badly, whether it's aiming for pathos or cuteness — the talking monkey voiced by Zach Braff is a big mistake. The only cast member who looks comfortable is Williams, finding the balance of funny and ethereal that the rest of the movie lacks. Also with Bill Cobbs, Tony Cox, Abigail Spencer, Joey King, and Bruce Campbell.
The Place Beyond the Pines (R) Derek Cianfrance's follow-up to his magnificent Blue Valentine is bigger, more ambitious, and worth seeing despite its mess. The film is divided into three sections, one about a motorcycle stunt rider (Ryan Gosling) who takes to robbing banks, one about a young cop (Bradley Cooper) who brings him down, and one about the cop's teenage son (Emory Cohen) and his friendship with a friendless kid (Dane DeHaan). Cianfrance does it all up as seriously as an O'Neill play, and his emphasis on fathers and sons only becomes too heavy in the third segment, which contains a plot revelation that's wholly unworthy of the rest of the movie. Still, each story is fascinating in itself, with great turns by DeHaan and Gosling and an acute look at a bully who disguises himself as a best friend. Earnest and intelligent, this is an Oscar-caliber film in the midst of spring. Also with Eva Mendes, Rose Byrne, Mahershala Ali, Ben Mendelsohn, Harris Yulin, Bruce Greenwood, and Ray Liotta.
Scary Movie 5 (R) Credit the filmmakers with this much: While their latest horror-movie spoof takes on some predictably behind-the-curve targets (Black Swan, Inception), it also sends up some more current movies like Mama and the Evil Dead remake, almost certainly by parodying those films' trailers rather than the films themselves. It's resourceful. The spoofs still aren't funny, though, and internet parodies have rendered movies such as these obsolete. Until someone comes up with actual material, they really should just stop these things. Starring Ashley Tisdale, Erica Ash, Simon Rex, Katrina Bowden, Sarah Hyland, Jerry O'Connell, Kate Walsh, Molly Shannon, Katt Williams, Terry Crews, Heather Locklear, Charlie Sheen, and Lindsay Lohan.
Silver Linings Playbook (R) Bradley Cooper stars in this volatile, terribly funny comedy as a bipolar former schoolteacher and die-hard Philadelphia Eagles fan who leaves a mental institution to move back in with his parents. Adapting a novel by Matthew Quick, writer-director David O. Russell (The Fighter, Three Kings) captures the rage and instability inside his characters by filming ordinary domestic scenes with a whirling fury. His approach spreads to his actors, including Robert De Niro, bringing more energy than he's brought in 20 years to the role of the hero's combative dad, and Jennifer Lawrence, deploying her fierceness for comic effect as a cop's widow with her own mentally troubled history. This is Russell's warmest and most likable film, a tribute to the unconditional love that binds you to your family and your football team. Also with Jacki Weaver, Julia Stiles, Anupam Kher, John Ortiz, Shea Whigham, Paul Herman, Dash Mihok, and Chris Tucker.
Temptation (PG-13) Early on, a therapist tells her patient, "I'm not judging you." No, that's Tyler Perry's job. The filmmaker's myriad issues reach pathological levels in this Fatal Attraction rip-off starring Jurnee Smollett-Bell as a young aspiring marriage counselor whose job at a matchmaking agency leads her to cheat on her solid, unexciting husband (Lance Gross) with a wealthy, charming social-networking mogul (Robbie Jones). Perry actually comes up with some perceptive stuff in the early going about how couples go stale, but then the movie degenerates into hysteria fueled by his typical need to punish professionally ambitious female characters, especially if they have sex outside marriage. This is truly reprehensible. Also with Kim Kardashian, Vanessa Williams, Renée Taylor, Ella Joyce, and Brandy Norwood.
Trance (R) A slick, pretentious pile of nonsense. James McAvoy plays a London art expert who helps a bunch of bad guys steal a Goya painting from his auction house, gets hit in the head, and has to visit a hypnotherapist (Rosario Dawson) to help him remember where the purloined artwork is. Director Danny Boyle (Slumdog Millionaire, 127 Hours) gives the movie a seductive look and soundtrack full of trance music — heh, heh. The script unfortunately hinges on ludicrous coincidences and character revelations that aren't nearly as shocking as the filmmakers seem to think. Along with The Beach, this is easily Boyle's weakest directing effort to date. Also with Vincent Cassel, Danny Sapani, Matt Cross, Wahab Sheikh, and Tuppence Middleton.
DALLAS EXCLUSIVES:
From Up on Poppy Hill (PG) This English-dubbed autobiographical animated film by Goro Miyazaki is about a group of teenagers trying to save their school clubhouse from being torn down to make way for the 1964 Summer Olympics in Tokyo. Voices by Sarah Bolger, Anton Yelchin, Gillian Anderson, Christina Hendricks, Aubrey Plaza, Chris Noth, Bruce Dern, Jamie Lee Curtis, Beau Bridges, Jeff Dunham, and Ron Howard.
The Sapphires (PG-13) Chris O'Dowd (Bridesmaids) stars in this musical based on a true story about an Irishman who manages an Australian Aboriginal girl group singing Motown songs for U.S. troops in Vietnam in 1968. Also with Deborah Mailman, Jessica Mauboy, Shari Sebbens, Miranda Tapsell, Eka Darville, and Tory Kittles.
To the Wonder (R) Terrence Malick's latest film stars Ben Affleck as a man torn between an old girlfriend (Rachel McAdams) and a Ukrainian divorcée (Olga Kurylenko). Also with Javier Bardem, Tatiana Chiline, Romina Mondello, Marshall Bell, and Charles Baker.
Upstream Color (PG-13) North Texas filmmaker Shane Carruth (Primer) stars in his second feature, portraying half of a couple who discover that their shared pasts might be intertwined with a mysterious organism. Also with Amy Seimetz, Andrew Sensenig, Thiago Martins, Myles McGee, and Frank Mosley.